Several factors have converged to create an attractive opportunity in emerging markets local debt (EMLD). The potential end of currency depreciation, shrinking current-account deficits, and attractive valuations are three intrinsic factors. In addition, two exogenous factors that I believe make EMLD compelling are the oil-price recovery and China's avoidance of a hard landing. These developments conjure several investment ideas, and EMLD is among them. EMLD has offered less downside risk than commodities and emerging markets equities because of its generally lower volatility.
An introduction to EMLD
EMLD is one of several ways to invest in emerging markets debt (EMD), and asset owners should review these carefully to determine which type of exposure is consistent with their objectives. Figure 1 shows a sample of characteristics across the broader EMD market. As of 5/31/16, EM external debt is denominated in US dollars (USD) with a duration of eight years, while EMLD is denominated in local currency and has a duration of five years. EMLD has a lower credit quality than EM external or EM corporate debt markets, because the credit rating agencies look favorably on countries whose liabilities are denominated in the local currency.
Emerging market debt types vary (All data as of 5/31/16)

Click to enlarge
PAST PERFORMANCE IS NOT A GUARANTEE OF FUTURE RESULTS. THE PERFORMANCE SHOWN ABOVE IS INDEX PERFORMANCE AND IS NOT REPRESENTATIVE OF ANY FUND'S PERFORMANCE. INDICES ARE UNMANAGED AND NOT AVAILABLE FOR DIRECT INVESTMENT.
Source: JPMorgan
EMLD has become the largest and most liquid debt market within EM and has surpassed USD-denominated sovereign debt as the financing choice of EM governments. EM governments' desire to issue local debt is motivated by the preference to have liabilities denominated in their own currency rather than USD, as dollar-denominated debt can be burdensome if the USD strengthens relative to the local currency.
EMLD may be attractive to asset owners because local interest rates tend to be higher than government yields in developed markets (as shown by the yield on JPM GBI-EM GD in FIGURE 1). EM interest rates carry risk premia typically associated with the local political environment, fundamentals, inflation, and fiscal deficits which tend to be more volatile than those of developed markets.
Improving fundamentals
The key reason to pivot toward EM debt is that currency depreciation appears to have run its course and current-account deficits have improved significantly, fostering an environment for interest-rate declines, especially in the higher-yielding markets.
Valuations of EM currencies are at the lowest point since the 12/31/02 inception of the EM local debt index (Figure 2) and are now attractive, in my view. A low real effective exchange rate (REER) is generally interpreted as signifying that the currency is undervalued. Over the past two years, capital outflows from EM countries have mounted amid the tapering of debt purchases by the Federal Reserve and the prospect of higher US interest rates, which has caused many EM currencies to decline by 30% to 50%. This depreciation has caused imports to slow and exports to increase, which has helped countries become more competitive.
As a result, current account deficits of countries in the local debt index shrank from an aggregate $40 billion at the end of 2014 to just $4 billion at the end of 2015 (Figure 3). A current account is the sum of the balance of trade, net income and net current transfers. A current account that is in deficit generally pressures the local currency lower. With deficits falling, pressure on the currencies of many EM countries should ease as they become less reliant on foreign capital inflows to finance their deficits.
FIGURE 2
EM currencies have depreciated significantly
JPM GBI-EM GD - Historical foreign exchange (FX) valuations REER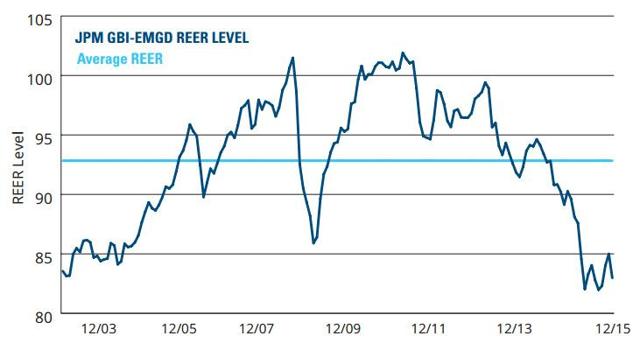 Click to enlarge
Sources: JPMorgan, Wellington Management; Based on month end REER levels for the FX portion of the JPM GBI-EM GD from January 2003 to May 2016; May 31, 2016 value based on WMC estimate; Assumes average over entire period is "fair value"; analysis done using May 2016 index weights over the entire time period.
FIGURE 3
EM current-account improvement should help EM currencies
Current account, sum of countries in JPM GBI-EM GD 1Q04 - 4Q15 (US$ billions)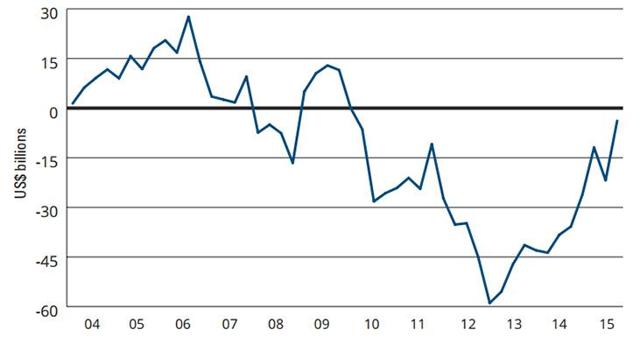 Click to enlarge
Sources: JPMorgan, Wellington Management
Attractive valuations
EM yields are in the 80th percentile relative to US Treasuries since inception of the EM local debt index, a position that provides investors the opportunity to earn income and capital appreciation should local interest rates decline (Figure 4). Local rates have risen over the past few years because EM central banks responded to higher inflation by tightening monetary policy. Now that EM currencies appear to have bottomed, Wellington Management's Emerging Markets Debt team believes that central bank tightening will moderate and some central banks may even turn toward monetary easing, as their economies remain fragile and could use the support of lower interest rates.
FIGURE 4
Spread of ELD yields over US Treasuries is wide
Attractive local market yields (%)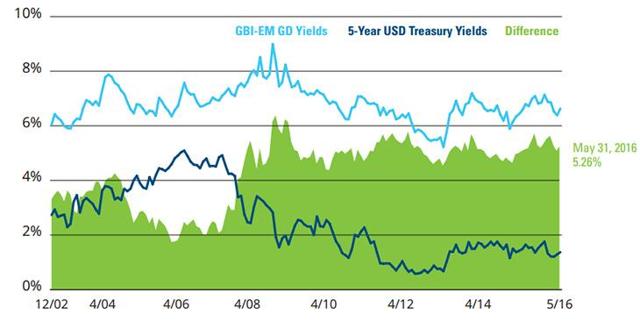 Click to enlarge
Sources: JPMorgan, Bloomberg, Wellington Management
Relative to other risk assets, I believe that EMLD will offer a favorable risk/return profile. Over the past 10 years, EMLD has been less volatile than developed market equities and about half as volatile as EM equities
It is important to differentiate among EMLD issues, however, as political risks and trade and debt dynamics vary widely. Russia, for example, is recovering from its recent crisis. The ruble's 35% decline over the past few years has boosted exports and strengthened Russia's current account, while tighter monetary policy has gotten inflation under control. Now that the currency appears to have bottomed and the central bank has scope to lower interest rates, Russian local debt may be a good way to express this progress.
Compared with these relatively orthodox policy steps in Russia, the situation in Turkey appears much riskier. Turkey's central bank's independence is questionable, it runs a large current account deficit, inflation is elevated, and the government seems to have little interest in defending its currency.
Why EMLD instead of EM equities?
While fundamentals are improving across emerging markets, our EMD team expects a U-shaped recovery this year, in which markets and economies rebound more gradually than a sharp V-shaped recovery. As commodity prices and currencies stabilize, the team expects the recovery to bring an end to the monetary tightening seen in some of the higher-yielding markets. In this environment, I expect EMLD to be a bigger beneficiary than EM equities because of EMLD's direct linkage to currencies and rates. Furthermore, while EM equities should benefit from improving fundamentals as well, a U-shaped recovery will present more uncertainty for earnings.
Risks to my view
EMLD has different risk exposures than most fixed income sectors. Currencies can introduce meaningful volatility when converted back into an investor's base currency. Investors should take this into consideration when investing in EMLD generally and in sizing an allocation.
China looms as a potential risk, as the pace of growth there decelerates. However, China's high foreign-exchange reserves, current account surplus, and access to domestic financing should keep a crisis scenario at bay for some time. Monetary stimulus and recent credit growth also appear to be prompting a bounce in Chinese growth.
A stronger USD could also pressure EMLD returns. If expectations for US interest-rate hikes increase substantially, the USD is likely to rise. In this scenario, the vicious cycle we saw early in the year could be re-ignited, with commodities, EM currencies, and risk assets falling.
Investment Implications:
Consider an allocation to EMLD: Valuations are attractive and EMLD offers a way to gain exposure to improving EM fundamentals that is less volatile than EM equities.
Favor EMLD over EM equities: EMLD should outperform in a U-shaped recovery. Moreover, equities tend to outperform when economic fundamentals improve sharply enough to provide a boost to corporate earnings.
Consider using an active manager: It is important to differentiate among emerging markets as countries face different fiscal pressures, political situations, and trade and debt dynamics.
1 JPMorgan Global Bond Index-Emerging Markets Global Diversified (JPM GBI-EM GD) is a comprehensive global, local emerging-markets index, and consists of liquid, fixed-rate, domestic-currency government bonds.
2 JPMorgan Emerging Markets Bond Index+ is a broad-based, unmanaged index which tracks total return for external currency denominated debt (Brady bonds, loans, Eurobonds and U.S. dollar-denominated local market instruments) in emerging markets.
3 JPMorgan Corporate Emerging Markets Bond Index-Broad Diversified is a global, liquid corporate emerging-markets benchmark that tracks U.S.-denominated corporate bonds issued by emerging-markets entities.
4 Yield-to-maturity is the total return anticipated on a bond if the bond is held until the end of its lifetime.
5 Real effective exchange rate (REER) is the weighted average of a country's currency relative to an index or basket of other major currencies, adjusted for the effects of inflation.
Investors should carefully consider the investment objectives, risks, charges, and expenses of Hartford Funds before investing. This and other information can be found in the prospectus and summary prospectus, which can be obtained by calling 888-843-7824 (retail) or 800-279-1541 (institutional). Investors should read them carefully before they invest.
All investments are subject to risk, including the possible loss of principal. Fixed income risks include credit, liquidity, call, duration, and interest-rate risk. As interest rates rise, bond prices generally fall; these risks are currently heightened due to the historically low interest rate environment. U.S. Treasury securities are backed by the full faith and credit of the U.S. government as to the timely payment of principal and interest. Foreign investments can be riskier than U.S. investments due to the adverse effects of currency exchange rates, differences in market structure and liquidity, as well as political and economic developments in foreign countries and regions. These risks are generally greater for investments in emerging markets. Commodities may be more volatile than investments in traditional securities.
The views expressed here are those of Nanette Abuhoff Jacobson. They should not be construed as investment advice or as the views of Hartford Funds. They are based on available information and are subject to change without notice. Portfolio positioning is at the discretion of the individual portfolio management teams; individual portfolio management teams may hold different views and may make different investment decisions for different clients or portfolios. This material and/or its contents are current at the time of writing and may not be reproduced or distributed in whole or in part, for any purpose, without the express written consent of Wellington Management.
All information and representations herein are as of 06/16, unless otherwise noted.
Disclosure: I/we have no positions in any stocks mentioned, and no plans to initiate any positions within the next 72 hours.
I wrote this article myself, and it expresses my own opinions. I am not receiving compensation for it. I have no business relationship with any company whose stock is mentioned in this article.