Baidu (NASDAQ:BIDU) is the kind of stock that makes me happy when it falls, because I can add more shares at attractive prices. I have followed the stock for a while and I am adding to my long on every significant dip.
The company recently cut its Q2 sales outlook. It now sees Q2 revenue being in the range of 18.1 to 18.2 billion yuan (USD 2.75 billion to USD 2.77 billion), compared to the previously stated range of 20.11-20.58 billion yuan (USD 3.06 billion to USD 3.13 billion).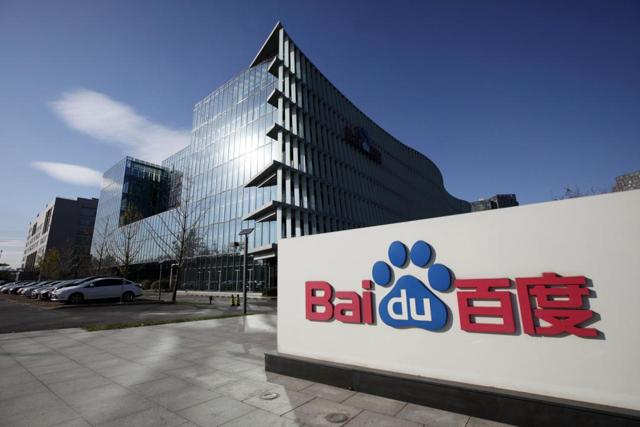 Click to enlarge
Regulatory changes
The reason why revenue was cut is the recent action taken by the Chinese government that ordered Baidu to remodel its search practices after the tragic death of a college student who had cancer and took a fake therapy he found through Baidu's search engine. According to the Chinese government, Baidu has to deny its online marketing services to medical organizations that don't meet certain requirements. Because of this uncertain regulatory environment, medical and pharmaceutical firms are postponing spending on online advertising. These firms may be in the process of adjusting their practices to satisfy the new requirements, and the delay is hurting Baidu's revenue.
The issue is clearly short-term. The company expects sales from medical and pharmaceuticals firms to gradually recover after they adjust their practices to the new regulation.
It has also reduced the number of sponsored links across the platform. Even if such measure can hurt revenue in the short-term, the company is confident that the new layout will bring long-term benefits, since it would significantly enhance user experience.
Concerns that Baidu would suffer from advertising regulation have been already discounted in the stock price during the last few weeks. First, the stock reached a top of $201 on April 29th, after the company announced better than expected earnings and strong costumer growth, and then it started to fall after news that Chinese regulators were investigating the company for its advertising practices. The stock declined 20%, reaching a bottom of $160 that has been recently tested. Fears that regulations could severely limit the possibility for medical organizations to use Baidu online marketing services triggered fears of a significant revenue loss. But when the company announced its new guidance for Q2, it offered a different scenario, with expectation of a gradual and constant recovery of the revenue loss, as its customers from the medical and pharmaceutical industry submit required documentation and adjust their practices according to the new regulation.
The effects of regulation shouldn't affect much the value of the company, since they are probably disappearing in a few months.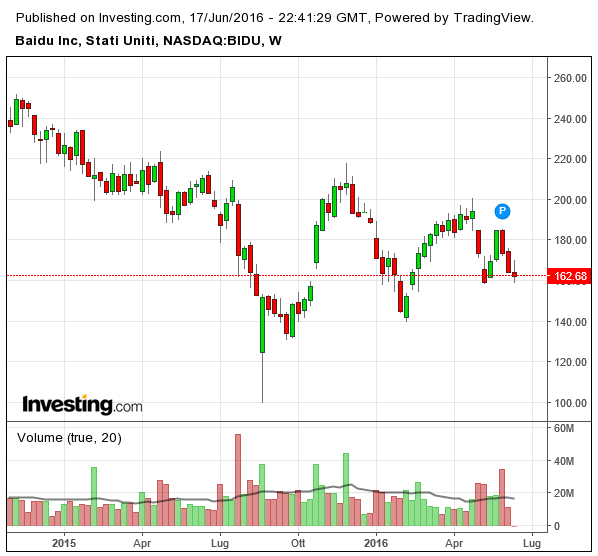 Baidu's core market prospects
I believe that the 20% sell-off induced by the advertising regulation was greatly exaggerated. Even if the stricter regulation is slowing and delaying advertising spending, I believe Baidu's prospects with its core business don't change. The company still enjoys a dominant position in the search market with more than 70% market share and still has an extreme growth potential as a reflex of increased internet utilization in the country. Chinese internet users are estimated to be only 52% of the population against 88% for the US. Many investors believe that the internet is a mature sector in China. I don't think that with a 52% penetration rate the market can be considered mature. In fact, the number of Chinese internet users is still growing by more than 7% a year and the trend in current internet users shows increasing "consumption". Given the still low penetration of internet use among Chinese people, the good growth rates registered in the last few years and the increasing time spent on the internet, I believe we can still consider this industry as a growth industry, and Baidu as a growth stock.
Results from Q1 confirmed amazing growth. Total revenues reported in Q1 2016 were RMB15.821 billion ($2.454 billion), a 31.2% increase over Q1 2015, excluding Qunar. Something worth mentioning is that mobile revenue represented 60% of total revenues for Q1 2016, compared to 50% in Q1 2015. This is very important to know, since internet consumption through mobile is steadily and significantly growing in China. Time spent on the internet through mobile devices in China grew from 1.9 hours a day in January 2014 to 2.5 hours a day in January 2016. This means a 31% increase in two years, or a 14.5% CAGR. China is one of the countries with higher amount of time spent on the internet, but for overall internet consumption, it still lags many other countries (see chart below), suggesting that theoretically there is still room for further expansion. On one side we have the high dependence of Baidu on mobile revenue. On the other we have Chinese people increasing internet consumption through mobile devices at double digits. Moreover, the number of internet users is growing by 7% a year. Based on these trends and on Baidu's recent performance, I believe there is still a huge growth potential for the company in the next few years.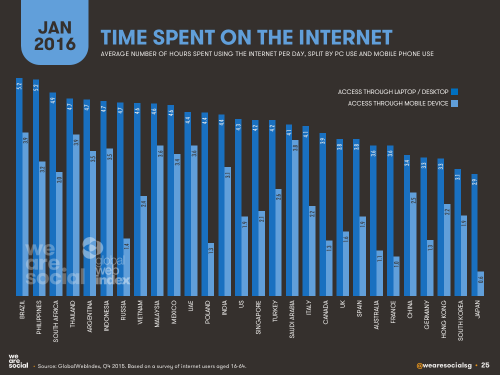 Starting from earnings expectations for FY 2016 at 33.20 CNY (USD 5.02), we could try to calculate the share price on a Discounted Earnings basis. I won't adjust earnings expectation according to the change in Q2 guidance, since I consider the regulatory changes that caused it to be temporary. I will use a growth rate of 15% for the first ten years, and 6% as terminal growth rate (30 years). I won't include earnings beyond 40 years as they have little to no impact on calculations. The discount rate used is 9%. Fair value based on these metrics would be $240, 33% lower than the current price. The calculation is not meant to be a correct valuation of Baidu, but to underline that with the stock price at $160, the market is not even pricing the growth in Chinese internet consumption in Baidu stock, assuming a significantly lower growth rate than the growth rate recorded in the last two years in the industry and assuming that there is no other reason for growing sales.
Conclusion - Adding on the dip
I took advantage of the recent dip in Baidu stock price to add some shares to my long position. I question the vision of Baidu's industry as a mature one and I consider the recent sell-off due to regulatory actions to be exaggerated. I believe the market is underestimating Baidu's growth potential. The low valuation could be due to several reasons. Some of them could be:
The market is discounting Chinese slowdown and slow growth expectations of the overall Chinese economy in Baidu and other Chinese stocks.
The price suffers because of Baidu's unprofitable divisions as the market has still negative expectations about them.
Fears of depreciation of Chinese yuan keep foreign investors away.
I prefer to concentrate on the strong position that Baidu enjoys in its core market, that can still deliver amazing growth per se, and I consider Baidu's unprofitable divisions and projects in the mass production of self-driving cars as potential future catalysts for unlocking more growth, if they become profitable or if the company decides to spin off some of them.
Disclosure: I am/we are long BIDU.
I wrote this article myself, and it expresses my own opinions. I am not receiving compensation for it (other than from Seeking Alpha). I have no business relationship with any company whose stock is mentioned in this article.
Additional disclosure: I am long Baidu stock at an average price of $162. I may trade in any direction. Please do your own research before buying or selling.