Annaly Capital Management, Inc. (NYSE:NLY) has had a good run in 2016. After crashing to a new low of $8.25 on January 20, 2016, Annaly pulled off an impressive rebound that saw the mortgage REIT's shares climb up to $11.13 in May. From bottom to top, Annaly's shares advanced ~35 percent. The valuation rebound comes after stocks slumped at the beginning of the year thanks to the energy price rout and deteriorating investor sentiment toward high-yield income vehicles, including mortgage REITs. 2016 also was the worst start to a year for stocks ever.
That being said, though, the current correction in share prices creates yet another buying opportunity for income investors. That's right. Annaly's shares have slid ~5 percent from their latest 52-week high, creating a compelling entry point IMO.
Three reasons stand out why income investors should give Annaly Capital Management a hard look at this point.
For one thing, the mortgage REIT is in the process of acquiring Hatteras Financial Corp. (NYSE:HTS), another publicly-traded mortgage REIT. I have covered the benefits of this transaction for Annaly in this article last month. Annaly has recently extended its exchange offer for the mortgage REIT, in which Hatteras shareholders can chose between a A) $5.55 in cash and 0.9894 shares of Annaly common stock; B) $15.85 in cash; or C) 1.5226 shares of Annaly common stock. No matter what allocation Hatteras shareholders are going to choose, it is a good deal for Annaly for sure, which is paying ~0.85x accounting book value for Hatteras.
Another reason to take a look at Annaly Capital Management relates to the mortgage REIT's expanded accounting book value discount. Annaly Capital Management's shares are selling for $10.58 at the time of writing, but the mortgage REIT's accounting book value at the end of the March quarter was $11.61/share. Therefore, thanks to the latest correction, Annaly can today be bought for an accounting book value discount of ~9 percent.
On a run-rate Q1-16 basis, Annaly's shares are changing hands for ~8.8x run-rate normalized core earnings.
Annaly is, first and foremost, a yield play. Based on Friday's closing price, an investment in the mortgage REIT comes with an eleven percent dividend yield. Importantly, Annaly declared a stable 2nd quarter dividend of $0.30/share last week.
Buy The Correction
Annaly has recovered profoundly from January lows, but a correction was overdue, which is now creating a new buying opportunity: Annaly has not only become cheaper in the last couple of days, but is also no longer overbought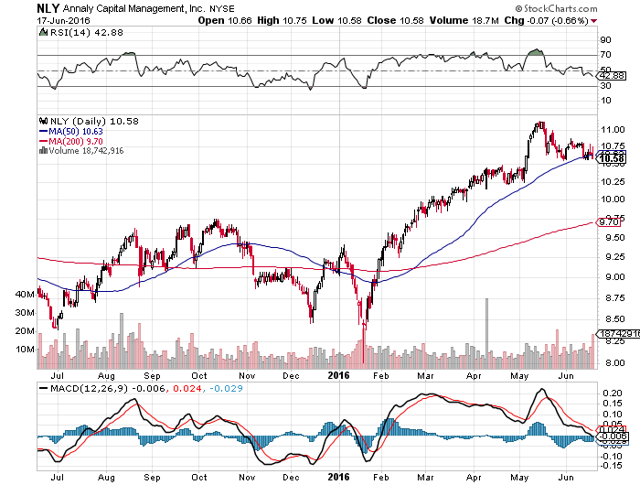 Click to enlarge
Your Takeaway
Annaly Capital Management looks compelling at its current price point. The valuation discount has expanded to ~9 percent in recent weeks on a larger market slide related to concerns over a Brexit vote at the end of June. All considered, however, Annaly looks like a decent income buy at this point on the back of the accretive Hatteras acquisition and a lower, more enticing, valuation level. Further, Annaly announced a stable $0.30/share dividend last week. Buy for income and capital appreciation.
Disclosure: I am/we are long NLY.
I wrote this article myself, and it expresses my own opinions. I am not receiving compensation for it (other than from Seeking Alpha). I have no business relationship with any company whose stock is mentioned in this article.