Around three months ago we closed out of our Best Buy (NYSE:BBY) investment at $34.12 after the stock hit our price target. Since then it has once again suffered from steep declines to a level we feel is a great entry price. With the retail industry showing signs of life again and a good dividend yield, we think Best Buy is worth reinvesting in for another +10% return.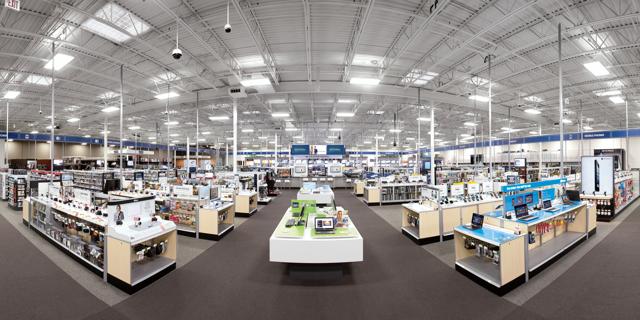 Best Buy is in a curious position at the moment. With many of its competitors crumbling around it, the company that many were predicting would go extinct has found a new lease of life. The demise of Radio Shack and the store closures of Sears (NASDAQ:SHLD) and Kmart could all gift market share to Best Buy - if Amazon (NASDAQ:AMZN) doesn't gobble it up first.
For Best Buy, Amazon is clearly the biggest threat to the business, with its omnichannel the one key hope we have for it fending off the retail behemoth. The omnichannel, the seamless blurring of the lines between bricks and mortar, online, and mobile retail, is the future of retail in our opinion. Best Buy has been working hard on theirs and appears to be benefiting because of it. In the first quarter of fiscal 2017 there was a 210 basis point increase in online sales as a percentage of total sales to 10.6%. Its domestic online channel reported 23.9% comparable online sales growth. It revealed strong performances in health and wearables, home theater and appliances, but weakness continued to show in mobile phones and tablets.
But with a new iPhone from Apple (NASDAQ:AAPL) expected to land in the fall, the mobile phones side of the business could start to pick up. Opinion is divided on whether the new iPhone will be a big-seller or underwhelm. Analysts at Credit Suisse (NYSE:CS) have concerns that many consumers may hold off on upgrading to an iPhone 7, whereas BMO Capital thinks it could be a record-breaker, with analysts estimating 25% of the installed user base is poised for an upgrade. We are bullish on Apple and the new iPhone, and expect strong sales which should filter down to Best Buy.
The strong sales of home theaters and appliances appear to be linked to consumer spending being directed at their homes. Home Depot (NYSE:HD) continues to perform strongly as a result, and we expect Best Buy will also continue to benefit as long as the housing market remains strong. The signs are positive, with housing starts for May coming in above expectations yesterday.
News that CEO Hubert Joly sold $13 million worth of shares recently was always going to look bad. This was half of his entire holding in the company at the time and had many in the market worried. Insider selling is often viewed very negatively, especially when it is such a large portion of a holding. But a Best Buy company spokesperson has attempted to calm any nerves around the sale, and advised the market that:
"Hubert's sale is solely related to his desire to diversify his overall personal holdings. He remains firmly committed to Best Buy and is excited to lead the company in this next phase. He has absolutely no plans and no desire to explore other opportunities."
We'd like to hope that there is nothing more to it than the statement says, but time will tell if we are right to take this view.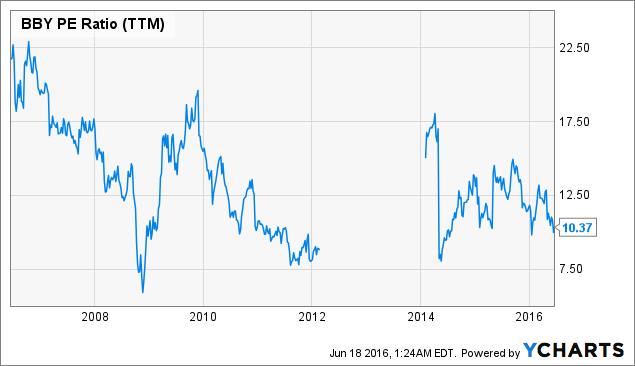 Looking at valuation, we are sticking with our belief that a price-to-earnings ratio of 12 is fair for Best Buy. Once the company has produced a couple of positive quarters, we expect the market will be more than willing to pay this multiple to own its shares. We have forecast Best Buy delivering full year earnings per share of $2.92, which on a PE ratio of 12 gives us a target price of $35.04. This would be upside of approximately 15.6% from the last close price.
It has been a hard few years for Best Buy and its shareholders, but with fewer competitors, a strong housing market, and a new iPhone not far away, we think there's a lot to be positive about for once. Because of this we are very confident that buying the dip will produce strong returns. The fact that it also pays a 3.77% dividend is very appealing as well.
Disclosure: I am/we are long BBY.
I wrote this article myself, and it expresses my own opinions. I am not receiving compensation for it (other than from Seeking Alpha). I have no business relationship with any company whose stock is mentioned in this article.