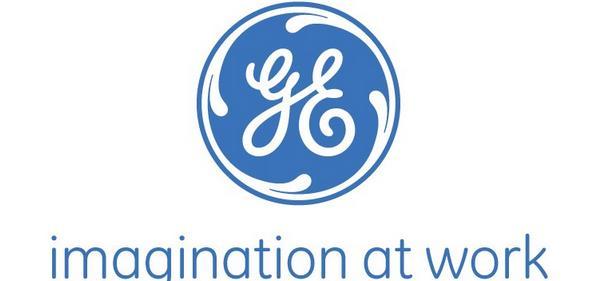 General Electric (NYSE:GE) has had a good run in 2015. After the company announced a major restructuring a year ago and prepared investors for gigantic asset sales and capital returns, the industrial company's shares quickly became an investor favorite. Star investor Nelson Peltz, founder of Trian Fund Management, L.P., also gobbled up shares of General Electric last year with a total investment value of $2.5 billion. All considered, an investment in General Electric has been a great success: Not only are shares up ~12 percent compared to last year, but an investment in General Electric throws off a 3 percent dividend. Tendency: Up.
Time To Buy?
General Electric's shares recovered in February and March from the market meltdown earlier this year; but the industrial company's shares are still down ~2 percent year-to-date. GE's shares slipped ~5 percent since peaking at $32.05 at the end of March. The profit taking, however, is opening up a new buying window again. Why?
Because General Electric has a couple of things going for itself that could push the share price higher in the remainder of the year. Most importantly, General Electric informed investors at the end of March that it submitted a request to the Financial Stability Oversight Council, or FSOC, for rescission of GE Capital's designation as a SIFI institution.
If you recall, General Electric decided to start selling GE Capital's financial assets in 2015 in order to become a simpler company, and return to its roots as an industrial pure-play, and that plan included losing the burdensome, restrictive, and costly SIFI designation. Shedding SIFI-status would therefore be a major victory for the industrial company, and, likely, be a positive catalyst for GE's shares, too.
Headwinds In The Oil & Gas Business
General Electric's Q1-16 earnings were under the impression of the energy price rout that continued to negatively affect GE's revenue and earnings trajectory in the Oil & Gas business.
General Electric's total segment revenues advanced 6 percent Y/Y to ~$25.9 billion, even though Oil & Gas revenues slumped 18 percent. As a matter of fact, General Electric's Oil & Gas business has not been doing well for some time, but GE's other industrial businesses have been offsetting Oil & Gas sector-specific headwinds.
General Electric also guided for a "tougher" Oil & Gas market in 2016, with segment revenues expected to decline ~15-20 percent while Oil & Gas operating profits are estimated to fall 30 percent.
However, oil prices have almost certainly bottomed out, and a turnaround in Oil & Gas could quickly improve General Electric's earnings trajectory in the sector. The point here is that GE's total earnings picture looked quite solid in the 1st quarter, even though challenges were visible.
GE Is Not Too Expensive
General Electric sells for ~17x next year's estimated earnings, which isn't cheap, but also not expensive when considering what investors get in return. General Electric's operating plan calls for capital returns of $26 billion in 2016, which is the equivalent of ~9 percent (!) of GE's current market capitalization. GE's shares are throwing off a ~3 percent dividend, which will likely continue to grow.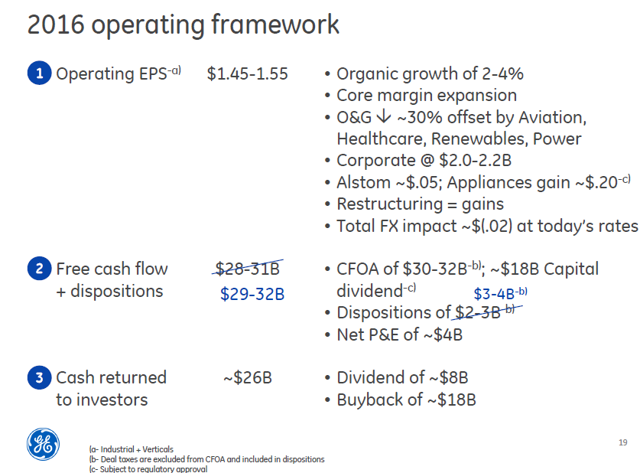 Click to enlarge
Your Takeaway
Headwinds in the Oil & Gas sector hurt General Electric in the first quarter, but GE's other businesses largely offset related revenue and earnings declines. GE has made great progress over the last year selling off its financial assets, and General Electric's transformation is ahead of schedule. Losing the SIFI designation would be yet another victory for General Electric. GE is not too expensive considering that shareholders are getting spoiled with cash in 2016. Buy for income and capital appreciation.
Disclosure: I am/we are long GE.
I wrote this article myself, and it expresses my own opinions. I am not receiving compensation for it (other than from Seeking Alpha). I have no business relationship with any company whose stock is mentioned in this article.