On Saturday morning I took a look at last week's risk aversion and implicitly asked whether a "stay" vote in this week's UK referendum would reignite risk appetite. The answer, according to Deutsche Bank at least, is "no, probably not."
Why? Because the "Brexit" vote was simply an aggravating factor in last week's selloff, not the proximate cause. Everyone was already spooked. The Fed made things worse by delivering an unexpectedly dovish statement and presser just four weeks after the entire team delivered an overtly hawkish message virtually in tandem.
The next day, the BoJ -- which is basically just frozen now after watching the Nikkei crash and the yen (NYSEARCA:FXY) soar following the bank's decision to cut rates into negative territory -- stood pat causing JPY to skyrocket through 104. More carry came unwound and still more weakness spread across risk assets. If you want to get an idea how scared everyone is, have a look at the iTraxx and CDX vol term structure, which in now inverted: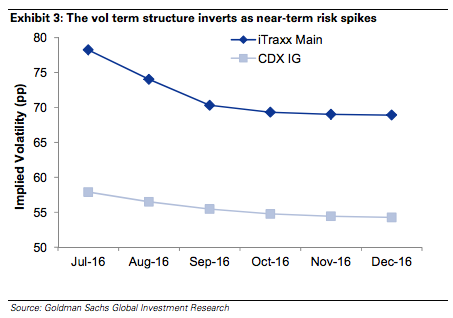 (Chart: Goldman)
Perversely, the only thing that put a bid under European stocks was the murder of British MP Jo Cox -- apparently, the market suspected that might galvanize public opinion against the "leave" vote.
So here we are headed into another uncertainty-filled week and it's hard to know where to turn. After all, yields on global safe haven assets are at record lows and in terms of real yields, there really isn't much in the way of core government paper that's above zero. Deutsche's advice: buy the dip in Treasurys. That is, if the UK votes to stay and USTs sell off (i.e. risk-on), jump in because yields will invariably head lower again once the euphoria fades.
"Risk indicators shifted higher in recent weeks on more than just Brexit concerns," Deutsche wrote on Friday, before pointing to three indicators that signal growing market angst (two of which were already flashing red before the Brexit fears really kicked into high gear): 1) SPX (NYSEARCA:SPY) vol, 2) relative underperformance in financials (NYSEARCA:XLF), 3) rising HG ex-commodities spreads:

Click to enlarge
(Charts: Deutsche Bank, BBG)
Here are two other ways of conceptualizing the weakness in financials (US bank spreads minus industrials and iTraxx Main versus bank spreads):

Click to enlarge
(Charts: BofAML)
And here's some color from Deutsche:
Uncertainty about the UK Referendum undoubtedly contributed to renewed market skittishness, although we are doubtful they are solely responsible for the reversal in risk appetite. One key development that continued to take shape in recent weeks and months, we believe, is investors losing confidence in central banks' holding a firm policy view and deliver on that view despite short-term data and market fluctuations. The Fed's latest attempts to reengage the hiking campaign were met with 2yr yield hitting YTD lows, and 10yr sitting 7bps away from its cyclical - or for that matter multi-decade - lows.
One person who seems to get it (if belatedly, bless his heart) is St. Louis Fed chief James Bullard who went full-Judas on Friday when he called on the FOMC to simply stop pretending like they have any idea where the economy and rates will be over the long-run.
While that's refreshing to hear, I'm not sure it's all that comforting.
I'll give the last word to Deutsche:
With volatility back across most screens, the market is giving back what it has gained while flying high on QE hopes earlier this year. And it appears that those hopes are failing to deliver any tangible results, just like they did last year.

Are €90bn/mo of QE, with a sprinkle of corporates in it and another 20bps to negative deposit rates really all that different from what was in place last year? And if last year's attempts failed to prevent fundamentals from overwhelming technicals, is it prudent to expect a materially different outcome this time?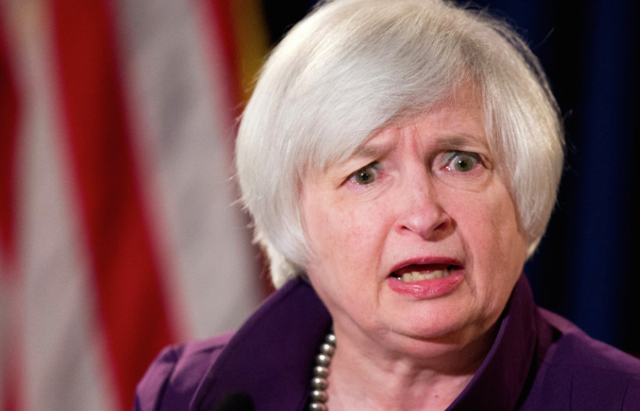 Click to enlarge
Disclosure: I/we have no positions in any stocks mentioned, and no plans to initiate any positions within the next 72 hours.
I wrote this article myself, and it expresses my own opinions. I am not receiving compensation for it (other than from Seeking Alpha). I have no business relationship with any company whose stock is mentioned in this article.