Introduction
Finning International (OTCPK:FINGF) could be seen as the barometer of the Canadian heavy construction sector. As Finning is an agent for Caterpillar (NYSE:CAT) in Canada, it should benefit from any uptick in the mining and oil sectors as that's the area most of its customers and clients are operating in. The company managed to remain free cash flow positive in 2015, but 2016 seems to be another tough year. Was Finning able to remain free cash flow positive? And does the recent oil and gold price increase improve its prospects? Let's find out.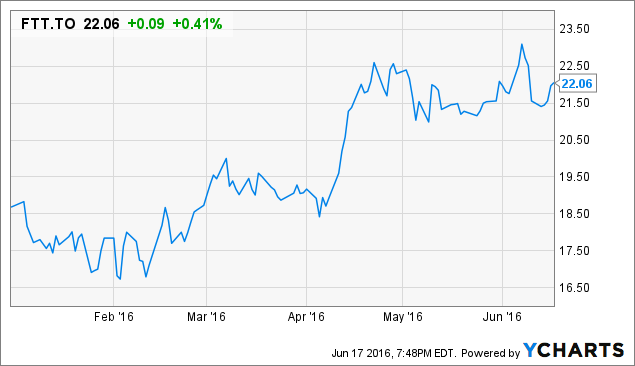 Finning is a Canadian company, and it would be a pretty bad idea to trade in the company's shares on the US exchanges as the listing on the Toronto Stock Exchange is very liquid. The average daily volume there is 400,000 shares, and the ticker symbol on the TSX is FTT.
There's only one question for the first quarter: was Finning free cash flow positive?
I don't think anyone was expecting miracles from Finning as we all know the company has experienced the slowdown in the heavy construction business first-hand. Finning's main customers are mining and oil companies, so it's perfectly logical to see them cutting their capital expenditures to minimize the cash outflow. Companies like a Caterpillar and Finning are the first victims of such a cost-cutting program, as potential clients hold off on ordering new equipment.

Click to enlarge
Source: company presentation
That being said, I'm positively surprised to see Finning being able to minimize the impact of the economic slowdown to just 3% of its revenue, which is really good (although the weaker Canadian Dollar also helps, as Finning reports its financial results in Canadian Dollar). The total revenue was almost exactly C$1.5B ($1.17B), and as expected, the 'product support' business took care of almost 55% of the total revenue. There was a clear slowdown in the sale of new equipment, but Finning also reported an increase of almost 50% in the sales results of its used equipment division.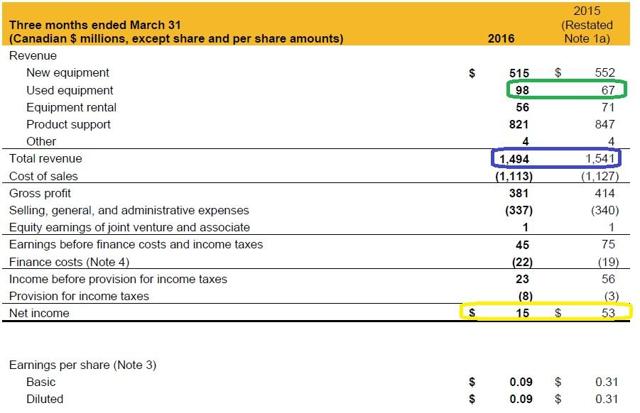 Click to enlarge
Source: financial statements
The gross profit decreased to C$381M ($297M), but despite all this, Finning's bottom line showed a net income of C$15M ($12M), which is approximately US$0.07 per share. That's definitely not fantastic nor amazing, but every dollar in profit does count!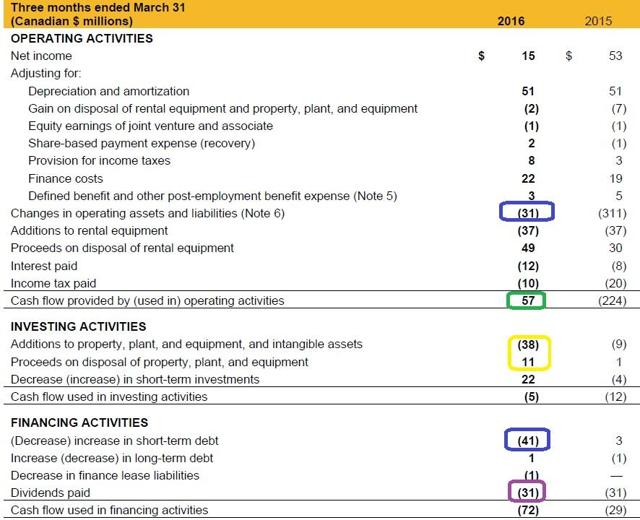 Click to enlarge
Source: financial statements
Moving over to the 'real world' where the cash flows are more important than the net income, I have to admit Finning once again did pretty well. The operating cash flow was C$45M, but if you'd exclude the changes in its working capital position, the adjusted operating cash flow was roughly C$88M ($69M) ( although this does include a US$10M net benefit from selling rental equipment). The capex remained limited to C$38M ($30M), resulting in a positive free cash flow of C$50M ($39M) which is actually pretty great for a company operating in a distressed environment.
The mining sector seems to be picking up again, is Finning also becoming more optimistic now?
It's just a pity approximately 60% of the adjusted free cash flow was used to pay its shareholders a dividend. Don't get me wrong here, I'm totally in favor of rewarding shareholders, but I do think Finning would be better off to use the cash to reduce its net debt position which was approximately US$900M as of at the end of the previous quarter.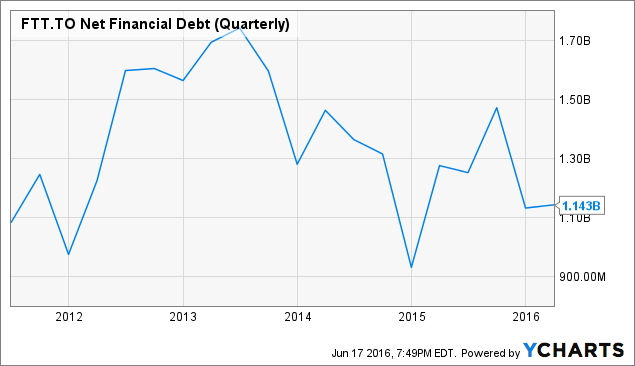 FTT Net Financial Debt (Quarterly) data by YCharts
That being said, with gold trading around $1300/oz again and the oil price zeroing in at $50/barrel, you would think Finning would start to become more optimistic about its mid-term and longer-term future. Finning still has a long way to go, as the company said the outlook in the Canadian sector remains uncertain as the deteriorating economic situation has increased the pressure on its margins in all segments of Finning's business.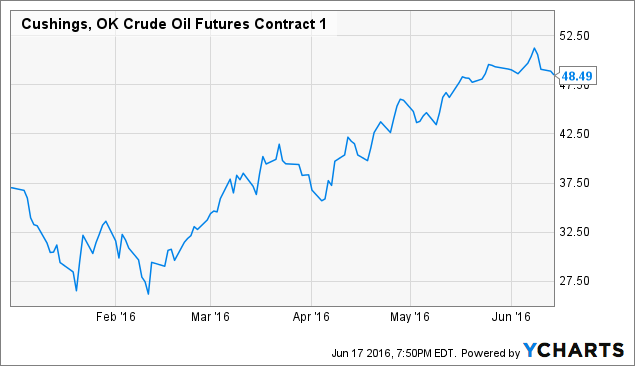 Cushings, OK Crude Oil Futures Contract 1 data by YCharts
Back in April, Finning also said the oil sands operators have parked a large part of their equipment fleet to reduce the capital spending rate in a move to repair their balance sheets. That's definitely understandable but as the oil price has been increasing again, I wouldn't rule out to see the oil companies starting to increase their capital expenditures again. NuVista Energy (OTC:NUVSF), for instance, has already hiked its capex guidance by 50%, and I would expect more oil companies to follow NuVista's lead. This doesn't mean Finning will immediately benefit from this, but further down the road this should result in an improved situation for the company.
It's also very interesting to see the company is predominantly focusing on the product support business as that's the division with the highest and most visible operating margins. On top of that, that sub-division is pretty capex-light which will further reduce the pressure on Finning's cash flows.
Investment thesis
Finning most definitely isn't a slam dunk investment, but it offers you an attractive opportunity if you think higher commodity prices will increase the demand for (mining) equipment. As long as Finning stays free cash flow positive, there's no problem at all although I do think a dividend cut would be the most prudent thing to do considering in excess of 60% of the adjusted free cash flow is being paid as a dividend, rather than reducing its net debt. Additionally, I also think this isn't a great moment to effectively restart a share repurchase program, so I hope Finning doesn't get too aggressive when it starts to buy back its stock.
You should put Finning on the 'maybe' pile of stocks, but be assured that once the mining and oil sector gain momentum again, Finning will become the cash flow cow it used to be (Finning's free cash flow in 2012 was US$250M+).
Disclosure: I am/we are long CAT.
I wrote this article myself, and it expresses my own opinions. I am not receiving compensation for it (other than from Seeking Alpha). I have no business relationship with any company whose stock is mentioned in this article.
Editor's Note: This article discusses one or more securities that do not trade on a major U.S. exchange. Please be aware of the risks associated with these stocks.