Everybody and his financial planner seem to favor gold these days, at least on the parallel reality that is business television. Some like gold because of the current uncertainty plaguing Europe, with the upcoming Brexit vote in focus. Others proclaim gold's merits because of the Fed's decision to refrain from rate action in June, and because of the market's expectation for no action until December. But gold favor based on these factors is set upon false premise, in my view, and so a gold bubble has been inflated. I expect it will burst as current expectations are replaced by a different reality over the next couple months. Thus, I continue to recommend the sale of gold securities and also hedging against long-term physical gold holdings, which are always recommended for long-term diversification and wealth protection.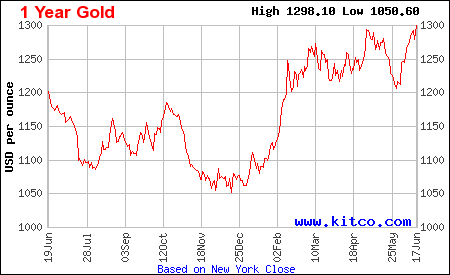 1-Year Chart of Spot Gold at Kitco
Let's Get the Record Straight
Gold has not done much since its initial pop higher in February, where I first recommended investors take profits in gold relative securities after formally recommending gold in January (informally at the start of the year). My long gold call from earlier this year is generally overlooked by those criticizing my current opinion, but it generated a double-digit profit in a matter of two weeks or so. And it came at a time before the masses in business media even considered proclaiming the merits of gold. You can see in the chart here that gold has recently been marking higher territory, after just testing support. That is the dome of the bubble I'm talking about today, and it is built upon false fundamental premise.
Gold Bubble Built on False Premise
Much of gold's recent gains have come on the uncertainty around the U.K. referendum. While I agree that a U.K. vote to leave the European Union would be immediately disruptive to global financial markets, its lasting economic impact to the U.S. economy is not worrisome. In fact, turbulence and division in Europe would likely drive capital meaningfully into U.S. securities and treasuries, and importantly drive the dollar sharply higher. After perhaps an initial pop in gold on the unlikely event of Brexit, gold should therefore give up the soft ground it has been built up upon.
Many are banking on uncertainty and chaos causing a stock market shakeup for America along with Europe, but I'm doubtful of the severity and duration of any such blow. The only thing limiting frightened EU area capital flows into U.S. investment might be our election uncertainty and concern about the policies and statements of some of the candidates still in play. But the Brexit vote is this coming week, and our presidential election is not until November. As a result, if the citizens of the U.K. decide to leave the EU, the dollar should see immediate and sharp benefit. Riskier American assets like stocks should see benefit, if not immediately, then not before too long after the storm. Strong relative dollar gains versus the British pound and the euro would price down gold in dollar terms. The passage of time would alleviate fear, and usher capital back to risky assets and out of gold. But what if the U.K. determines to remain in the EU?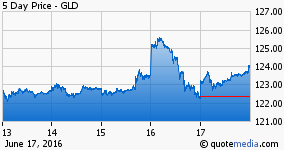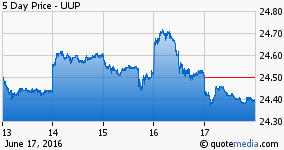 5-Day Charts of GLD & UUP at Seeking Alpha
In that case, recent dollar support may wane against the euro and British pound, but the removal of uncertainty about Brexit would still send gold lower. We saw evidence of that on Thursday of this past week when gold and the dollar moved together in the same direction. Each gained on concern about Brexit polls before the tragic death of the U.K. MP raised speculation the vote could be delayed. I believe if Brexit is voted down, the dollar and gold will each give up ground over the short-term.
| | |
| --- | --- |
| Precious Metal Securities | 06-17-16 |
| SPDR Gold Trust (NYSE: GLD) | +1.3% |
| iShares Gold Trust (NYSE: IAU) | +1.3% |
| iShares Silver Trust (NYSE: SLV) | +1.8% |
| Direxion Daily Gold Miners Bull 3X (NYSE: NUGT) | +3.3% |
| Direxion Daily Gold Miners Bearish 3X (NYSE: DUST) | -3.6% |
| Market Vectors Gold Miners (NYSE: GDX) | +1.2% |
| Market Vectors Junior Gold Miners (NYSE: GDXJ) | +1.4% |
| Goldcorp (NYSE: GG) | +1.3% |
| Newmont Mining (NYSE: NEM) | +0.1% |
| Randgold Resources (NASDAQ: GOLD) | +0.3% |
| Barrick Resources (NYSE: ABX) | +0.3% |
| Yamana Gold (NYSE: AUY) | -2.2% |
| Gold Fields Ltd. (NYSE: GFI) | +1.4% |
| Silver Wheaton (NYSE: SLW) | +0.7% |
| Coeur Mining (NYSE: CDE) | +3.2% |
It's difficult for money managers and others appearing on television to take a position against price action like that seen on Friday. They want to always appear to be right in order to draw capital investment, or they want to be right so badly that they will not stick their neck out until price action is more supportive. I'm willing to make an argument against the popular tone of the day for what I truly believe will be right tomorrow, no matter how I seem to some today.
Gold is inflating, and it could inflate a bit further this week on fear into the Brexit vote, depending on the polls. Keep in mind as well that there is a small chance a movement in the U.K. Parliament could seek to push the vote out or delay it; it would take legislation to do that, and Parliament is called to order on Monday. That would have the same impact as a vote to remain in the EU, and would deflate the bubble. Short-term risk against my thesis is that the U.K. votes to actually leave the EU; such an action would likely lift gold a bit higher even despite dollar appreciation, before investors migrated back to risky assets in the U.S. for better return and to European assets on valuation. That would eventually weigh against gold and deflate the bubble as well. This two-part series will be furthered early this week with work on how the Fed has played to inflate the gold bubble I see. I cover gold closely and invite open-minded individuals interested in unbiased long and short opinion on gold and relative securities to follow my financial column here at Seeking Alpha. If you do so, you will receive the follow up to this report in your email, along with my regular reporting and analysis on gold.
Disclosure: I/we have no positions in any stocks mentioned, and no plans to initiate any positions within the next 72 hours.
I wrote this article myself, and it expresses my own opinions. I am not receiving compensation for it (other than from Seeking Alpha). I have no business relationship with any company whose stock is mentioned in this article.