Dave & Buster's Entertainment, Inc. (NASDAQ:PLAY) was founded in 1982. The company is an owner and operator of 79 North American locations that combine entertainment and dining for both adults and families. The core of the concept is to offer guests the opportunity to "Eat Drink Play Watch" all in one location (source).
One reason I'm interested in PLAY is because of the games. While I'm not an avid gamer myself, I like the strategy behind how the company uses them. Not only do they present an additional revenue stream, but they also offer a way to build a loyalty program.
That's because guests make their game purchases through "Power Cards" they can load. Gamers are encouraged to register their cards with the company to cash in on additional rewards. This gives PLAY a low-cost way to communicate with (and upsell) their clients. I think this is an area that most restaurants fall short. So over time this could be an additional competitive hook for PLAY.
Now, I should disclose that I haven't visited a Dave & Buster's location yet. But the stock recently came up on my radar. And given the positive price performance since the IPO, I wanted to take a closer look. But first, here's how the stock chart looks since the company went public: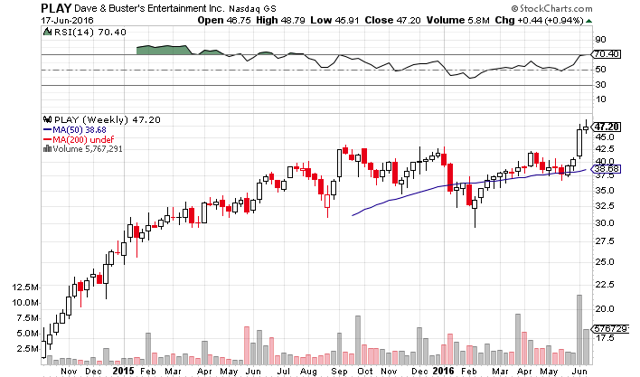 So can this price performance continue? And is it worth investing in shares of PLAY to try and capture continued upside? Well, that's what this analysis will try to determine.
Unfortunately, because PLAY is a relatively young company, the operating history only goes back to 2010 (source). As much as possible, I like to focus on companies with over 10 years of financial statements. But, in this case, I'll do my best to spot nascent trends and how they might be changing.
PLAY: Time to Pull Back the Curtains
Now, let's cut to the chase and try to determine whether or not this company is delivering solid operating results, or if it's all hype. In my experience, the first place to look when trying to evaluate demand is revenue.
Here's an unfettered look at the sales performance: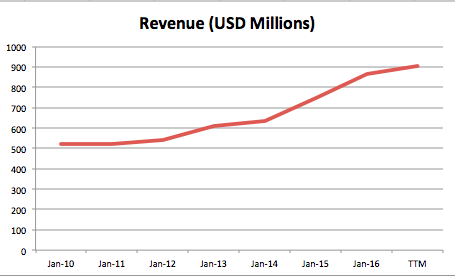 While there's not quite as much data as I would like, so far the trend in revenue looks very strong. It might still be too early to tell if this is a scalable trend but certainly a promising start. However, revenue doesn't always mean profits. And this is especially true for growing companies.
Often, fast-growing companies need to pump all of their revenue (and sometimes more) into funding their growth. So let's take a look at earnings per share to get a feel for the trend in net income.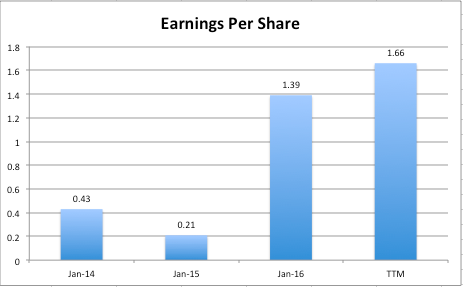 Again, I wish we had more data. But so far the trend looks promising. To be honest, I thought earnings might actually look worse than this. I'm a little surprised we haven't seen a negative EPS print. It seems like PLAY is managing to grow profitably, which is not always an easy feat.
But I don't want to let them off the hook just yet. I think capital spending is worth a look. I'd like to confirm that the company is financing it with cash, rather than debt or equity dilution.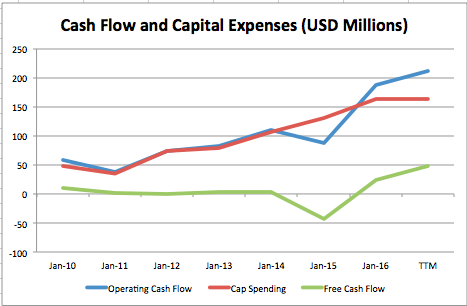 For the most part, this looks promising. I don't expect much in the way of free cash flow at this point because the company should have lots of growth potential to reinvest in. And as long as earnings and book value are growing, I don't think I can find reason to complain.
Speaking of book value, let's take a look. To my eye, this is obviously a small data set but rather promising so far.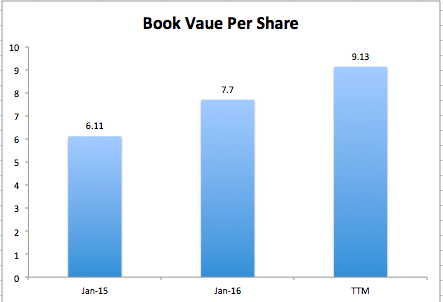 The reason I like this metric is because if I have an equity ownership stake in a growing company, I want that stake to be growing commensurately. This means I'm not getting diluted to finance growth. In this case, things look good. Shares outstanding have remained pretty consistent since the IPO too.
Another place to look for lower-quality growth financing is the balance sheet. In this day and age of cheap money, it's very possible that PLAY is financing their growth with borrowed money. Let's take a quick look at the debt/equity ratio to get a feel: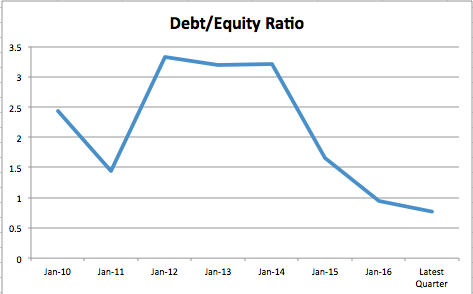 In fact, it looks like PLAY has actually been paying down debt lately. While the equity value has increased since IPO, long-term debt peaked in 2014 at $484M and the company has since paid it down to $331M as the first quarter in 2016 (source). For a growing company, I'm impressed with this improving financial position.
If PLAY can keep generating cash like this, and allocating it wisely, then we could have a winner on our hands. However, with only 79 stores, I think some execution risk remains. There is a lot of growth potential, but scaling to a national level remains fraught with difficulty. There's a lot of chance to drop the ball and I'll need to do more research into the management team to feel more comfortable here - though the growth statistics to date are encouraging.
Another slight risk I see is the working capital position. As of the first quarter 2016, PLAY reported -$47M in working capital. On its own, this isn't great. But to provide some context: on a trailing-twelve-month basis, this represents less than one quarter's cash flow. Cash should be coming in the door quickly enough to cover pressing needs, though it's a little too close for my personal comfort.
So what do we make of all this?
Conclusion:
On balance, I think PLAY looks pretty good. I like the revenue growth, and even more so I like that it's been profitable growth. I'm currently fully invested but will look to put some new money to work in PLAY in the near future.
But what do you think? Are you investing in PLAY? Have you been to the stores yet and what was your experience?
Disclosure: I/we have no positions in any stocks mentioned, and no plans to initiate any positions within the next 72 hours.
I wrote this article myself, and it expresses my own opinions. I am not receiving compensation for it (other than from Seeking Alpha). I have no business relationship with any company whose stock is mentioned in this article.