In a previous article (here), I compared the Greek Banks with each other. An interesting follow up question was raised on whether the international exposure of Eurobank Ergasias(OTCPK:EGFED) is a good or a bad thing.
As mentioned in the article, Eurobank has the most international exposure among its Greek peers with 29% of its operating income coming from abroad (Romania, Cyprus, Bulgaria, Serbia and Luxemburg). Although this somewhat mitigates the Greek political risks, the question remains whether this exposure is actually a good thing.
So let's have a look at (1) how the international operations impact Eurobank's performance and (2) compare the Greek economy with the other ones in which it operates.
Impact of international exposure
As shown below, the international operations of Eurobank have a positive impact on performance. The Net Interest Margins it enjoys abroad are higher and the international Cost-to-Income ratio is better. Despite the fact that Eurobank has quite some non-performing loans abroad, the international NPL ratio's are lower than the group average of around 35%.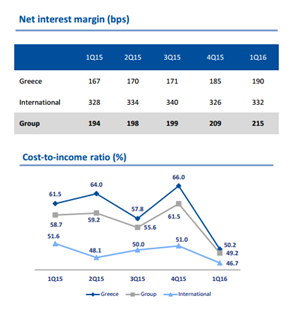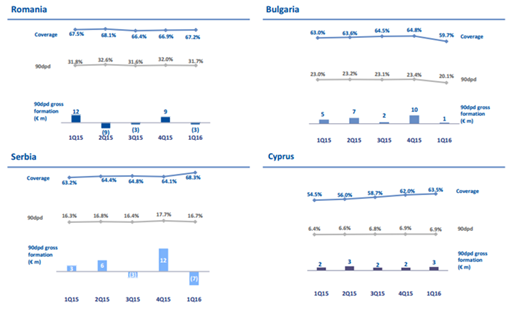 In sum, the growing international exposure seems to be a big plus for Eurobank. But what about the economic prospects of these countries? What if these other economies collapse? In that case, the international exposure will be a major drag on performance. So let's compare.
Comparing the economies
Most countries in the region got historically into problems by having too much debt, either public (Greece) or private (Cyprus, Ireland). So let's compare the debt levels of these countries, together with economic growth, size and the competitive ranking:
| | | | | | |
| --- | --- | --- | --- | --- | --- |
| | Greece | Romania | Serbia | Cyprus | Bulgaria |
| Government debt to GDP | 176.9% | 38.4% | 73.4% | 108.9% | 29.2% |
| Domestic credit to private sector as % of GDP | 116.9% | 31.2% | 34.8% | 251.5% | 59.6% |
| Current account as % of GDP | -1.8% | -1% | -4.8% | -4.8% | 1.2% |
| Real GDP growth | -0.2% | 3.7% | 0.7% | 1.6% | 1.7% |
| Population | 11 million | 20 million | 7 million | 1.1 million | 7.2 million |
| Competitiveness ranking (source: WEF) | 81 | 53 | 94 | 65 | 54 |
I am neither a macro guy nor an economist, but according to me the economies of Romania, Serbia and Bulgaria seem to be in a much better shape than Greece. On the other hand, Cyprus is another story but at least its economy is growing again after passing some painful reforms (I actually wrote about Cyprus and its biggest bank here). Also note that the private debt of Greece is quite low compared to Europe or the USA (198.1%). Its problem really came from public debt.
So to conclude, the growing international operations of Eurobank have a positive impact on its performance. The vast majority of the countries in which it operates are economically in a better shape than Greece.
Disclosure: I am/we are long EGFED.
I wrote this article myself, and it expresses my own opinions. I am not receiving compensation for it (other than from Seeking Alpha). I have no business relationship with any company whose stock is mentioned in this article.