Value investors will take notice when a stock loses nearly 92 percent of its peak value and the market sets a 3.1 to 3.3 times forward multiple on it. Valeant Pharmaceuticals (NYSE:VRX) is so toxic a stock for investors that without more bad news, the stock will likely break new yearly lows. The risk of bankruptcy is mostly off the table, but investors wrongly fret over Valeant's high debt ratios. The company will likely exceed cash flow levels it needs to service existing debt over the next two years. The operational adjustments management takes this quarter will likely the excessive fear for the company.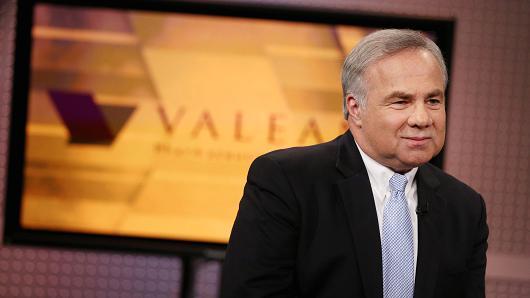 The big question traders are asking is if Valeant will hold $20. The answer requires looking at fundamental changes in the company and the technical chart. Most importantly, investors must believe the newly installed management team is capable of growing sales in the year ahead.
Debt manageable
Much like Kinder Morgan (NYSE:KMI) or Chesapeake Energy (NYSE:CHK), Valeant grew by taking on massive debt to acquire companies. It then generated positive cash flow from the acquisition over several years to service the interest costs. Just as energy fell, hurting profit margins, Valeant finds itself without any pricing power. The company must work down a 5.2x debt /equity ratio and raise its interest coverage ratio: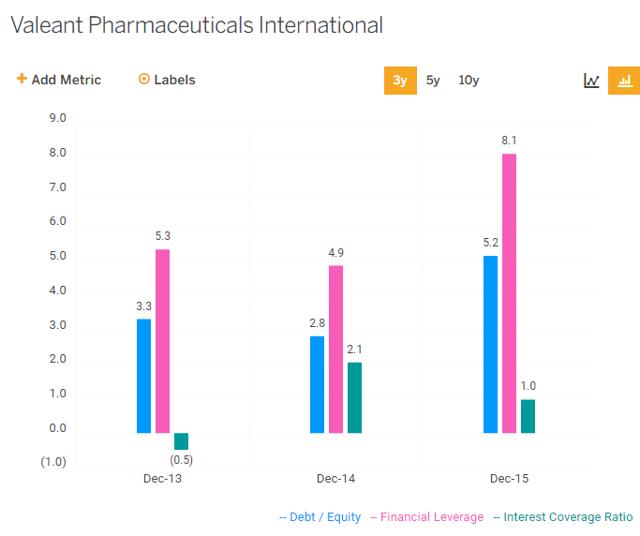 Click to enlarge
Source: finbox.io
Conventional wisdom accepts the crackdown on high drug prices will leave Valeant will low margin, and sometimes money-losing, drugs. This is only half true. Valeant reported negative ASPs (average selling price) for dermatology products sold at Walgreens Boots (NASDAQ:WBA). The loss per unit of sale is due to the timing of patient commercial insurance authorization. Valeant and Walgreen will fix the problem of delivering the product to the patient without first receiving full payment. Since the contract between the two companies is 20-years, it is in the best interest of both parties that product is not sold at a loss. CEO Joe Papa set a deadline of a few months for resolving this.
Underperformance at Salix
There is no excuse for the Salix unit reporting disappointing sales for GI drugs. An exodus in management and high turnover in sales staff distracted the unit. Previously, the company ran a highly successful ad campaign promoting Xixafan.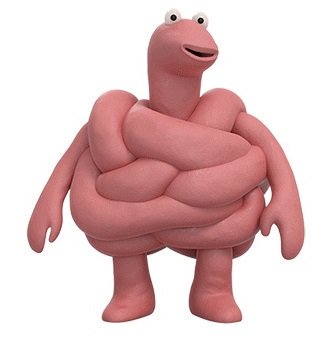 Valeant should consider boosting ad spend for the drug, with the aim of sustaining double digit revenue growth.
Bausch & Lomb sale unnecessary
Calls for Valeant to sell B&L makes little sense. The company has a strong, positive brand name recognition with the public. Sales are up, albeit at single digits. There is still significant growth opportunities for the consumer unit. Contact lens solutions and products do not face much competition. Prices are rising steadily for moisturizing lotions, which makes room for higher profits for the CeraVe product. A quick check in retail stores suggests to me there are too many different CeraVe products. The company could hone in on a more effective, emollient rich mix for sensitive skin. The product would serve a niche market (i.e. eczema and psoriasis customers) and face less competition.
Risks
Valeant's stock is clearly not without risk. Management lowered expectations, baking in operational risks as it restructures its business units. The adjusted forecast from management of $6.60 to $7.00 earnings per share (non-GAAP) values the company at a forward P/E of 3.3 times.
Valuation and price target
Valeant enters a seasonally stronger period. This sets the stage for the stock finding a bottom in the current quarter. On the conference call held on June 7, the CEO said:
We see the June quarter is being better favorable to Q1, so clearly that that is the first comment I'd offer. I don't think I want to say too much more specifics on it, because there's still a lot of moving pieces in the quarter, but we do see it is favorable to the first quarter at this time.
Applying a WACC at 8.5% - 9.0% and an EBITDA exit multiple of 1.2 times to 2 times, Valeant's fair value is $22.27:

Click to enlarge
An EBITDA multiples valuation compares Valeant to similar companies in the same sector. Note that the sector comparable is too high. Endo International (NASDAQ:ENDP) warned it faced a weak year ahead due to generic competition and weak pricing pressure. A crackdown on drug pricing suggests other biotechnology and pharmaceuticals will face a compression in stock price multiples.
Assuming a more optimistic outlook for the sector, Valeant has an undervaluation of around 33 percent.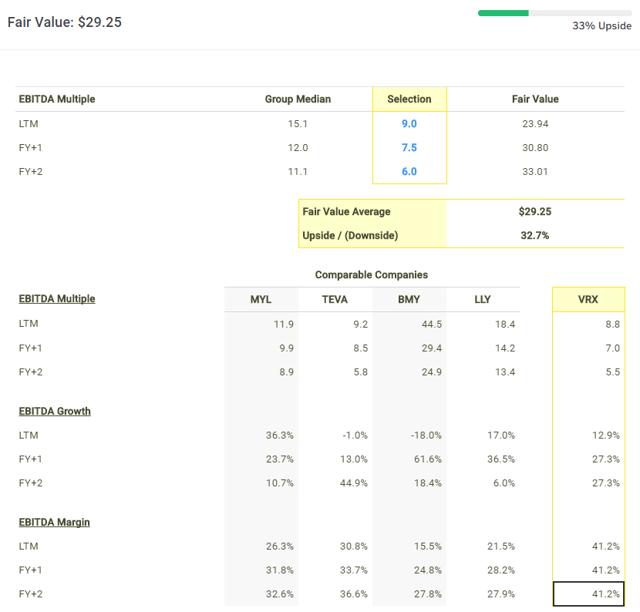 Click to enlarge
Technical chart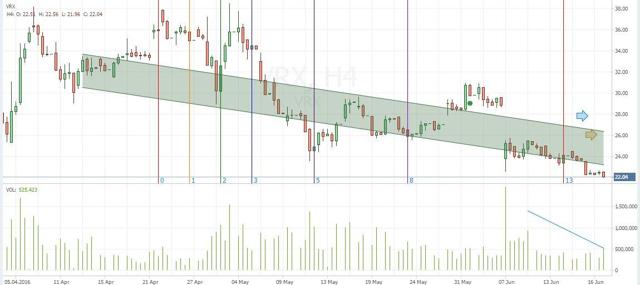 Click to enlarge
Source: TradingIdea
Selling pressure is moderating. Fibonacci time zone anticipates a potential reversal point is due. The channel shows the negative momentum in the stock price. Should Valeant's stock rally, it may move to the upper price channel of $26.
Bottom line
Valeant's stock has yet to bottom, but if selling pressure persists, the stock should reach extreme oversold levels at below $20 / share. The deep discount will linger, keeping Valeant a value trap until the company proves Salix and B&L will reverse its underperformance.
Please [+] Follow me for continued coverage on Valeant's turnaround efforts. Click on my name next to my avatar at the top of the article. Thank you for reading.
Disclosure: I/we have no positions in any stocks mentioned, and no plans to initiate any positions within the next 72 hours.
I wrote this article myself, and it expresses my own opinions. I am not receiving compensation for it (other than from Seeking Alpha). I have no business relationship with any company whose stock is mentioned in this article.