A monster heat wave is hitting Southern California just in time for the summer solstice on Monday. Already, electrical power outages have occurred around Los Angeles and Orange counties. The National Weather Service has issued excessive heat advisories. The Los Angeles County Public Health Department said it plans to issue a heat alert for Sunday through Tuesday.
The blistering heat is the result of an upper-level ridge of high pressure that is building slowly over Southern California. The system should start to weaken by Tuesday, and temperatures should start to drop.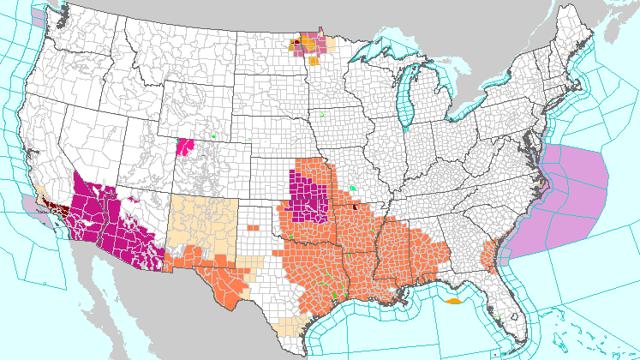 Click to enlarge
The National Weather Service has issued excessive heat warnings, designated in magenta, for parts of several states beginning Saturday and continuing until Tuesday.
But the excessive heat warnings extend far beyond Southern California. The Southwestern states, as well as those many bordering the Gulf of Mexico, will be affected.
Some predicted highs over this period: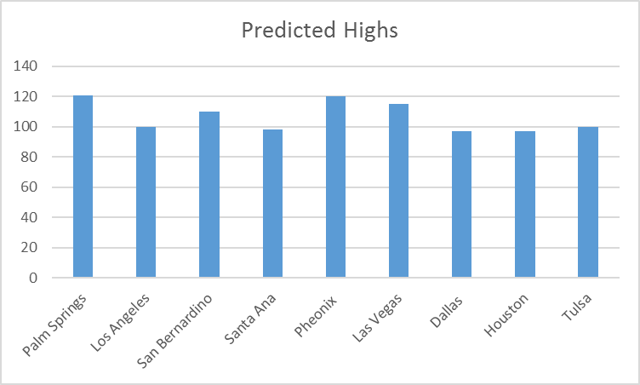 Click to enlarge
The reason this is important for natural gas demand and prices is that these states consume about 45 percent of the nation's total natural gas used as a fuel for electric utilities. And those air conditioners will be cranked up.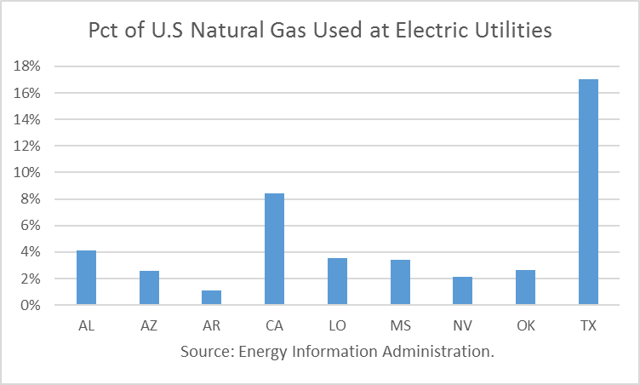 Click to enlarge
Conclusion
This heat wave came on suddenly and was not a featured in the nat gas market before Friday's close. I had become concerned that the short speculators stopped covering their shorts last week, but this may make them think again.
Severe heat waves can be life-threatening. I hope everybody takes care of themselves, their elders, children and their pets.
Disclosure: I/we have no positions in any stocks mentioned, and no plans to initiate any positions within the next 72 hours.
I wrote this article myself, and it expresses my own opinions. I am not receiving compensation for it (other than from Seeking Alpha). I have no business relationship with any company whose stock is mentioned in this article.