About two months ago, I published an article praising AT&T (NYSE:T) for venturing outside the United States through the 2015 acquisitions of DirecTV, Iusacell and Nextel Mexico. AT&T, in fact, is the only U.S.-based carrier generating material revenues outside its home country. Geographic diversification is one of the advantages of investing in T over its domestic competitors.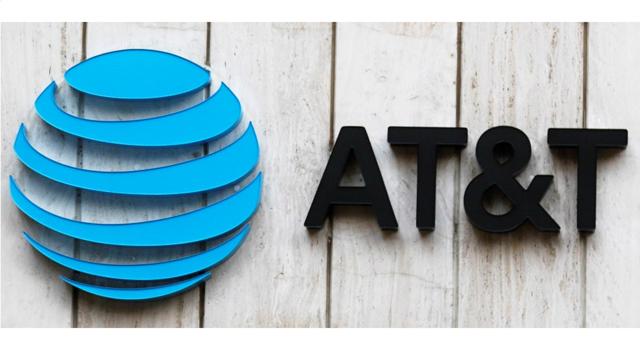 Click to enlarge
Credit: DallasNews.com
Since then, however, the stock has rallied 6.1%, beating the S&P 500's (NYSEARCA:SPY) 1.4% by a wide margin. In fact, shares have run 18.4% YTD, while the Vanguard Information Technology ETF (NYSEARCA:VGT) has dipped about 2%.
So has T rallied too far? Is it time to shed some shares, or does the stock look like a buy?
On this article, I take a glance at some key fundamentals, compare them against those of AT&T's global carrier peer group, and take a look at some of the arguments for the bull case.
Analyzing the fundamentals
The two tables below line up 10 of the top global carriers outside China, including AT&T, and some of their key fundamentals: short-term EPS growth, dividend yield, P/E (price-earnings ratio), PEG (P/E divided by 2017 EPS growth, in percentage terms), international presence, net-debt-to-EBITDA ratios, and how far off shares are from their 52-week highs. I also include, on this table, AT&T's same metrics today vs. those of 90 days ago.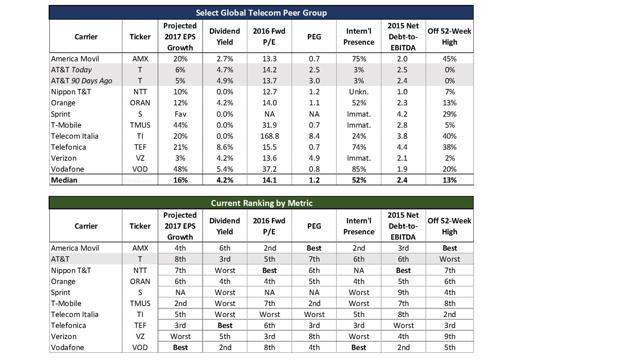 Click to enlarge
Source: DM Martins Research, using data from Yahoo Finance, Market Watch and SEC filings
Amongst all the criteria above, AT&T stands out in one regard: it is one of the highest dividend-paying companies in the telecom world. Delivering a dividend yield of 4.7% (the best of all U.S. carriers), the stock can be very attractive to income-seeking investors, especially those trying to mitigate currency risk - since, in Europe, Vodafone (NASDAQ:VOD) and Telefonica (NYSE:TEF) pay dividends in excess of 5%.
But in every other metric, AT&T falls at or below peer average.
The company is expected to grow EPS at the second slowest pace of all carriers, beating Verizon (NYSE:VZ) only. Both seem to be in search of inorganic growth, most recently through the potential acquisition of Yahoo (NASDAQ:YHOO). But at least for the next 12-24 months, if AT&T is in fact able to snatch the internet company, I would expect to see a ramp up in integration expenses and cost reduction efforts overwhelm any upside that the acquisition of the Sunnyvale company may eventually bring in.
On the valuation front, T still looks on par with the peer group, last trading at 14.2x forward EPS vs. the peer median of 14.1x. Still, this multiple is half a turn (i.e. 0.5x) higher than the stock's forward P/E only 90 days ago. And on a PEG basis, T's current 2.5x multiple is about twice as high as the peer median - the 3rd worst among the 10 stocks. It does not help that shares currently trade at the very top of its 52-week range.
Lastly, AT&T ranks bottom-half of the peer group when it comes to net cash/debt. The company's 2015 net-debt-to-EBITDA ratio of 2.5x reflects an increase in debt (and decrease in cash on hand) that has taken place as a result of recent, sizable acquisitions. The deal with DirecTV, for example, consumed $47 billion of AT&T's resources. And as SA author Casey Hoerth properly pointed out, this recent increase in net debt is likely to result in a slower growth of AT&T's dividends, at least until some deleveraging takes place.
Lastly, a bit of bull case
In addition to dividends, international expansion may help AT&T stand out from the (U.S. carrier) crowd. As I have argued recently, Mexico could drive almost 50% of the company's 2017 top-line growth expectations of 1.9%, despite the market still being such a small piece of AT&T's overall business. And America Movil's (NYSE:AMX) low-40s wireless EBITDA margins in Mexico could mean that AT&T's growth in the country might bring in more bottom-line upside than the sector has grown accustomed to. In addition, the potential upside in wireline and video opportunities coming from Latin America could eventually and finally provide the extra few percentage-point increase in EPS that AT&T has been craving. And finally, as SA author Christopher Davis has argued, 5G upside could also carry AT&T into its new leg of growth.
In conclusion
All things considered, I see AT&T as an aggressive play, as high PEG and debt load levels could serve as significant headwinds for shares to continue to soar. Investors interested in a steady 4%-plus dividend or bullish on AT&T's growth prospects, either overseas or in 5G technology, might find it appealing to hang on to shares. But on my end, I will continue to watch how the stock behaves from a safe distance.
Disclosure: I am/we are long SPY.
I wrote this article myself, and it expresses my own opinions. I am not receiving compensation for it (other than from Seeking Alpha). I have no business relationship with any company whose stock is mentioned in this article.