Click to enlarge
Source: Energy Transfer Partners
Since oil peaked in mid-2014 income investors have been badly burned by MLPs such as Enterprise Products Partners (NYSE:EPD). In fact, on a total return basis Enterprise has underperformed the S&P 500 by more than 31% over the past two years.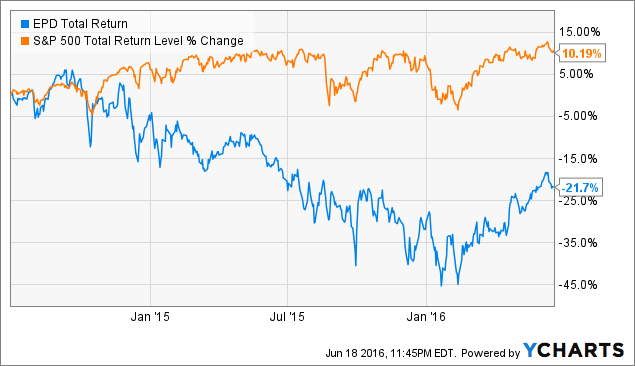 EPD Total Return Price data by YCharts
However, as is often the case on Wall Street, investors overreacted to the oil crash and threw the baby out with the bathwater. Find out five reasons why Enterprise Products Partners remains one of the best midstream MLPs you can own. More importantly, find out why, even after the recent recovery in crude sent its price soaring 28% from its February low, Enterprise is still likely to deliver market beating total returns over the next five to ten years.
Business model built around supreme cash flow consistency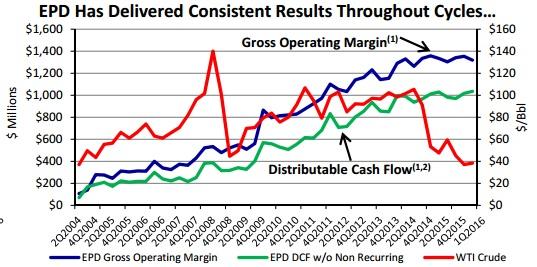 Source: Enterprise Products Partners investor presentation.
Despite incredible volatility in oil prices Enterprise Products Partners has been able to maintain consistently high operating margins and distributable cash flow from which to pay its quarterly distributions. That's due to the fact that almost all of its cash flow is protected by long-term fixed-fee contracts that insulate it from commodity price swings. In addition, many of its contracts include minimum volume commitments. This means that even if customers end up shutting down oil and gas production, Enterprise and its investors still end up getting paid.
Rock solid payout profile means most consistent distribution growth in the industry
Yield: 5.7%
Q1 2016 Distribution Coverage Ratio: 1.30
Q1 Retained Cash Flow: $243.2 Million
10 Year Analyst Distribution Growth Projections: 5.3%
Projected 10 Year Total Annual Return: 11.0%
The rule of thumb for total returns is yield + long-term dividend growth. While Enterprise Product Partners' may not have the industry's highest yield nor the fastest potential growth rate, it should nonetheless be sufficient to soundly beat the S&P 500's historic return of 9.1%.
Of course long-term payout projections can easily prove false, and so you must always be skeptical. However, given Enterprise's impressive track record of steady distribution growth over the last 47 consecutive quarters, that 5.3% forecast seems reasonable.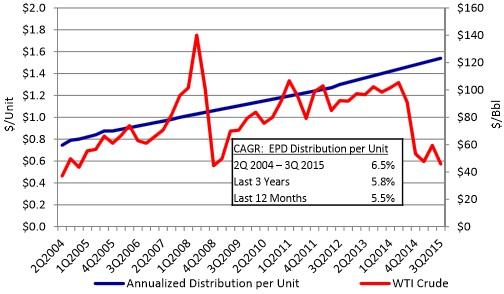 Source: Enterprise Products Partners investor presentation.
That's especially true when you consider the extra cash flow due to arrive courtesy of the $6.4 billion in new projects Enterprise has coming online between Q2 2016 and the end of 2018.
World class management
Ultimately Enterprise's success depends on management's ability to take advantage of profitable opportunities. This includes its $8 billion buyout of its general partner back in 2010. As I'll soon explain, this decision, has paid immense dividends to its investors over the years and will continue to do so.
In addition to opportunistic acquisitions, Enterprise's management long ago decided to retain substantial amounts of its cash flow with which to help fund growth. This means that Enterprise is less dependent on external debt and equity capital markets, which has allowed it to grow with far less investor dilution than large competitors such as Energy Transfer Partners (NYSE:ETP), or Williams Partners (NYSE:WPZ). By keeping unit count growth low, Enterprise is better able to deliver the kind of consistent and secure payout growth for which it's so well known.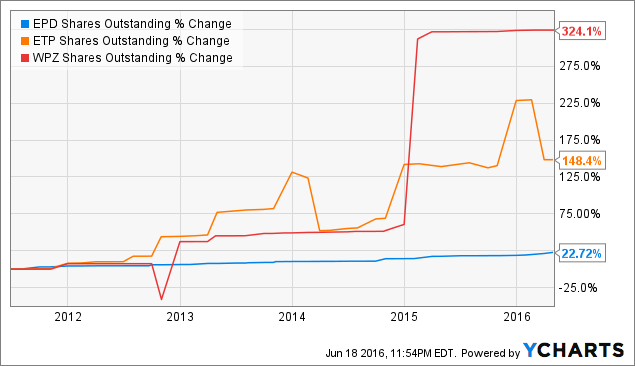 EPD Shares Outstanding data by YCharts
Conservative balance sheet
Since the midstream industry is incredibly capital intensive investors need to make sure that management doesn't take on so much debt that the MLP might have trouble servicing it. Not only could such over leverage result in a credit downgrade (which would raise future borrowing costs), but it could result in a debt covenant breach. That in turn could result in a suspension of the distribution and unit price collapse.
Sources: Morningstar, Gurufocus, Fastgraphs

| | | | |
| --- | --- | --- | --- |
| MLP | Debt/EBITDA Ratio | Interest Coverage Ratio | S&P Credit Rating |
| Enterprise Products Partners | 4.49 | 3.70 | BBB+ |
| Energy Transfer Partners | 6.61 | 1.74 | BBB- |
| Williams Partners | 16.71 | 0.53 | BBB- |
Fortunately, Enterprise's balance sheet is much stronger than some of its large competitors meaning it can easily cover its interest payments with operating income. In fact, Enterprise Products Partners' BBB+ credit rating is the highest in the entire midstream industry, which is how it can borrow tens of billions of dollars at an average interest rate of 4.4%.
No general partner = major competitive advantage
Thanks to the acquisition of its general partner Enterprise is one of the few midstream MLPs that doesn't have incentive distribution rights driving up its cost of capital. That in turn means that the minimum return potential projects need to clear to make economic sense is lower than most of its peers. Which in turn means Enterprise Products Partners' potentially still has a long growth runway ahead of it.
Thanks to this combination of no IDR fees and large amounts of retained cash flow that minimizes investor dilution, Enterprise Products Partners is likely to keep growing its distribution at a slow but steady rate for the next decade and beyond.
Risks to consider
There are two long-term risks to Enterprise Products Partners' ongoing success. The most immediate is the prospect of rising interest rates. Not only would that raise its borrowing and debt refinancing costs, but it might also directly result in a unit price decline.
That's because, over the past seven years yield starved investors seeking both income and security, such as retirees or pension funds, have been eager buyers of Enterprise's units. If interest rates were to rise to their historic norm of 5% then suddenly safe alternative income sources such as bonds, savings accounts, or CDs might decrease demand for Enterprise's units.
A longer-term risk with Enterprise is the potential for the peaking of fossil fuel demand earlier than many expected. Don't get me wrong, I'm not saying that within the next 10 to 15 years the world will abandon oil and natural gas, and make Enterprise's assets obsolete.
However, investors with very long time horizons should be aware that at some point you might have to sell Enterprise because its growth prospects will have dried up completely. If that happens in the trough of another oil downturn then you might end up losing several years of capital gains. You could even permanently lose money if you end up buying at the top of the final oil cycle.
Bottom line: Old faithful of distribution growth is the ultimate sleep well at night MLP
Warren Buffett once quipped that there are two vital rules to successful investing: "rule 1 never lose money, rule 2, never forget rule 1." If the oil crash has taught investors anything it's that energy prices are both incredibly volatile and impossible to predict. Therefore, Enterprise Products Partners, with its: rock solid coverage ratio, unparalleled payout growth track record throughout any and all economic conditions, and conservative high-quality, management team, represents one of the best core holdings for your diversified dividend portfolio.
While its growth rate won't make headlines, you're also not likely to lose your shirt with Enterprise due to a distribution cut. And as the last few years have proven, that kind of income security can often be the key to long-term, market beating total returns.
Disclosure: I/we have no positions in any stocks mentioned, and no plans to initiate any positions within the next 72 hours.
I wrote this article myself, and it expresses my own opinions. I am not receiving compensation for it (other than from Seeking Alpha). I have no business relationship with any company whose stock is mentioned in this article.