By Raul de Frutos
Gold is recovering its strength this month. Prices last week rose to the highest levels in almost two years. We already pointed out last month that prices had upside potential.
There are mainly three factors contributing to the price move: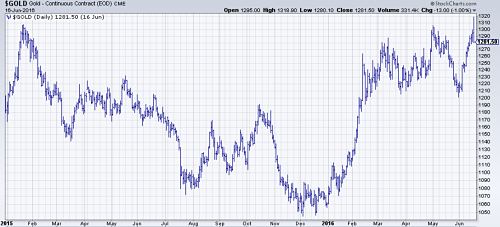 Gold hits new highs on falling bond yields and economic fears. Source: @Stockcharts.com
Economic Fears
The yellow metal is being bought as a hedge against falling global stocks. The unusually dovish comments from the Federal Reserve last Wednesday showed a lot more pessimism on the U.S. and global economy while investors fear that central banks are losing their ability to boost global stocks or economies. Moreover, this week's British Brexit vote is causing a lot of global volatility.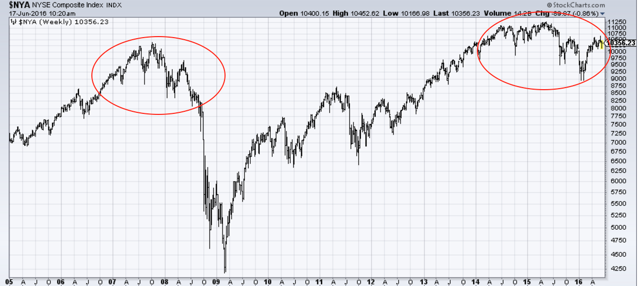 Click to enlarge
NYSE Composite Index acting like 2007's top. Source: stockcharts.com
As we warned in May, stock markets pulled back in June. There is no guarantee that the worst has passed. Indeed, so far we are just witnessing choppy action.
U.S. stock indexes have shown only back-and-forth action for more than a year now. This market action is typical of a market top, which could potentially make more money rotate into gold.
Treasury Yields Tumble to a 4-Year Low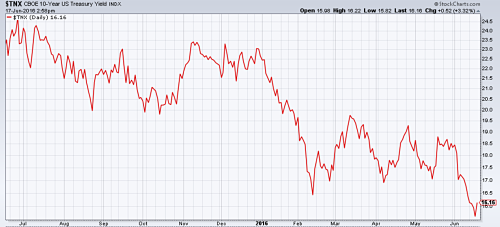 10-Year U.S. Treasury yield hits a 4-year low. Source: @Stockcharts.com.
The 10-year treasury yield settled at 1.56%, the lowest level in four years. The lower the yield, the lower the returns investors get from their bonds. That's important, because in periods where yields are near zero, many investors prefer to buy gold rather than bonds that practically pay zero. In this manner, in the current stock market turmoil, part of the money that would normally go to bonds is going to gold.
Weak Dollar
Last week, the Federal Reserve left interest rates unchanged and officials lowered the outlook for rate increases in the coming years, indicating how officials' views are changing. The Fed doesn't see rates going as high as it thought they would before and, if this trend continues, the dollar could continue to weaken which would support metal prices.
Moreover, the Japanese yen surged after The Bank of Japan (BOJ) stood pat last week. Economists expected the BOJ to take additional action in recent months, after the bank repeatedly vowed to take action if the central bank's 2% inflation target was in danger. The yen could continue to appreciate against the U.S. dollar, which is good for gold.