This article will discuss a measure that I will be using for my upcoming baby bond ratings. As mentioned in the previous article, not all BDC bonds are rated by S&P/Fitch/Moody's and the ones that are do not have much variance between with either BBB or BBB-. I will be using typical measures used by the rating agencies but I will be including many other indicators related to portfolio/asset credit quality, effective leverage and asset coverage ratios, interest expense coverage ratios, etc. This article will briefly discuss changes in net asset value ("NAV") per share driving pricing multiples and dividend yields.
As discussed in "BDC Leverage & Baby Bonds: Part 1", I am expanding my coverage of business development companies ("BDCs") to include Baby Bonds (also known as exchange-traded debt) for investors that would like to limit the amount of pricing volatility and overall risk in exchange for lower yields. This will likely be a long series of articles that will cover general BDC topics as well as introducing investors to individual bonds offered by BDCs.
Previous articles in this series:
NAV Per Share Changes & Continued Bifurcation:
As mentioned in many previous articles, there is a clear correlation between change in NAV per share and the prices that investors pay for common stock of BDCs. However, the following table does not necessarily take into account whether or not BDC management has aggressive or conservative valuation policies but is often reflected in the multiples that investors are willing to pay. During an earnings call for TPG Specialty Lending (NYSE:TSLX), Josh Easterly, the CEO, mentioned:
"Quite frankly, again, I think the space -- it would probably be less difficult for the space to raise capital if there was a clear, consistent approach to valuation. My view, and you've heard me say this, is either managers will mark their book or the market will mark it for them."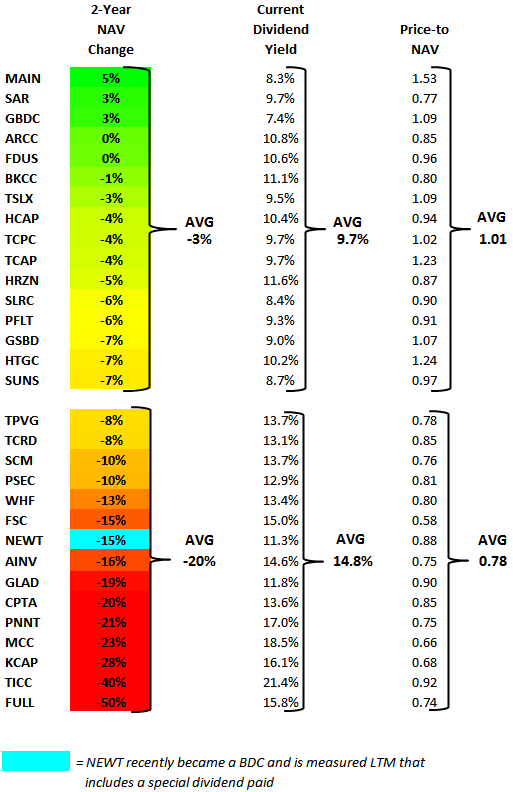 It is important to note that much of the recent NAV per share declines were optics and related to general market pricing and the widening of spreads. Market prices have rebounded with some tightening of spreads and we are likely to see NAV improvement for calendar Q2 2016. Again, the change NAV does not consider whether BDCs take conservative marks on portfolio assets. This means that there are plenty of higher quality BDCs with NAV per share declines that should bounce back at some point especially related to 'unrealized' losses. I believe most investors are aware of this and assigned appropriate price-to-NAV multiples (in many cases, not all).
TSLX, Ares Capital (NASDAQ:ARCC) Fidus Investment (NASDAQ:FDUS) Main Street Capital (NYSE:MAIN), TCP Capital (NASDAQ:TCPC), Triangle Capital (NYSE:TCAP), and Golub Capital BDC (NASDAQ:GBDC) have historically had higher NAV per share performance driving higher multiples and lower dividend yields.
Newtek Business Services (NASDAQ:NEWT) is a bit of an outlier and I will discuss later in this series. The company recently became a BDC and the NAV per share decline is mostly related to a required special dividend payment.
As mentioned in Part 3 linked above, BDCs such as Medley Capital (NYSE:MCC) and Fifth Street Finance (NYSE:FSC) have higher NAV per share declines related to fee agreements, quality of management and credit platforms driving poor quality originations regardless of higher amounts of first-lien. These NAV declines would have been much less if they had "high water mark" fee agreements in place before the declines. MCC and Apollo Investment (NASDAQ:AINV) have recently included this feature in the updated fee agreements but does take into account previous losses. AINV, Gladstone Capital (NASDAQ:GLAD) and PennantPark Investment (NASDAQ:PNNT) have oil related exposure responsible for much of the recent declines and TICC Capital (NASDAQ:TICC), Prospect Capital (NASDAQ:PSEC), and KCAP Financial (NASDAQ:KCAP), have much higher exposure to collateralized loan obligations ("CLOs"). It is important to note that companies such as TICC have conservatively marked the CLO portion of the portfolio that is responsible for most of the declines but it also has a higher price-to-NAV multiple, likely for the reasons mentioned earlier.
NAV Per Share Changes & Baby Bond Yields:
There are many factors to take into account when pricing baby bonds including the typical bond measures of duration, security, call protection, credit quality, coupon rate, etc. I will be focusing on these later in this series as well as discussing how historical and potential changes to NAV impact pricing for their bonds. For a list of all my articles including BDC rankings (risk, return, pricing, dividend potential), target pricing charts, interest rate discussion, and valuations, individual dividend coverage potential, suggested BDC portfolios, my historical purchases and current positions, please see my "BDC Research Page" and for my free monthly newsletter, please visit "BDC Buzz.com".
Personal note: I have updated my positions to reflect changes in my holdings, but please keep in mind that some of the positions are very small and mostly for research purposes.
Disclosure: I am/we are long ABDC, AINV, ARCC, BKCC, FDUS, FSC, FSFR, FSIC, GAIN, GARS, GBDC, GLAD, GSBD, HTGC, MAIN, MCC, MRCC, NMFC, PFLT, PNNT, PSEC, TCAP, TCPC, TICC, TPVG, TSLX.
I wrote this article myself, and it expresses my own opinions. I am not receiving compensation for it (other than from Seeking Alpha). I have no business relationship with any company whose stock is mentioned in this article.