The stock price of Ultra Petroleum Corp. (OTCPK: OTCPK:UPLMQ) has soared in the last month as natural gas prices at the Opal Hub have increased 38% and investors are hoping to get something in the bankruptcy re-organization plan. Some shareholders are trying to get an official equity committee approved to protect their interest.
Official Equity Committee
The hope of getting an official equity committee approved was raised last week when bankruptcy Judge Marvin Isgur, who is the judge handling Ultra's case, approved an official equity committee for Energy XXI (Bermuda) LTD. (OTCPK: EXXIQ). Some UPLMQ holders were hoping that this would indicate that Judge Isgur would also be willing to approve an official equity committee for Ultra. The question is who actually made the decision? EXXI's case is being handled by bankruptcy Chief Judge David R. Jones and not by Judge Isgur. Judge Isgur only heard this emergency hearing. Did Judge Isgur get input regarding this motion from Chief Judge Jones? Not sure. Judge Isgur signed the order (docket 510) instructing the U.S. trustee to appoint a committee, which she immediately did on June 17th (doc 554). (Note: Judge Jones is also handling the Linn Energy's (OTCPK: LINEQ) bankruptcy case.)
The issues regarding the EXXI committee did warrant an appointment of an official equity committee, in my opinion. (See emergency motion request doc 389 and exhibit list doc 488) For the quarter ending March 31, 2016 management wrote down the value of proved undeveloped reserves by $2.67 billion even though oil prices had been rising from their January lows. The big issue is that current management is getting 10% of the new company plus undisclosed employment contracts under the re-org plan. In addition, there have been question raised about inappropriate loans made to management. Other issues were also raised in the emergency motion, but clearly this "smells". (Using a term my business law professor used.)
The case for an official equity for Ultra basically assert a valuation issue in their motion. (Ultra Petroleum docket 252) The letter claims that Ultra is worth between $6.652-5.741 billion, implying an equity value of $3.110-2.199 billion or $20.28-14.33 per share using comparable M&A analysis. Using comparable valuation analysis of other natural gas/oil companies values shares at $8.28-19.61. To get these figures, the letter writers uses a multiple of 11 times the writer's estimated EBITDA of $437.5 (2016)-595.4 million (2017). On the date of the letter, June 8th, the Opal Hub price was $2.10-2.15. All of this is to prove that Ultra is "not hopelessly insolvent". It is important remember that the auditors issued a qualified opinion and these shareholders requesting an official committee are effectively asserting that the auditors were wrong.
The same law firm that wrote the letter requesting an official equity committee, Brown Rudnick, also wrote a letter requesting one for Magnum Hunter Resources Corp. (OTCPK: OTCPK:MHRCQ) Both the U.S. trustee (Magnum Hunter docket 1126) and the judge (doc 1179) denied their request. As the trustee stated in the denial, "Even if a movant is able to demonstrate a substantial likelihood of a meaningful distribution to equity security holders, they must also demonstrate that the interests of equity holders cannot be adequately represented without an official committee." Magnum Hunter shareholders got nothing under the re-org. plan.
Some Major Players
Eric Cole of Warlander Asset Management, who filed a report on May 12 with the SEC indicating that they own 17 million share or 11.0%, has not directly filed a request for an equity committee. I am still trying to determine why Mr. Cole was willing to go just over the important 10% level. Any profits gained by Warlander within 6 months are recoverable by Ultra under Sec 16(b). (This often is referred to as "short-swing" profits.) Does Mr. Cole expect additional shares to be issued in the near future which would put his holdings below 10% at the time of any profitable sale or are certain exempt off-shore entities (Warlander holds some undisclosed amount in exempt off-shore funds) not included in determining the 10% figure? By my reading of the law, I think they should be included, but I may be incorrect. This short swing profit rule may restrict any profitable trading in the near-term by Warlander.
Here is the list (Doc 228) and holdings of the ad hoc Senior Committee:
Anchorage Capital Group L.L.C.
Ultra Resources Revolver: $267,725,000
$129 million privately placed notes
Knighthead Capital Management, LLC
Ultra Resources Revolver: $14,990,500
$109 million privately placed notes
Oaktree Capital Management, L.P.
Ultra Resources Revolver: $174,755,000
$95 million privately placed notes
Holdco 2018 Notes: $3,775,000
Holdco 2024 Notes: $23,985,000
Sankaty Advisors LLC
Ultra Resources Revolver: $85,000,000
$13 million privately placed notes
Natural Gas Prices
Prices for natural gas at the Opal Hub has increased almost 38% in the last month as extremely hot weather has occurred their market area and is forecasted to continue. Air conditioning use has soared. About two weeks ago the Opal price was around $2.10 while the Henry Hub was over $2.50, but the difference is only now about $0.10. A very hot summer needs to be followed by a cold winter to get natural gas storage closer to normal.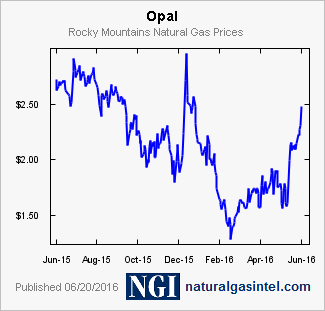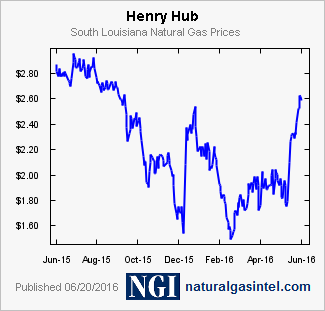 Note:vertical numbers are different between the 2 charts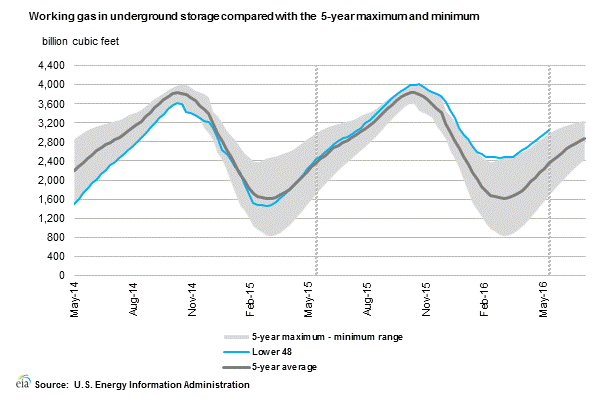 Conslusion
I am not a judge, but in my opinion I do not think the request for an official equity committee will be approved. The request focused mostly on value and almost no mention of shareholder's interests not being represented without an official committee. If the trustee denies the request, shareholders may want to wait until natural gas prices increase further, since so many are asserting prices will continue to rise, before they appeal to Judge Isgur. Actually I think too much emphasis is being placed on the importance of an official committee. I also think that too much emphasis is being placed on Eric Cole owning 11%. A few years ago, Kirk Kerkorian owned 33% of Delta Petroleum (now Par Pacific Holdings (NYSEMKTS: PARR) and many thought because of that, Delta would never file for bankruptcy. It did go bankrupt and shareholders got nothing.
While natural gas prices have soared off their lows, they need to go higher in order for UPLMQ shareholders to get anything under a re-org plan. I am still waiting for some type of asset sale announcement and it will be interesting to see the EBITDA multiple a potential buyer is willing to pay for any assets. I just do not think the 11x used in the committee request is rational. I even consider 8x too high.
Too justify the extremely high risk assumed in buying UPLMQ at current prices, a shareholder would have to expect at least getting paid double their purchase price in a re-org plan. That would imply that UPL is worth: $3,542 million + 2x$238 million=$4,118 million. To get that value either natural gas prices/EBITDA need to soar or the company finds an aggressive buyer of their assets at a high multiple. Therefore, I think that UPLMQ is not worth the risk. There are better risk/reward opportunities in the natural gas industry.
Disclosure: I/we have no positions in any stocks mentioned, and no plans to initiate any positions within the next 72 hours.
I wrote this article myself, and it expresses my own opinions. I am not receiving compensation for it (other than from Seeking Alpha). I have no business relationship with any company whose stock is mentioned in this article.
Editor's Note: This article covers one or more stocks trading at less than $1 per share and/or with less than a $100 million market cap. Please be aware of the risks associated with these stocks.