Being a high yield preferred investor, because of their lack of abundance, I am always in search of new issues to invest in. I do this to build a portfolio that is diverse as possible and limit my tendency to over-concentrate, which can be very dangerous. Consequently, several times each month, I pay a visit to Preferred Stock Channel, one of my all time favorite sites to research new and existing preferred offerings I might want to invest in. This article is designed to help you navigate and utilize this site to its full potential.
Let's begin by taking a look at a screenshot of Preferred Channel's opening page. Because it is crammed with so much information, it might be helpful to view it in its entirety by using the link I provided above.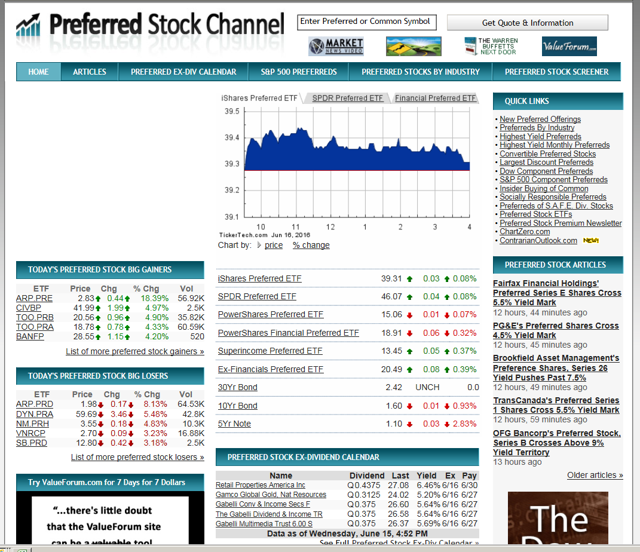 Click to enlarge
On the right, just below the Quick Links heading is the New Preferred Offerings link, which is the first link I utilize, and the link I use most often. I've pretty much exhausted the Highest Yield Preferreds link, because I've already added a majority to the preferred watch list I set up on my IB trading platform. However, I make a periodic pilgrimage to that site because it updates me on the current highest yielders in the event I might have missed one or two.
Let's revisit the New Offerings page.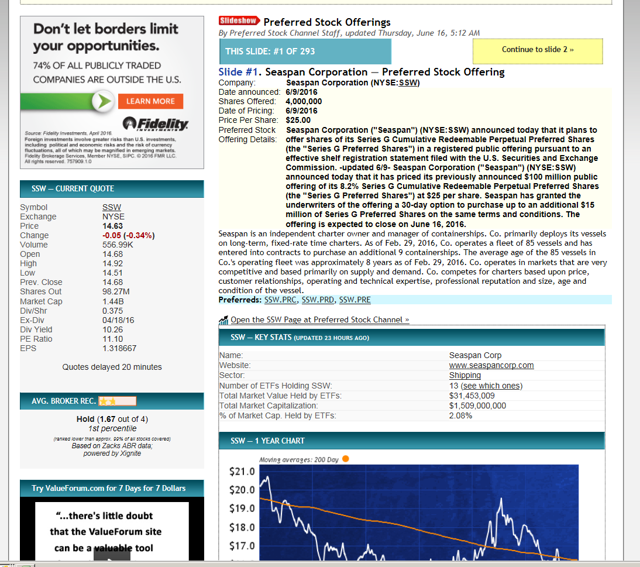 Click to enlarge
Bingo, we have a winner. One of my favorite shippers, Seaspan (NYSE:SSW), who, BTW, just called their Series C preferreds, and snatched them out of my hot little hands, has come out with another preferred to replace it: The G Series, offering a coupon rate of a respectable 8.2%, which immediately grabbed my attention. Other useful information about the issue and company are also provided throughout the page. A great start for your investigation of whether or not you want to potentially add this preferred to your portfolio. BTW, I just added it to my preferred watchlist as SSPNF, the interim symbol until it becomes SSW-G. As I write, it's trading at $24.93.
Notice the blue rectangle above the name of the company, which indicates that this is the first slide offered. To the right of it, you'll notice the yellow rectangle, which invites you to click on to slide #2 and the next new preferred coming on the market. Actually, Seaspan's preferred was the latest new offering, slide #2 about Mitcham Industries (NASDAQ:MIND) came out a few days earlier. It's another high yield, 9% offering, which is not surprising because of the market it sells to: Oil exploration.
In my experience, you can continue on to Five new preferred offerings before you are prompted to provide your name and email address, which will allow you to continue your search. A relatively painless and cost-free condition, well worth the "expense."
I normally add those preferreds that interest me to my IB watch list whenever possible. However, the most recent are often too new to be accepted, consequently, I send myself a reminder to continually check when it does become available for trading. Some members recommended the gray sheets for potential early trading, which I haven't tried as yet, but it might be interesting to explore.
Now let's click on the Highest Yield link. As with the New Preferred Offerings page, you click on the yellow link each time you want to advance to the next issue. However, with this page, the preferreds are offered in an ascending scale, meaning the current yield escalates with each succeeding preferred viewed. Be sure to remember that as the yield increases, so does the risk. Know your risk tolerance before you invest. Mine is considerably higher than most, so be sure not to follow my example unless you can afford to lose or you are an inveterate gambler. If the latter, seek help.
At the other extreme, one I'm forced to admit I have little experience with, although I heartily recommend it for the more risk averse investor, is the Preferreds of S.A.F.E. Div. Stocks link. Although the yields are lower, I'm certain many of you might feel more comfortable with them as investments. For most, I consider this a pretty smart move.
With Preferred Channel, there's a wealth of information available for the clicking, and the price is an unbeatable - Free. I recommend a visit and regular follow-up visits.
Don't hold my feet to the fire, it would hurt, but I seem to recall finding, and adding the following to my preferred watch list: Adcare Health Systems (NYSEMKT:ADK) ADK-A, Bluerock Residential (NYSEMKT:BRG) BRG-A, Chesapeake Energy (NYSE:CHK) CHK-D, Colony Financial (NYSE:CLNY) CLNY-A, Dynagas LNG Partners (NYSE:DLNG) DLNG-A, General Finance Corp. (NASDAQ:GFN) GFNCO, International Shipholding (OTCQX:ISHC) ISHCO, and New York Mortgage Trust (NASDAQ:NYMT) NYMTO.
And finally, with Dividend Yield Hunter's list of investment grade preferreds, we have a wealth of preferreds to choose from to diversify and further populate our portfolios. A list I'm certain the more conservative, risk averse, preferred investor will approve of. Although the list is quite a bit more extensive than I can show in a single screenshot, have no fear, you can access the entire list by clicking on the link above.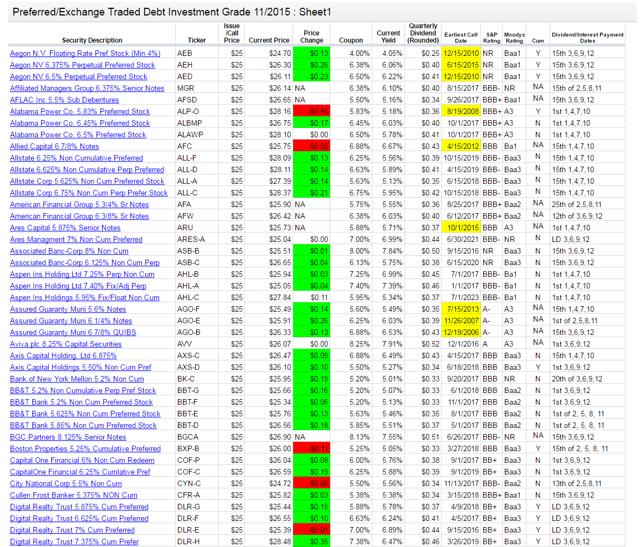 Click to enlarge
Disclosure: I am/we are long ADK-A, DLNG-A, NYMTO, ISHCO.
I wrote this article myself, and it expresses my own opinions. I am not receiving compensation for it (other than from Seeking Alpha). I have no business relationship with any company whose stock is mentioned in this article.
Editor's Note: This article covers one or more stocks trading at less than $1 per share and/or with less than a $100 million market cap. Please be aware of the risks associated with these stocks.