I profiled Alimera (NASDAQ:ALIM) last year and thought it had significant upside potential based on Iluvien's growth prospects. The growth that I and analysts were expecting last year did not materialize and Alimera is in need of additional capital which is a significant overhang on the share price. However, things seem to be improving and the company said that growth in the U.S. picked up significantly in March and April. The number of benefit investigations, which is an indicator of future revenues, has more than doubled sequentially and has averaged 300 a month in Q1 compared to 371 for the whole fourth quarter. Management believes that the company can reach EBITDA breakeven by the end of 2016 and cash flow positive status in 2017, which translates into around $15 million in revenues a quarter and compares very favorably to Q1 sales of $5.8 million. The company is also considering strategic alternatives and a sale is another possibility investors should consider. I think that the upside potential in both cases (the company remaining independent or being acquired) is significant enough for me to initiate a small speculative position. A favorable resolution of the financing issues and a good Q2 report could send the stock significantly higher in the following months and if a buyout occurs, the price will likely be substantially higher as well.
Iluvien's growth was below expectations but growth is picking up
Alimera warned late last year that Iluvien's growth trajectory will slow down in Q4 and probably in Q1 due to Iluvien receiving the permanent J-code in January 2016. The growth did slow down and net sales fell from $6.8 million in Q3 2015 to $5.8 million in both Q4 2015 and Q1 2016. The expected growth pick-up following the J-code announcement in early January was also behind schedule and the situation has finally made a turn for the better in March. Management noted on the Q1 call that half of sales in the U.S. in Q1 were recorded in March and that April growth was solid as well, which translates into a quarterly revenue run rate of around $6 million or slightly higher for the U.S. market.
It is also important to note that a doctor has to set up an account first and go through checkups before using Iluvien - this is sort of a hassle and I doubt that many doctors will go through this without intending to use Iluvien. The company has so far penetrated close to 400 out of 1,000 to 1,200 targeted accounts. And since the doctor has to pay close to $9,000 upfront, he/she wants to be sure that the product will get reimbursed. The miscellaneous J-code was an issue last year and the permanent J-code is now in place, which should alleviate most of the reimbursement concerns. Management also noted in the latest investor presentation that they are close to 100% of where they want to be coverage-wise in the U.S.
The most notable indicator of future growth early in the launch is the benefit investigations metric, which implies much stronger growth in the U.S. in the following quarters. Benefit investigations more than doubled sequentially - from 371 in Q4 to 900 in Q1 2016.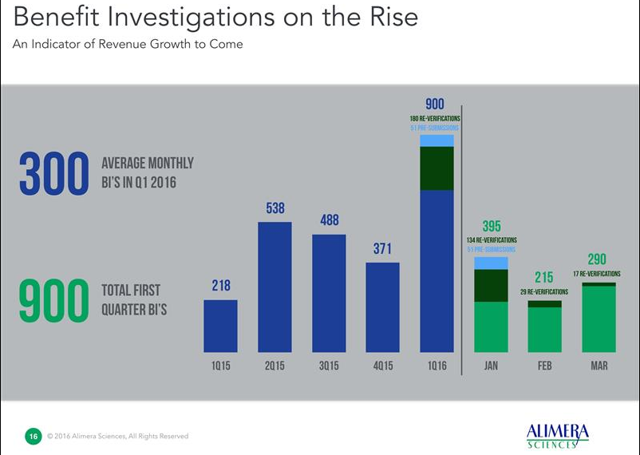 Click to enlarge
Source: Alimera investor presentation
Based on the rising number of benefit investigations in Q1 and the permanent J-code, I think that the quarterly run rate should improve significantly throughout 2016. I wrote about Iluvien's advantages over Allergan's (NYSE:AGN) Ozurdex in my initiation article, but it bears repeating that:
Iluvien is injected once every three years, while Ozurdex has to be taken every three months.
The upfront payment for Iluvien is much higher but if it is averaged out throughout the three-year period and compared to the number of treatments with Ozurdex, Iluvien is actually somewhat cheaper than Ozurdex.
Anti-VEGF drugs (Eylea, Lucentis) are widely used in DME, but are not as effective as in AMD. Two independent clinical studies (slide 7 of Alimera's investor presentation) have shown that 37% to 56% of DME patients with anti-VEGF therapies require additional treatment after 24 weeks due to persistent edema and that more than 50% of Lucentis patients did not achieve a 2 or more line improvement in visual acuity from baseline over 2 years of therapy. Eylea and Lucentis are also more expensive than Iluvien and Ozurdex - $27,750 for Eylea over three years and $17,750 for Lucentis, compared to $8,800 and $9,750 for Iluvien and Ozurdex respectively. The injection frequency is also a significant advantage for Iluvien when compared to anti-VEGF products.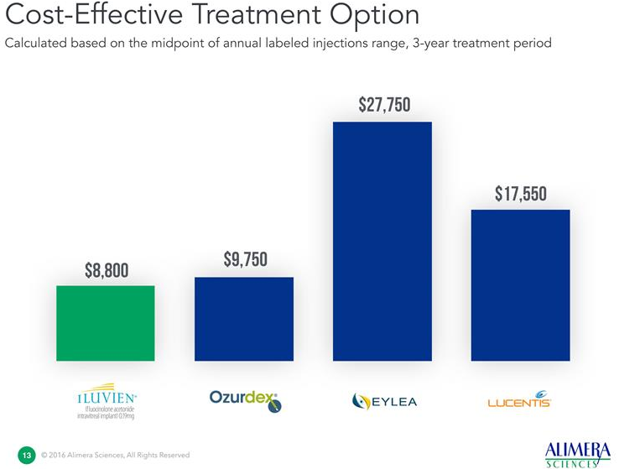 Click to enlarge
Source: Alimera investor presentation
I think that Iluvien has a place in the DME market and that it can live up to its potential over the next few years. The current addressable market is around 575,000 patients in the U.S. and 835,000 patients in the EU with the U.S. incidence growth of around 17% a year. This means that around 2 million patients in the U.S. and the EU (combined) will be eligible for Iluvien by 2020 which translates into more than 600,000 patients a year for Iluvien (given its 3-year duration). A market penetration rate in the 5% to 10% range translates into $250 million to $500 million in annual sales, notwithstanding potential price increases. The incremental costs related to this kind of revenue run rates should not be significantly higher, especially for the U.S. market. The company has around 60 sales reps in the U.S. which are targeting 1,000 to 1,200 accounts. CEO Daniel Myers said that if sales double this year, the costs will be just a couple of percent higher and that the U.S. infrastructure is already built to support substantial growth in the following years.
On the other hand, a lot needs to be done in Europe. The company is selling Iluvien just in Germany, U.K., and Portugal. Germany and Portugal are growing nicely, but the U.K. was a tough market last year as Ozurdex and Eylea were approved to treat DME, which negatively affected the growth rates there. The situation seems better in the U.K. this year and Alimera said that sales are rising month-over-month this year. Pricing negotiations are underway in France and Italy and the expansion in the EU should accelerate once the company gets the U.S. sales going (the U.S. label is broader than the one in the EU, allowing faster growth).
Alimera also announced a partnership for the Middle East late last year and the company expects to launch there in late 2016 with royalty contribution in 2017.
Alimera needs more cash
The financing overhang is the main near-term issue and risk for Alimera. The company had $24 million in cash and equivalents at the end of Q1 which is probably not enough to get it to cash flow breakeven in 2017. The company failed to comply with the revenue covenant of its debt facility with Hercules Capital due to lower than expected sales in January and February, but the two parties signed an amendment to the debt facility to waive the violation and amend certain terms of the facility. At the same time, Alimera is pursuing additional debt financing which it expects to complete before the end of Q2 2016. The alternative to debt is dilution - Alimera has an ATM in place and can raise up to $34 million.
I think that a new debt agreement would be better received by investors considering the current low valuation. The company's fully diluted market cap is just below $100 million and I think that Alimera will burn between $20 million and $30 million to get to cash flow breakeven next year which compares to $24 million in cash at the end of Q1. The actual need for additional funds could be lower if Iluvien exceeds expectations in the following quarters, but as the situation stands, the company might need $10 million to $15 million in additional capital to get to cash flow breakeven next year, which translates into 15% to 20% dilution based on Alimera's current share price.
The alternatives to a debt raise and/or dilution are bankruptcy or a sale of the company. The latter is something that has been speculated over the last six months and has not been denied by Alimera's management. Considering Iluvien's growth potential and differentiation, I think that the company is worth at least $250 million or just 1x Iluvien's peak sales at 5% penetration in the U.S. and EU, which translates into a price target in the $4.50 to $5 range. Off course, if Alimera is cornered without the possibility to raise the capital needed to support its operations beyond 2H 2016, a lower valuation would probably be in play, but it would most likely be significantly above the current share price. I would not mind a quick profit through an acquisition but would prefer to see more significant long-term gains on Iluvien's growth in the following years.
Conclusion
Iluvien's growth seems to be picking up in the second quarter and Alimera expects to reach cash flow breakeven in early 2017, but the cash on hand might not be enough to get the company there. The company indicated that it is working on getting the funding done before the end of the second quarter and that they will announce/discuss the issue in the Q2 report. Alimera is likely in discussions with potential suitors as well, but I don't think that they are in a great position to negotiate considering the soft launch in the U.S. and the slow progress in the EU as well as the fact that the company is running low on cash. I would prefer for the company to remain independent and drive Iluvien sales higher in the following years, which would put it in a much better negotiating position with potential buyers. If Alimera is able to get the annual revenue run rate above $60-$70 million, the stock could be worth 150% to 200% or more than it is today, especially considering the high gross margins and the significant operating leverage potential. The Q2 report should be a major catalyst for Alimera, as it might show strong Iluvien sales in the U.S. and perhaps a debt deal announcement which should alleviate the dilution/funding concerns. I like the risk/reward here - Alimera is a speculative buy.
Disclosure: I/we have no positions in any stocks mentioned, but may initiate a long position in ALIM over the next 72 hours.
I wrote this article myself, and it expresses my own opinions. I am not receiving compensation for it (other than from Seeking Alpha). I have no business relationship with any company whose stock is mentioned in this article.
Additional disclosure: This article reflects the author's personal opinion and should not be regarded as a buy or sell recommendation or investment advice in any way.
Editor's Note: This article covers one or more stocks trading at less than $1 per share and/or with less than a $100 million market cap. Please be aware of the risks associated with these stocks.