Three Warnings Validated
We now have at least three warnings about Apple (NASDAQ:AAPL) over the last few months that have been validated by recent events.
LikeFolio's Warning Validated
In April, before Apple released earnings, we noted that social data aggregator LikeFolio had put out a sell rating on the stock based on their analysis of social media data, and we presented a couple ways for concerned shareholders to hedge if they wanted to stay long (Hedging Apple Ahead Of Earnings). As LikeFolio co-founder Andy Swan summarized it at the time,
Everything just eroding slowly. Low consumer enthusiasm and confusion around product lines.
As Swan elaborated later:
When we plot "purchase intent mentions" for Apple on a 30 day moving average, we see a steady erosion over the past 4-6 months. We also have seen FAR lower purchase intent mentions surrounding Apple's new product releases than prior (even comparably minor) product releases.
Apple's weak 2Q earnings validated LikeFolio's warning.
Marco Arment's Warning Validated
In an article last month (Apple: The Next BlackBerry?), we shared Marco Arment's warning about Apple slipping behind in AI (artificial intelligence). Arment, as you may recall, is a prominent software developer, entrepreneur, and commentator. He was the lead developer of Tumblr, which was acquired by Yahoo (NASDAQ:YHOO), and the creator of the Instapaper app. In a blog post last month, Arment raised the possibility of Apple going the way of BlackBerry (BBRY) -- If Google's Right About AI, That's A Problem For Apple. Arment explained that BlackBerry didn't fail because it started to make worse smart phones, but because Apple shifted the expectations of what a smart phone could be, and BlackBerry didn't have the staff or expertise to catch up. Arment wondered if Apple was in a similarly precarious position with respect to artificial intelligence, given investments by Amazon (NASDAQ:AMZN), Alphabet (NASDAQ:GOOG), and Facebook (NASDAQ:FB):
Today, Amazon, Facebook, and Google are placing large bets on advanced AI, ubiquitous assistants, and voice interfaces, hoping that these will become the next thing that our devices are for. [...]

Amazon, Facebook, and Google - especially Google - have all invested heavily in big-data web services and AI for many years, prioritizing them highly, iterating and advancing them constantly, accumulating relevant data, developing effective algorithms, and attracting, developing, and retaining tons of specialized talent. [...]

But if Google's right, there's no quick fix. It won't be enough to buy Siri's creators again or partner with Yelp for another few years. If Apple needs strong AI and big-data services in the next decade to remain competitive, they need to have already been developing that talent and those assets, in-house, extensively, for years. They need to be a big-data-services company. Their big-data AI services need to be far better, smarter, and more reliable than they are.

And I just don't see that happening. Becoming a major big-data AI services company doesn't happen completely in secret and suddenly get released to the world, completed, in a keynote. It's a massive undertaking, spanning many years, many people, and a lot of noticeable interaction with the world. It's easier to conceal the development of an entire car than a major presence in AI and services.
Apple effectively validated Arment's warning at its Worldwide Developers Conference earlier this month, when it announced it would open Siri to outside developers, as Forbes reported ("Apple Opens Siri To Fight Google, Amazon"). Opening Siri to outside developers suggests Apple hasn't been building a big AI capability in-house in secret, which, as Arment pointed out, would have been unlikely.
Carl Icahn's Warning Validated
Back in April, Carl Icahn announced he'd dumped his Apple stake due to concerns about China. As the Financial Times reported over the weekend (free to read with FT registration) -- Apple locked in latest fight with China as iPhone is ruled too like a local brand -- municipal authorities in Beijing ruled that Apple's iPhone designs infringed on the patents of a Chinese manufacturer called Shenzhen Baili. The FT noted that Apple's phones were still available for sale as the company appealed the ruling:
But the patent fight is emblematic of the struggles Apple has faced in a market that, until recently, has been its most important source of growth amid a global slowdown in smartphones. Sales of the iPhone fell 26% in China last quarter, compared with a 16% drop worldwide.

Earlier this year, billionaire investor Carl Icahn, once one of Apple's largest outside investors, said he had dumped his entire stake in the company, citing the Chinese government's hostile attitude.
The FT's Tim Bradshaw went on to point out that the latest ruling against Apple has come on the heels of other moves against the company in China:
In April, its iTunes Movies and iBooks services became unavailable after the new government restrictions on publishing online material. Last month, it lost a trademark case in Beijing, allowing a fashion accessory maker to use the iPhone brand.
Bradshaw didn't refer to it in his article, but his colleague Charles Clover's article (also free to read with FT registration) on Alibaba (NYSE:BABA) chairman Jack Ma's recent comments might concern Apple shareholders, in light of Apple's recent trouble's in China -- Counterfeits often superior to luxury brands, says Ma. Clover's article didn't specify the products Ma was referring to, but consider how Ma's comments might apply to Apple in light of the most recent ruling against it:
The problem is the fake products today they make better quality better price than the real names. They are exactly the [same] factories, exactly the same raw materials, but they do not use the names.
With its recent travails in China Apple has another reason besides Donald Trump's threat to consider moving more manufacturing to the US.
Updated Optimal Put Hedge For Apple
For Apple shareholders who want to stay long while limiting their downside risk over the next several months, but without capping their upside, these were the optimal puts, as of Friday's close, to hedge 600 shares against a greater-than-14% decline by late January (screen capture via the Portfolio Armor iOS app):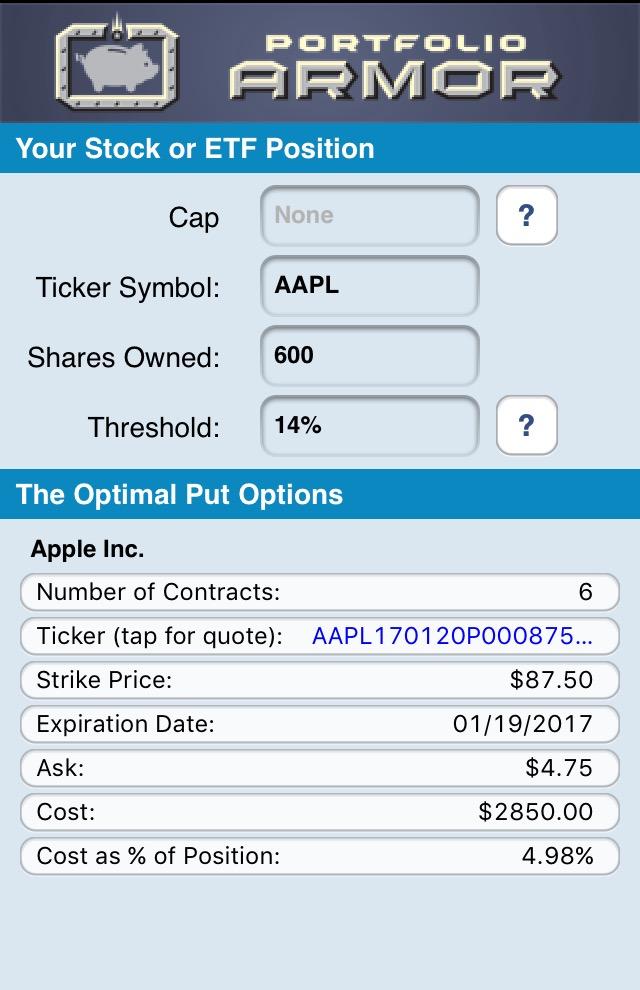 As you can see at the bottom of the screen capture above, the cost of this protection was $2,850, or 4.98% of position value. A few notes about this hedge:
To be conservative, the cost was calculated using the ask price of the puts. In practice, an investor can often by the puts for less (for some price between the bid and the ask).
If you are willing to risk a larger decline ("threshold", in the app's terminology), you can potentially lower the cost of hedging in this manner.
The threshold is based on the intrinsic value of the puts, so they may provide more protection than promised if the underlying security declines in the near term, when the puts may still have significant time value.
Updated Optimal Collar Hedge For Apple
For Apple shareholders looking to hedge with the same 14% threshold, but willing to cap their potential upside to 10% by late October, this was the optimal collar to hedge 600 shares, as of Friday's close: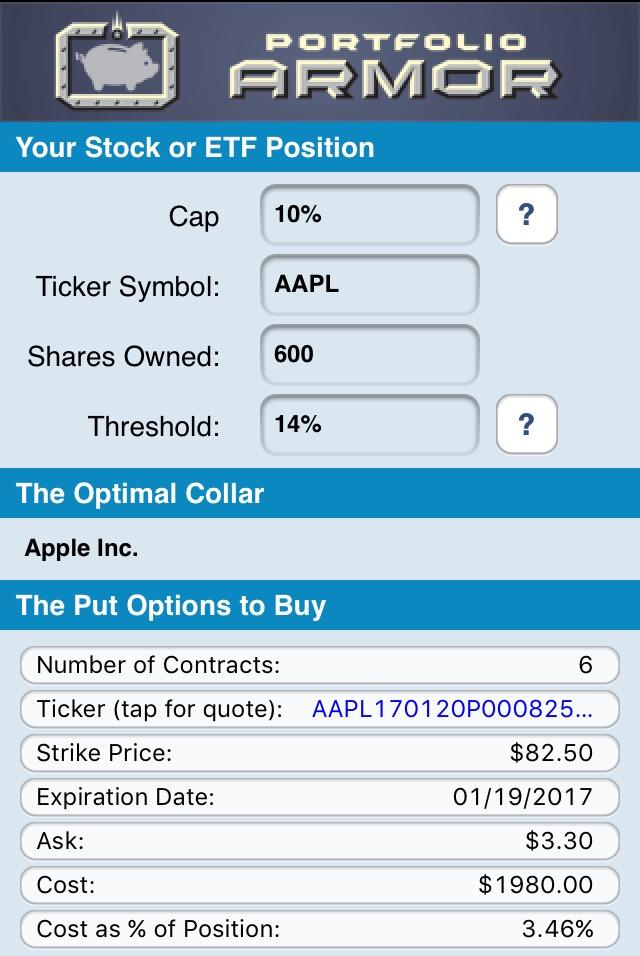 As you can see at the bottom of the first part of the collar above, the cost of the put leg was $1,980, or 3.46% of position value. But as you can see in the second part below, the income generated from the call leg was $2,130, or 3.72% of position value.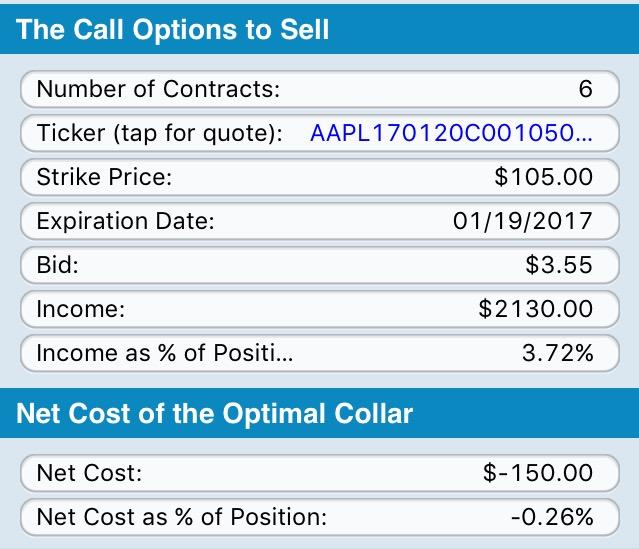 So the net cost here was negative, meaning the investor would collected an amount equal to $150, or 0.26% of position value when opening the position. Two notes about this hedge:
Similar to the situation with the optimal puts, to be conservative, the cost of the optimal collar was calculated using the ask price of the puts and the bid price of the calls. In practice, an investor can often buy puts for less and sell calls for more (again, at some price between the bid and the ask), so in reality, an investor would likely have collected more than $150 when opening this collar.
As with the optimal puts above, this hedge may provide more protection than promised if the underlying security declines in the near future due to time value (for an example of this, see our previous article on Apple). However, if the underlying security spikes in the near future, time value can have the opposite effect, making it costly to exit the position early (for an example of this, see this article on hedging Facebook - Facebook Rewards Cautious Investors Less).
Disclosure: I/we have no positions in any stocks mentioned, and no plans to initiate any positions within the next 72 hours.
I wrote this article myself, and it expresses my own opinions. I am not receiving compensation for it (other than from Seeking Alpha). I have no business relationship with any company whose stock is mentioned in this article.