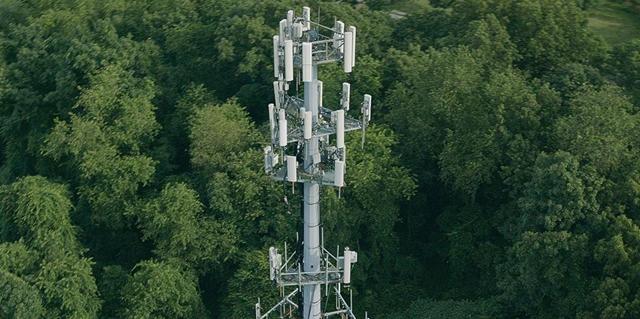 Source: Crown Castle International
One of the most exciting mega-trends you can invest in today is the explosive growth of wireless data. Two great ways for long-term dividend investors to profit from the coming bonanza is with telecom tower REITs American Tower (NYSE:AMT), and Crown Castle International (NYSE:CCI).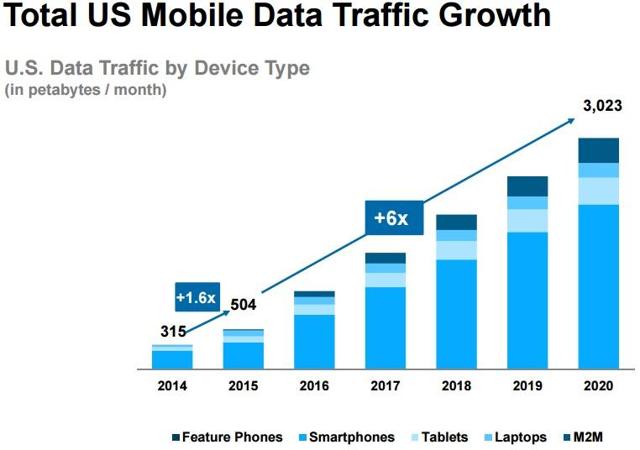 Click to enlarge
Source: American Tower investor presentation.
While I like both American Tower and Crown Castle as long-term dividend growth investments, there are four reasons why American Tower's ultimate growth prospects are superior. This could potentially turn it into the better long-term investment and supercharge your diversified dividend growth portfolio.
Great business model
Thanks to the rapid expansion of both US and global mobile data, telecom companies have been spending a fortune investing in new infrastructure. Because of the capital-intensive nature of this business, telecom companies such as Verizon (NYSE:VZ), AT&T (NYSE:T), T-Mobile (NASDAQ:TMUS), and Sprint, (NYSE:S), often choose to lease telecom towers rather than build and operate their own. Which is where American Tower and Crown Capital come in.
Both REITs own tens of thousands of telecom towers that they lease to telecom companies under long-term contracts, with annual accelerators to protect against inflation. This steady stream of secure and growing cash flow is what allows both REITs to sustainably fund their fast growing dividends.
Amazing growth potential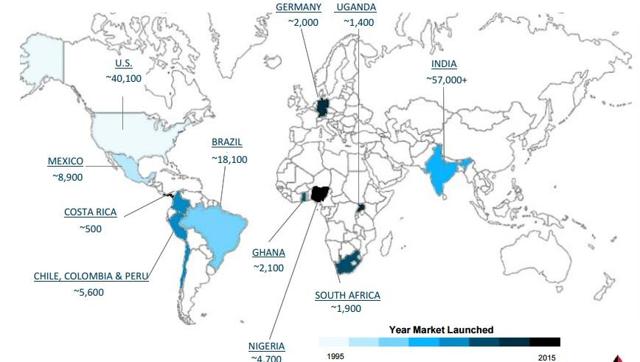 Click to enlarge
Source: American Tower investor presentation.
American Tower's primary growth catalyst, and the reason I'm more bullish on its long-term growth prospects compared to Crown Castle, is its international telecom exposure, courtesy of 143,000 telecom towers and counting. The combination of a growing global population, faster economic growth in emerging markets, and rising international mobile penetration over time make for a perfect storm of growth catalysts. Add in the upcoming rise of 5G telecom infrastructure in the US, and it's likely that American Tower will be able to deliver strong dividend growth and total returns for decades to come.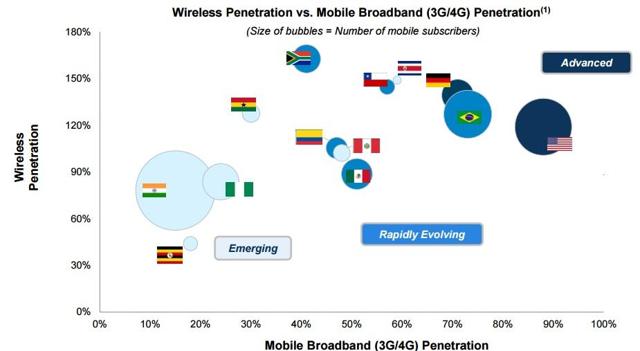 Source: American Tower investor presentation.
Of course, growth potential is meaningless without the capital to actually pay for it. Luckily, American Tower's $2.9 billion in remaining liquidity means that it should have little trouble living up to its growth potential.
Superb dividend profile
| | | | | |
| --- | --- | --- | --- | --- |
| REIT | Forward Yield | Q1 2016 AFFO Payout Ratio | 10 Year Analyst Dividend Growth Projection | 10 Year Total Return Projection |
| American Tower | 1.9% | 36.2% | 15.6% | 17.5% |
| Crown Castle International | 3.7% | 75.0% | 11.3% | 15.0% |
| S&P 500 | 2.1% | 37.9% | 5.8% | 9.1% |
Speaking of dividends, despite growing its dividend 26% CAGR since 2012, American Tower's payout ratio remains impressively low. Not only does that mean the dividend is highly secure, but it also explains why analysts expect it to deliver greater than 15% dividend growth over the next decade.
Now, you always need to be skeptical of Wall Street forecasts, especially ones that reach so far into the future. For example, Crown Castle's management guidance calls for long-term AFFO and dividend growth of just 6% to 7%, indicating excessive bullish sentiment. That being said, with a good rule of thumb for total return being yield + long-term dividend growth, I expect both REITs to beat the S&P 500's historic 9.1% CAGR total return.
Historically undervalued
| | | | |
| --- | --- | --- | --- |
| REIT | Price/AFFO | Historic Price/AFFO | Discount |
| American Tower | 19.9 | 22.0 | 9.5% |
| Crown Castle International | 21.0 | 18.7 | -12.3% |
American Tower is up 29% from its 52-week low, which along with its relatively low yield (for a REIT) might make you think that it's overvalued. However, as you can see, relative to its historic price to AFFO ratio, it's actually trading at a discount; something that can't be said about Crown Castle.
Risks to consider
There are three main short to medium-term risks that you need to consider before investing in either American Tower or Crown Castle. First, while American Tower is undervalued relative to its historic valuation, the overall stock market is not. Should the market suffer a correction, which it inevitably will, that valuation could fall a lot lower. Which brings me to the biggest risk factor you need to be aware of; one that could serve as a catalyst for a strong pullback in the share price of both REITs.
All REITs have benefited greatly from seven years of historically cheap interest rates. Not only has this resulted in very low borrowing costs, but it's also forced income investors to drive up the price of any stock that pays above average yields.
The tepid US economic recovery has resulted in the Federal Reserve holding off on raising interest rates thus far this year. However, long-term investors need to realize the danger that eventual higher rates could pose to the investment thesis of both telecom tower REITs.
Historically, interest rates have averaged 5%, and if they ever return to anywhere close to that level, it will greatly increase both REIT's capital costs. That could slow their growth rates, as could the fact that higher rates typically result in dividend stocks underperforming.
That's because, as bond, savings accounts, and CD interest rates rise, income investors will have increased alternatives to REITs, which could result in lower share prices. While that would likely mean higher yield for new investors, remember that the REIT business model relies on funding growth mostly through cheap access to debt and equity capital markets.
Thus, a potential share price pullback, while helpful for lowering your cost basis, could also result in lower growth potential. That in turn would likely mean slower dividend growth that might not be sufficiently offset by higher yield to maintain the same long-term total returns. Finally, because of the capital-intensive nature of the telecom REIT business, over-leveraged balance sheets always need to be a concern for investors.
| | | | | | |
| --- | --- | --- | --- | --- | --- |
| REIT | Debt/EBITDA | Interest Coverage Ratio | EBITDA/Interest | S&P Credit Rating | Average Debt Cost |
| American Tower | 5.88 | 2.82 | 4.75 | BBB- | 3.58% |
| Crown Castle International | 6.05 | 1.75 | 4.05 | BBB- | 4.08% |
While both American Tower and Crown Castle are easily able to service their existing debt, investors will want to watch those ratios going forward. That's primarily for two reasons. First, debt covenant violations could result in a complete suspension of the dividends, which would likely crater the share price.
Second, while both REITs have investment grade credit ratings, BBB-is just one level above junk bond status. Should either REITs' debt ratios get out of hand then they would beat risk of a credit downgrade that would make future debt costs much higher, owing to the need to refinance their large existing debt loads. That in turn could both slow growth, and or increase their dependence on equity capital markets.
The stock market in general is currently at high risk of a downturn, which is why the last thing investors want is for either REIT's share price to collapse to the point that they become capital constrained and unable to execute on their growth plans.
Bottom line: American Tower remains a buy even at today's high share price
Don't get me wrong, I think that investors in both American Tower and Crown Castle are likely to do very well in the long term, which is why both deserve a spot in your diversified dividend growth portfolio. However, American Tower with its much lower payout ratio, strong growth catalyst, and extremely long international growth runway, is one REIT that could deliver market crushing total returns far longer than Crown Castle.
Disclosure: I/we have no positions in any stocks mentioned, and no plans to initiate any positions within the next 72 hours.
I wrote this article myself, and it expresses my own opinions. I am not receiving compensation for it (other than from Seeking Alpha). I have no business relationship with any company whose stock is mentioned in this article.