By Scott Connor, of the Trader Education group at TD Ameritrade, managing Swim Lessons trader educational programming
Mind the gap! There could be turbulence ahead as Britain takes center stage this coming week.
Thursday's British "Brexit" vote on whether to exit the European Union is likely to remain a dominant force in the markets the next few days. The referendum this Thursday has taken on huge importance all around the world, and some see it as a choice not just on Britain's EU membership, but on globalization in general. If Britain decides against economic union with Europe, does that mean the world is entering a new era where the pace of international trade comes into question?
There's been a backlash against trade agreements on both the left and right in the U.S. during the current election season, so globalization concerns aren't just a British matter. Polls late last week indicated more chances of a British exit from the E.U., though campaigning on both sides halted after the murder on Thursday of a British lawmaker. That tragic event seemed to ease market volatility briefly, but any further polls in the coming days hinting at a British exit likely would be seen as bearish for the markets, and could cause further pressure.
With that in mind, it's important to watch volatility in the days leading up to the referendum. The closely-watched VIX index, which tracks market volatility and is often called the "fear gauge," rose as high as 22 last week, an elevated level and up dramatically from around 13 earlier in the month. Volatility could continue to rise into Brexit, kind of the way volatility for a single stock often rises going into an earnings release. When there's more volatility, there's more choppiness and uncertainty in the market, and events that normally would be taken in stride get amplified. That means there's a possibility of sharp up and down moves, as seen late last week. Once Brexit takes place, whichever way the vote goes, there could be a tremendous drop in volatility with the uncertainty out of the way.
Another area to watch is foreign exchange, or forex trading. The dollar was a little weaker on Friday, but had been rising against both the euro and pound earlier in the week. A key support level for the pound is seen at the $1.40 level. And keep an eye on gold, as well. When gold rose to a 52-week high at around $1,318 last week, it appeared to be building in the possibility of a "yes" vote on Brexit.
From a U.S. data standpoint, the coming week looks pretty light, with existing home sales Wednesday and new home sales Thursday the key events. The U.S. real estate market has been a bright spot recently, and these data represent another chance to help decipher if the surprisingly anemic May jobs number was an outlier or part of a more extended weak trend in the economy.
The oil market rallied sharply early Friday after slumping for several days. Like other markets, the focus in oil is expected to be on Brexit until Thursday's vote.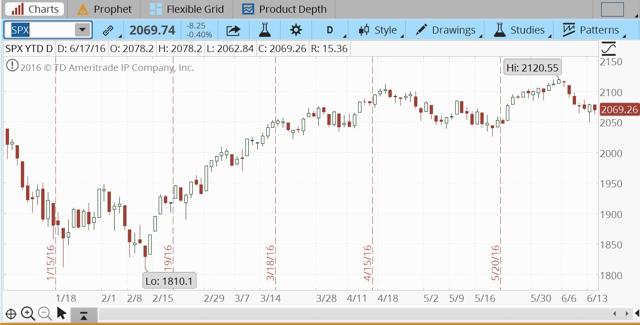 Click to enlarge
Figure 1: Watching Support at 2040: The S&P 500 (SPX), plotted here through midday Friday on the TD Ameritrade thinkorswim® platform, has bounced off of support at 2040 three times this year, and that level continues to represent an important support point. Sometimes a strong finish can translate into strength the next day. Source: Standard & Poor's. For illustrative purposes only. Past performance does not guarantee future results.
Looking for Support? For those who watch technical indicators, a key support level for the S&P 500 Index (SPX) appears to sit at the 2040 level. The SPX has bounced off 2040 three times since March, and could weaken technically if it closes below that level. Late last week, the SPX came within knocking distance of 2040, going down to the 2050 area. Going into this coming week, 2040 could be a level that a lot of people are watching.
No Apple Polishing in China: Apple (NASDAQ:AAPL) shares took a dive Friday after an administrative order issued in Beijing charged the company with violating a smaller Chinese competitor's intellectual property with its iPhone 6 and iPhone 6 Plus. Apple appealed the order, allowing its iPhones to stay on the market in China, for now at least. But there could be long-term negative ramifications for Apple, according to one expert. "I'd be very surprised in five years' time if we see Apple having the kind of access to the Chinese consumer that they presently enjoy," said Ian Bremmer, president of Eurasia Group, a political risk research and consulting firm, in an interview with CNBC. Apple already was under pressure in China, with sales in greater China falling to $12.5 billion in the company's 2Q, from nearly $17 billion a year earlier. At the time, Apple blamed the weakness on falling sales of the iPhone in China as well as the strong dollar. Greater China represents a huge market for Apple, with 25% of the company's total net sales occurring there. So any danger to Apple in China could mean danger to the company as a whole. Shares of Apple were down 2% by midday Friday at nearly one-month lows.
Brexit Worries Could Hit Big Banks: The U.S. financial sector could be one to watch this coming week as the Brexit vote approaches. A number of large U.S. banks have exposure to London and get a significant amount of revenue from London operations. Key names to watch include JP Morgan Chase (NYSE:JPM) and Goldman Sachs (NYSE:GS). Both stocks were trading well below recent highs as of midday Friday, with GS under particular pressure, down nearly 9% from the start of June. The financial sector has under-performed the SPX over the last month, and was down nearly 5% for the year as of midday Friday.
Inclusion of specific security names in this commentary does not constitute a recommendation from TD Ameritrade to buy, sell, or hold. TD Ameritrade® commentary for educational purposes only. Member SIPC.
Disclosure: I/we have no positions in any stocks mentioned, and no plans to initiate any positions within the next 72 hours.
I wrote this article myself, and it expresses my own opinions. I am not receiving compensation for it. I have no business relationship with any company whose stock is mentioned in this article.