These days Arena (NASDAQ:ARNA) has clearly shifted its focus to the drugs in its pipeline, and rightly so. The company's anti-obesity drug Belviq has seen sales continue to drop, and the revenue story attached to that drug is simply not very compelling. That being said, continued monitoring of the company's main revenue source is prudent in order to assess the possible timing of a dilutive offering from a shelf registration announced last week.
This past week Belviq sales came in at about 8,700 scripts. This was a decent recovery from the sales dip created by a holiday the week prior, but not enough to fully recover to pre-holiday levels.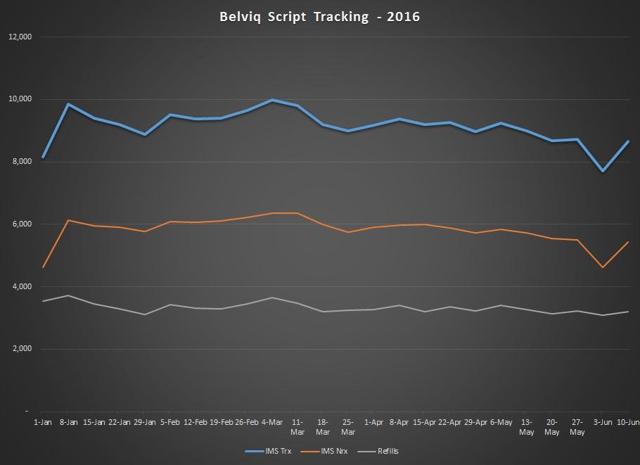 Chart Source - Spencer Osborne
On a quarter over quarter basis we are continuing to see that Q1 will be the best quarter of the year for Belviq sales. Sales in the current quarter are pacing 6.58% below the levels we saw in Q1 of 2016. With just three weeks left in Q2, it appears that the quarter will close out somewhere in the neighborhood of 7% below the numbers posted in Q1.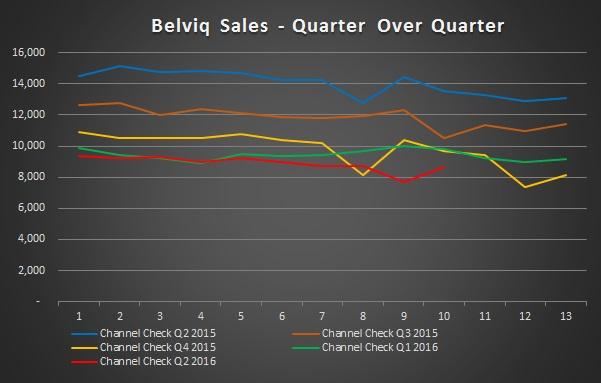 Chart Source - Spencer Osborne
On a year over year basis we are seeing the story that is more prudent. Sales at this point in Q1 are pacing 37.94% lower than what we saw in Q2 of 2015. It is likely the year over year comparison will come in at a negative 37% to negative 39%. The year over year trend is not looking good, and over the next couple of quarters, we will likely see the worst downward trajectory that this drug has seen to date.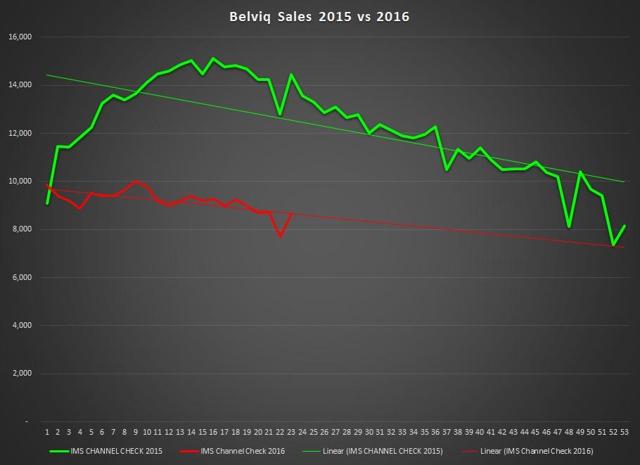 Chart Source - Spencer Osborne
In terms of market share, Belviq is faring the worst these days. While it does not have the lowest market share in the sector, it does possess the worst trajectory. Last week Belviq accounted for 23.99% of the market for branded anti-obesity treatments. At the beginning of Q2 Belviq had a market share of about 25.5%. The big issue with market share is that Belviq is projecting to finish the year at just 20% of the market. In the chart below you can see the trend lines of all participants in the space.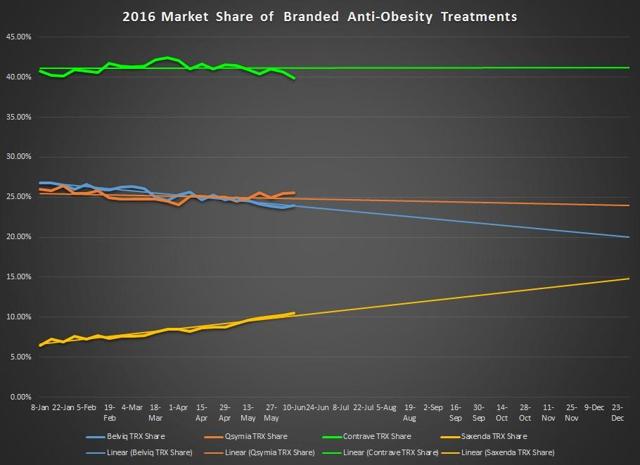 Chart Source - Spencer Osborne
The overall space is having severe trouble gaining traction. Slower than needed sales is impacting all branded drugs in the space. Overall, the branded anti-obesity space is just 1.33% ahead of the sales at this point in 2015. The trend is down, and by the first week in July, we could see that sales in 2016 will drop below 2015 for the first time. In seeing that the overall sector is having issues, investors need to temper expectations in the space. Even the potential approval and release of an extended release version of Belviq will not correct this situation.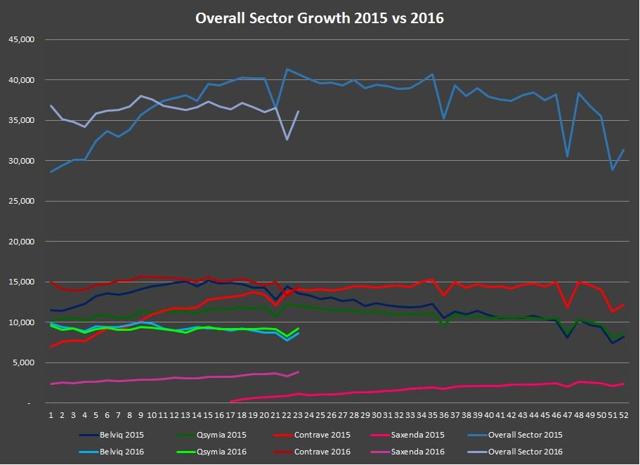 Chart Source - Spencer Osborne
Now, the critical factor for those looking at Arena is this. The company has a shelf offering large enough to dilute the stock by 50%. This makes the timing of any investment critical, and could impact the ability of good news to drive the equity up. The goal of management is to do any offering when the stock price is as high as possible. This could mean that any good news is followed by the bad news of dilution.
In my opinion the critical number is $100 million in cash. I do not see Arena dipping below this level for any reason. The company has active human clinical trials ongoing, and needs to advance a few phase 2 pipeline drug candidates.
The company finished Q1 with $139 million in cash and will likely burn at least $25 million in Q2. This means that we will see potential dilution any time in the next 12 to 16 weeks. In my opinion the dilution will happen on the heels of an announcement relating to Belviq extended release. With the stock price this low, the dilution will not be optimal, but if they can raise at least $100 million, then we can safely assume that Arena will then have enough cash to get to the point of phase 2 data read-outs that could be critical in landing a new partner and getting a substantial sum of up-front cash.
As stated in the sales projections, sales of Belviq are not optimal. However, every script sold does help the corporate situation at least in a modest way. In Q1 Belviq sales in the U.S. brought in just $2.4 million. That represented about $19.60 per script sold. Sales in Q2 are shaping up to come in at about 115,000 scripts. That will produce revenue in the neighborhood of $2.25 million. Continued drops in revenue mean that the company has less time to get the finances dealt with.
There is speculative opportunity with Arena, but investors need to find the best time to make a move. In my opinion there is a potential dilution in the next 3 to 4 months. With the stock currently trading at a bit under $2.00, the range of calling it a buy is getting closer. I have previously called this stock a buy at anything under $1.50. With some new management now in place, the company should have a bit more stability, so perhaps the buy range is now at a price point under $1.65 or so. Chasing positive news at this point is dangerous because any positive news will likely be followed by some form of dilutive event. If Arena can secure $100 million, the overall situation will be less risky in my opinion. Stay Tuned!
Disclosure: I am/we are long ARNA.
I wrote this article myself, and it expresses my own opinions. I am not receiving compensation for it (other than from Seeking Alpha). I have no business relationship with any company whose stock is mentioned in this article.