Introduction
Nevsun Resources (NYSEMKT:NSU) is a Canadian mid-tier mining company that is headquartered in Vancouver, British Columbia. The company was originally founded in 1965 and currently has one mining asset, a 60% stake in the Bisha Mine located in Eritrea, Africa. The other 40% of the mine is held by the Eritrean government, and the profits from this mine make up a significant portion of the government's income.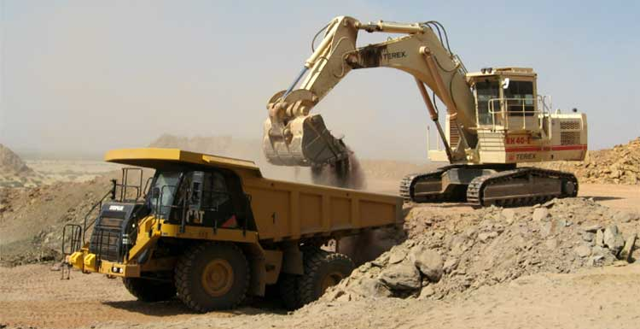 Click to enlarge
Nevsun Resources Equipment - NSU
The company's operation of this mine over the years brought it a significant cash pile, until recently, when more than half of its market cap was made up of cash. At that point, the company decided to make an offer for Reservoir Minerals (OTCPK:RVRLF), which has a high-potential stake in the Timok Mine project. The acquisition price was originally two shares of Nevsun Resources for each share of Reservoir Minerals along with a small amount of cash ($0.001 per share). This gave the plan a total value of $365 million.
However, on June 17, after dealing with dissenting Reservoir shareholders making competing offers, Nevsun Resources increased the price of the offering by increasing the cash amount by C$2.00 per share. This increased the offer price by $75 million for a total offer price of $440 million and disappointed Nevsun's shareholders who sent the company's stock tumbling by almost 10%.
Yet, despite shareholders' understandable frustration at the company increasing its offering price, I for one think Nevsun could have still gotten the company at its previous offering price. The acquisition, which was subsequently agreed upon, would allow Nevsun Resources to have both a cash cow asset (the Bisha Mine) along with a high potential, long-term growth project (the Timok Mine). As a result, I think that the drop in Nevsun Resources' share price Friday makes it a valuable long-term investment.
Timok Project Upper Zone
The valuation of the acquisition comes from whether the acquisition of Reservoir Minerals is worth $440 million. Under the terms of the acquisition, Nevsun Resources will control 100% of the Timok Project Upper Zone and 60.4% of the Timok Project Lower Zone. Freeport-McMoran (NYSE:FCX) has the option to increase its lower zone ownership to 54%, meaning Nevsun Resources will control 46% of the lower zone. In determining a valuation, we will assume Nevsun Resources controls 100% of the upper zone and 46% of the lower zone.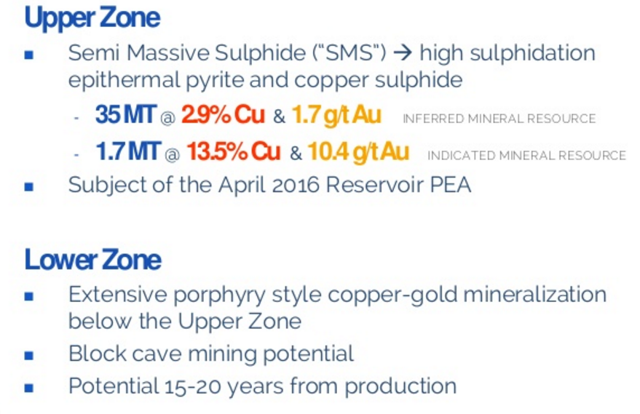 Click to enlarge
Timok Project Resources - Nevsun Investor Presentation
The upper zone of the Timok project currently consists of indicated mineral resources holding 1.7 million tons of 13.5% copper and 10.4 g/t gold. These are some incredibly economical resources that have the potential to bring an enormous amount of profits. Generally, copper is profitable at concentrations of just 2-3%. 13.5% concentration for copper is outstanding.
That means these 1.7 million tons of resources consist of 229,500 tons of copper and 17.68 million grams of gold. Current prices for these metals are approximately $4,100/ton for copper and $41.86/gram for gold. That means the value of these indicated mineral resources are $941 million for the copper and $740 million for the gold for a total value of $1.68 billion.
Previously, for the most recent quarter, Nevsun Resources' Bisha Mine earned $92 million in revenue, resulting in $33 million in operating income. Assuming that Nevsun Resources manages the same margins at the Timok Mine, that means that the $1.68 billion of revenue from the company will bring in $0.6 billion in operating income. Subtracting Serbia's 15% tax rate from this and we get Nevsun Resources' potential profits from the Timok Mine Upper Zone coming in at $0.51 billion.
Obviously, the time required to extract these profits is not taken into account. However, we have taken into account the cost of getting these profits. More so, the extremely high grade of these deposits compared to the Bisha Mine (whose copper grade is just a few %) means that it is likely that Nevsun Resources will be able to achieve much higher margins on the Timok Upper Zone, at least for the indicated resources.
Sit on that for a moment.
Nevsun Resources paid $440 million for $510 million in future profits from the Timok Mine Upper Zone's indicated resources. This does not even start to take into account the company's stake in the lower zone which could provide profits for decades once it gets started up or the inferred resources of the upper zone.
According to the above slide, the Timok Upper Zone inferred resources (synonym for probable resources) are 1.01 million tons of copper and 59.5 million grams of gold. At the prices we quoted above ($4,100/ton copper and $41.86/gram gold), these inferred resources have a value of $6.63 billion. At the company's profit margin from the Bisha Mine (this profit margin is more reliable because the grade for these resources is more similar to the grade of the Bisha Mine), that still points towards an astounding $2.02 billion in profits or almost five times the amount the company paid for Reservoir Minerals.
And we haven't even gotten to the Lower Zone! Now the question becomes, what percentage of these inferred resources actually exist?
Alphamin Resources recently announced a significant increase in the measured and indicated resources at the Mpama North prospect of its Bisie Tin Project. The company decreased its inferred resources by 41% while increasing its indicated resources by 34%. That is 83% of the company's inferred resources became indicated resources.
Assuming the same ratio for the Timok Upper Zone's inferred resources, that means the $2.02 billion in profits will end up becoming $1.68 billion. That is four times the company's more expensive offering price, still a very respectable long-term return.
At this time, valuing the lower zone is much more difficult as Nevsun Resources states that the lower zone is 15-20 years from production. However, as we have seen above, even if the lower zone has no resources, which is unlikely, the acquisition will still bring the company strong profits.
Bisha Mine
More importantly, the Bisha Mine, Nevsun Resources' core asset in Eritrea, still has some high potential.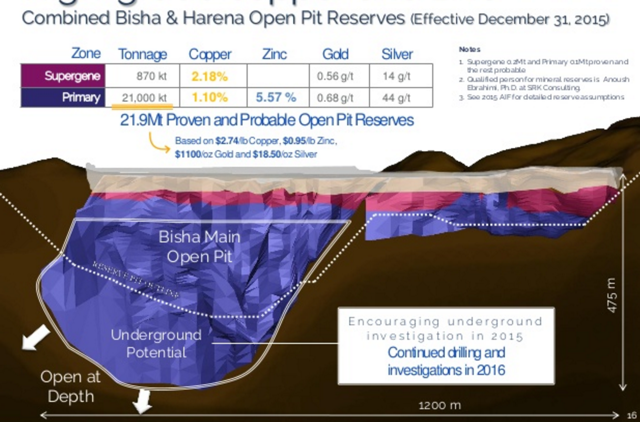 Click to enlarge
Nevsun Resources Bisha and Haren Open Pit Reserves - Nevsun Resources Investor Presentation
The above provides an image of the reserves at the Bisha Mine. The Bisha Mine primary deposit contains 21 million tons of proven and probable primary reserves. While some of these reserves might have to be accessed from underground mining, which will increase costs, these reserves contain 230,000 tons of copper along with 1,197,000 tons of zinc. At present prices, that is almost $3 billion in reserves.
Using Nevsun Resources' profit margin from the Bisha Mine and taking into account the Eritrean government's 40% stake, that means that these $3 billion in reserves are worth approximately $303 million or 60% of NSU's present market cap. Keep in mind that Nevsun Resources has more than $300 million in cash, so these $303 million in profits are much more significant as a portion of the company's value.
And the potential resources from the Bisha mine are much more significant.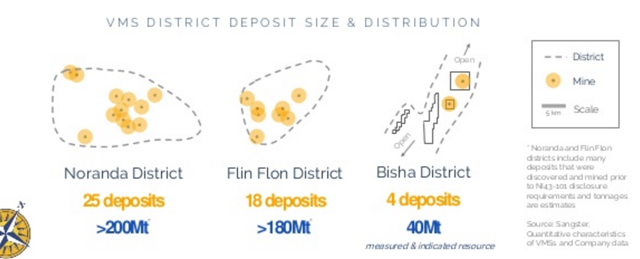 Click to enlarge
VMS District Deposit Size & Distribution Eritrea - Nevsun Resources Investor Presentation
All of these resources we have discussed show the Bisha Mine's district resources which are estimated to hold 40 million tons of total measured and indicated resources. The Noranda District and Flin Flon District together are estimated to have almost 10x in resources taking into account that substantial portions of these resources have already been mined.
Assuming these two districts also have 10 times the resources, that is another potential $3 billion in profits for Nevsun Resources for these two districts.
Conclusion
Nevsun Resources' shareholders were understandably unhappy on Friday by the company agreeing to pay an additional $75 million to Reservoir Minerals' shareholders. The company's offering was already more than 10% higher than the competing offers, and the competing offers required loans against Reservoir Minerals' assets, a risky proposition.
However, what is done is done; Nevsun Resources increased the offer and the deal has been sealed. Angry Nevsun Resources shareholders bid down the company's stock by 10% on the basis of the offer. Despite this, the combined $1 billion company will have access to two enormous high-grade mines each containing billions of profit potential for the company.
As a result, over the long term, Nevsun Resources stands to gain significantly from the combined company. For these reasons, I recommend investors use the downturn to initiate a stake in NSU or increase their stake in the company.
Disclosure: I am/we are long NSU.
I wrote this article myself, and it expresses my own opinions. I am not receiving compensation for it (other than from Seeking Alpha). I have no business relationship with any company whose stock is mentioned in this article.