It is a tough time to be a value investor in many stocks nowadays; the pickings for buys seem slim. However, I still see valuable opportunities in the beaten down industrials and basic materials sectors. Many names in these sectors still haven't recovered from the rapid destruction of shareholder value that occurred back in August 2015 nearly a year later, despite improving business fundamentals.
Lincoln Electric (NASDAQ:LECO) falls into this bucket. The company, along with Colfax (NYSE:CFX) and Illinois Tool Works (NYSE:ITW), dominates the global welding market. Consumables (welding rod, wire, etc.) constitute most of sales, so the company relies on continued welding demand within industry. Oil and gas in particular has been extremely strong headwind, with capex in that sector having been eroded to basically the bare minimum. Does it make sense to pick up shares today, or is the company simply too expensive for what it is?
Pathway To Growth
A quick glance at the financial statements tells you all you need to know about Lincoln Electric. Revenue is down, and is expected to continue down. More specifically, revenue was down 10% in 2015 and is expected to be down another 8% in 2016. The company hasn't dealt with a contraction of that size since 2009. So exactly why is there a revenue problem?
Currently, Lincoln Electric primarily sells into the welding and brazing markets. Just as a cursory review, welding joins two similar metals together. As an example, you cannot weld aluminum and steel together using traditional welding methods; the materials are too dissimilar. Brazing allows you to join dissimilar metals together using a filler alloy. Both of these activities are typically associated with growth construction and capex by industry.
So what about hardfacing? Hardfacing is an area that Lincoln Electric hasn't technically ignored, but really hasn't focused on until recently. As a process, it really fades out of favor during bullish expansions in the welding markets, but comes back into favor during times of cost cutting. As a general overview, hardfacing is the process by which you can layer material on top of a base metal. This is an excellent way of improving useful life of various products exposed to high impact, erosion, and general wear, with total costs running 25-50% of new replacement cost. Customers are currently counting every dollar they make and every dollar they spend, and hardfacing is starting to make a lot of sense to many companies intently focused on expenses.

Click to enlargeWhile Lincoln Electric does feel the market is bottoming, it nonetheless feels that hardfacing will be a key area to focus on going forward. At best, this indicates an indication for slow recovery from management.
Automation is another key area to watch, and Lincoln Electric continues to make acquisitions in the sector (Vizient in May 2016 as the most recent example). With that said, it is an area I remain extremely cautious on. Remember that we are in a period of cost cutting across most industries when it comes to discretionary upgrade spending. Automated welding systems are incredibly pricey upfront, require long lead times for installation and training, and lack flexibility when it comes to execution. The more automated a process, the more restrictive the programming has to be. The automotive industry has embraced automation for decades, and it makes sense there for many reasons. Automakers want consistency, and they don't necessarily need flexibility when it comes to their welding. Further, as a whole, automakers are in a much better place to bear the costs of automation given their sheer size and scale, while also being at a recent cyclical peak in sales. The free cash flow is there for discretionary spending.
Now, are shipbuilders, which require more flexibility when it comes to executing welds and are currently enduring a cyclical trough, in a position to invest such large amounts of upfront capital? Not in the short run. The situation is similar across many different end markets. Overall, I think investors need to be hesitant in thinking Lincoln Electric has a clear and easy road to growth via branching out into automation over the next five years.
Shareholder Returns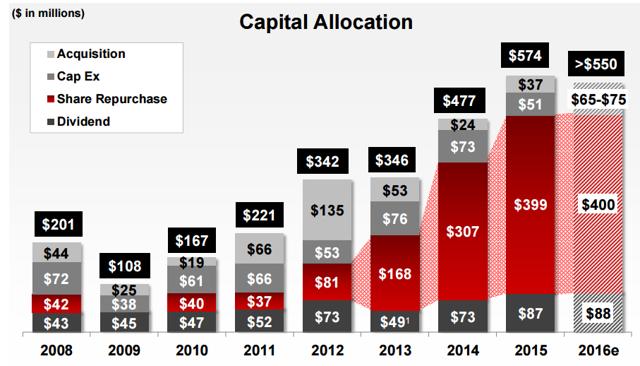 Click to enlarge
Buybacks in particular have grown in prevalence when it comes to capital allocation at Lincoln Electric. By and large these repurchases have not thus far been accretive, but likely have done their job in at least putting a floor under the stock and showing that management does see value. The company, like many today, has fallen into the temptation of taking on long-term debt in order to funnel that cash into shareholder returns.
Prior to 2015, Lincoln Electric maintained a net cash position when it came to its balance sheet. That changed when the company issued debt to fund shareholder returns in 2015 ($260M in free cash flow, $488M in cash out the door in buybacks/dividends). Lincoln Electric management intends to continue turning up the gears when it comes to leverage in 2016 per management commentary on the Q1 2016 call:
"So we now have about $220 million of cash on the balance sheet. Substantially all of that cash is overseas. There's really very little left in the U.S. to deploy. So we will be borrowing, taking down our line of credit for the second quarter, and then we will be looking at placing some additional long-term debt on the balance sheet sometime in the third quarter of this year."
Without a return to $400M+ in annual operating cash flow (2014 peak), the company can't continue to engage in current levels of shareholder returns without continuing to ramp up gearing. Assuming $420M in EBITDA in 2016 and another $350M debt raise, Lincoln Electric will have gone from a net cash position to likely trading at slightly more than 1x net debt/EBITDA by the end of 2016. While the argument can be made that this is a light degree of leverage and may in fact overstate full cycle leverage given that the company could be at a cyclical low, nonetheless this represents a substantial shift in company policy.
Takeaway
Lincoln Electric's business is incredibly volatile, and professional analysts have proven to be rather inept at forecasting earnings and cash flows.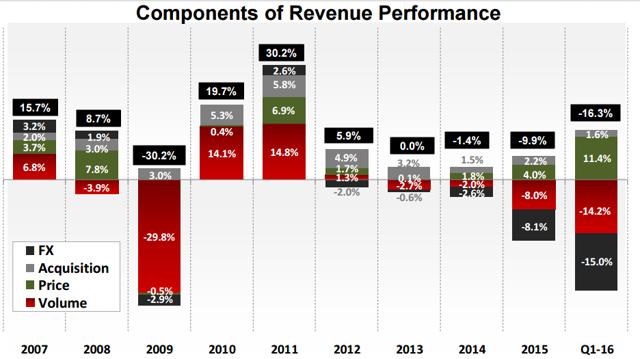 Click to enlarge
Industrial spending on welding can and does change on a whim. No one foresaw the impact that oil and gas cost cutting would have on this industry, even in the months following the oil price decline. Now, Lincoln Electric management has a stated goal of 10% revenue growth from 2009 to 2020:

Click to enlarge
That is a massive goal - $4.8B in revenue by 2020. 20% CAGR from here on out, assuming a $2.3B base in 2016. The company would need a repeat of the 2004-2009 expansionary period to get there, and I find that incredibly unlikely. At 11x 2017 EBITDA estimates and 18x forward earnings, it really isn't cheap, but it certainly isn't pricing in that kind of appreciation. Assuming $650M in EBITDA by 2020 (>10% EBITDA growth, kind in my opinion) and 10x forward EV/EBITDA, fair value is around $70/share (discounted 8% back to today). If you find a steady recovery of that nature probable, than the shares do present some value today. If you think we are instead in a low growth environment where such a rapid "V" shaped recovery is unlikely, than the equity simply isn't attractive.
For more research like this on small/mid cap companies perpetually under-followed by Wall Street and under-owned by retail investors, consider following me (by clicking the "Follow" button at the top of this article next to my name) to receive notification when I publish research. Feel free to ask any questions in the Comments section below.
Disclosure: I/we have no positions in any stocks mentioned, and no plans to initiate any positions within the next 72 hours.
I wrote this article myself, and it expresses my own opinions. I am not receiving compensation for it (other than from Seeking Alpha). I have no business relationship with any company whose stock is mentioned in this article.