We are bullish long-term on Pfizer (PFE) for those who are interested in buying the stock, but we also have found a short term options trading opportunity as the stock continues to move up in its peak and valley pattern.
Pfizer Inc., a biopharmaceutical company, offers prescription medicines for humans and animals worldwide. The company's Biopharmaceutical segment's provides Lipitor for elevated LDL-cholesterol levels in the blood; Enbrel for rheumatoid arthritis, polyarticular juvenile rheumatoid arthritis, psoriatic arthritis, plaque psoriasis, and ankylosing spondylitis; Lyrica for post-herpetic neuralgia, diabetic peripheral neuropathy, fibromyalgia, neuropathic pain, adjunctive treatment of epilepsy, and general anxiety disorder, as well as for use as an adjunctive therapy for adult patients with partial onset seizures
We have written about Pfizer in the past, but focused on two drugs that we believe would keep the company bullish-- Apixiban and Tanezumab. We are bullish on PFE, but also recognize a possible top forming or a period of consolidation coming up soon. When we look at the long-term chart on PFE, we can see that the RSI has a long-term negative divergence taking place right now. This divergence is 6 months long, and identifies a slow down in the strength of the movement of the stock.
Two things can occur here. First it could define a future top; second, it could define a consolidation period before it continues up. Either way, the signs of a weak the bullish trend is at hand. This creates an opportunity for the investor interested in a short term option investing strategy. The present pattern shows how it has moved bullishly in a peak and valley formation, and all signs are pointing to the valley again. It is time to dip before it continues up.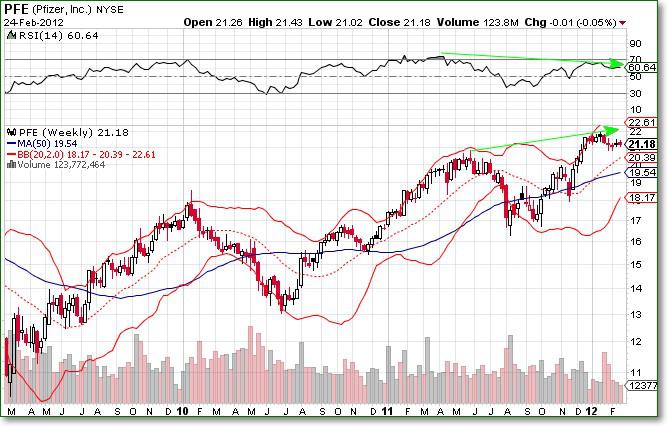 The Option Play
The last two dips have dropped at least 20% of the value of the stock before it moves up again. Since it topped out around 22, it would not be out of the question to dip down to about 18 before it moved back up again. These dips have lasted for as long as 12 weeks as of late. We are looking at a Bear Put Spread that will also give us some room to move with time decay.
Presently trading at 21.20, here's a trade we would recommend if initiated now:
Sell September 2012 '20' put option (presently priced at $1.01)
Buy a September 2012 '19' put option (presently priced at $0.70)
Net Debit to Start: ($0.31)
Maximum Risk: ($0.31)
Maximum Profit: ($0.69)
Breakeven: 19.69
Reasoning behind the Trade
If PFE follows its past patterns, the stock should dip to around 18 before it moves back up again. The bearish move we need to break even is 7.1%. The move we need to make our maximum profit is 10.4%. These moves must come buy September. The moves are well within past chart movement. Since the RSI is showing us signs of weakness in the present move, it may be reversing at present, or soon.