Over the past five and a half months, MarineMax (NYSE:HZO) has experienced share price depreciation of approximately 12%. This sell-off is in stark contrast to the company's growth. Through the first half of fiscal 16, HZO has posted strong double digit comps, which lap even stronger double digit comps. These double digit comps have persisted for six quarters and are likely to persist as the boat industry continues its recovery.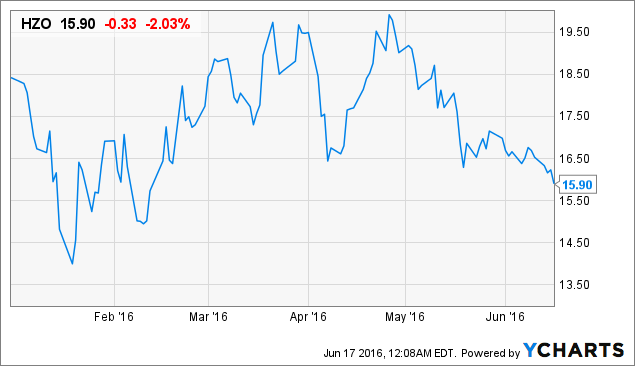 It is no secret that the boat industry suffered a major hit in 2008. Unit sales fell 50% after hitting a peak in 2007. In 2010, we began seeing a slow recovery in the industry. This recovery has accelerated in recent years, and the run-up looks very similar to what we saw between 2000 and 2006. I think we are in the middle of a high-growth era in the boat industry. I do not see major risks to consumer spending, DPI, or general US economic health in the near future that could compromise the industry's current growth. I think the industry will get close to 2007 peak levels by 2020.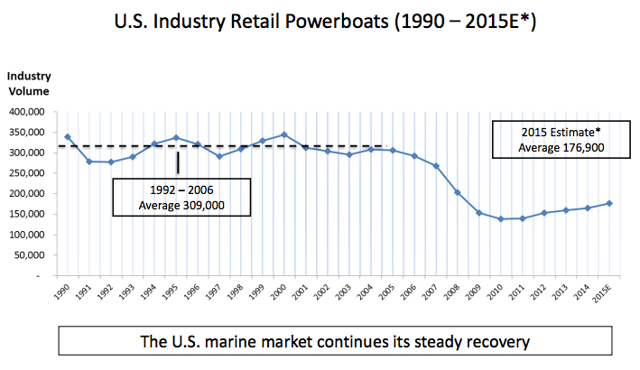 Click to enlarge
The yacht and boat company has made tremendous progress in adding new yachts and boats to its inventories that are in higher demand. These include new Galleons and more high end products. With seasonal tailwinds heading into the heart of summer, and boosted guidance from the 2Q16 earnings transcript, I see growth for the undervalued company.
We now expect diluted earnings per share to range from $0.68 to $0.75 up from our previous guidance of $0.60 to $0.70. This compares to our adjusted but fully taxed diluted earnings per share of $0.47 in fiscal 2015.
This means the company is guiding for 45-60% earnings growth, but the stock is only trading at 13x forward eps. Again, we see the valuation is out of whack with the growth. This growth will not slow. I believe that HZO has room to grow margins and drive revenue into perpetuity. Seasonal tailwinds into the summer season, coupled with industry tailwinds gives me exceptional confidence in the multi-year growth story.
From their press release, HZO shared with their investors that sales of higher end boats including Fiberglass Sport Boats, Fiberglass Cruisers, and Fiberglass yachts, are still way off 2006 peak levels. Over time I believe that the higher end boat categories' sales will reach levels around those in 2006. Tapping into 50% of 2006's volume would generate over a billion dollars in revenue for HZO. I model for this to happen by fiscal 18 because of double digit comps.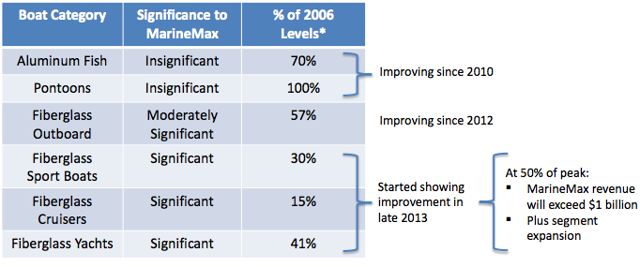 Click to enlarge
This chart makes me believe that margin expansion in the near future will be driven by a recapturing of the lost demand that existed for cruisers and yachts in 2006. This is up for grabs market share that HZO should be able to capitalize on. HZO will be able to grow its consumer base through tapping into the recently acquired Russo Marine's devout customer base.
Russo has been a member of the Boating Industry Top 100 since the program's inception, ranking No. 14 on the 2015 list. MarineMax is a two-time Top 100 Dealer of the Year and member of the Top 100 Hall of Fame
This is a solid move for HZO to make their stores more popular and dominant along the eastern seaboard and add an additional $35M in revenue on an annual basis.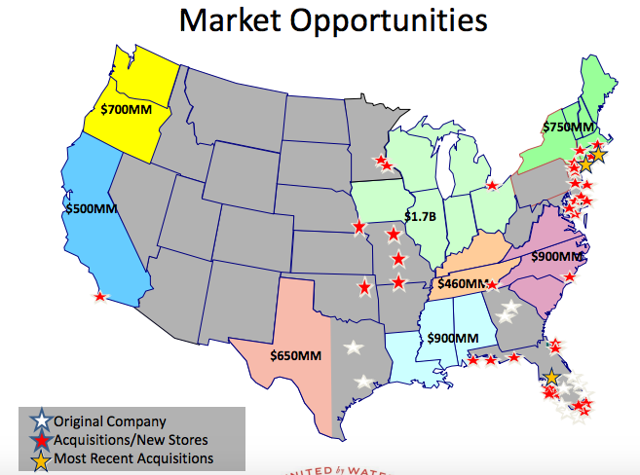 Click to enlarge
Additionally, HZO expanded financing to allow for loans up to $300 million, which is extremely important in the high priced boating industry. Currently, HZO has virtually no long term debt and only has boat purchases leveraged. With increasing boat prices in light of recovery of the industry, HZO should be able to expand margins. With Galleon brand expansion and Sea Ray yachts coming into high demand, HZO can use its newly acquired buying power to continue to build inventories to give buyers what they want.
Lastly, on a qualitative basis, HZO has made efforts to make itself a one stop shop. They are much more than America's largest boat and yacht dealer. They offer maintenance, insurance, storage, and parts & accessories, which account for 15.2% of their revenue.
My five year model can be seen below.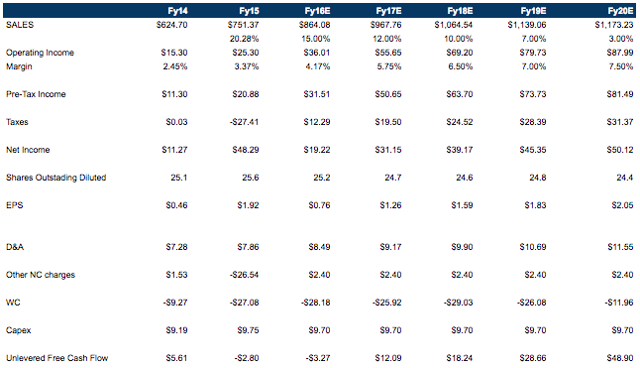 Click to enlarge
I modeled growth based on the similar revenue growth HZO experienced from 2000-2007. I see revenue growing at a slower rate than the early 2000's but believe there is no reason why revenues will not get close to 2007 peak levels. Margins will expand as higher end boats come back into demand, and earnings are positioned for sustained double digit growth. Using my projected eps for 2018 and slapping a 1Y forward PE ratio of 13-15x on it, I thing the stock will trade in the $20-24 range by next year.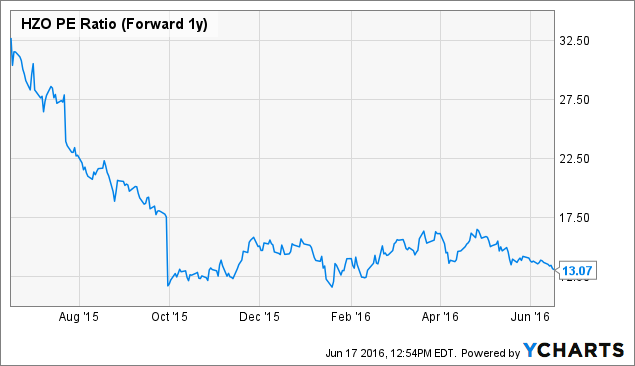 HZO PE Ratio (Forward 1y) data by YCharts
I believe that a strong qualitative story, paired with a cheap valuation makes HZO a great buy. At ~8x trailing earnings, the stock is priced for low-growth. I see this as a double-digit growth company riding a secular tailwind, and while a "bust" in the boat market will inevitably happen at some point in the future, I do not see it in the next five years. Nonetheless, the stock is already sufficiently priced to account for this inevitability. I think the stock trades north of $20 in a year, and don't see much downside in the near-term.
Disclosure: I am/we are long HZO.
I wrote this article myself, and it expresses my own opinions. I am not receiving compensation for it (other than from Seeking Alpha). I have no business relationship with any company whose stock is mentioned in this article.