Up until now, server chips based on ARM Holdings' (NASDAQ:ARMH) architecture have had little impact on the data center market, and Intel's (NASDAQ:INTC) Data Center Group has continued to grow. ARM server vendors are preparing the next wave of server chips based on 14-16 nm FinFET technology. These will be much more competitive and energy efficient and could start to erode Intel's share of the data center by 2017.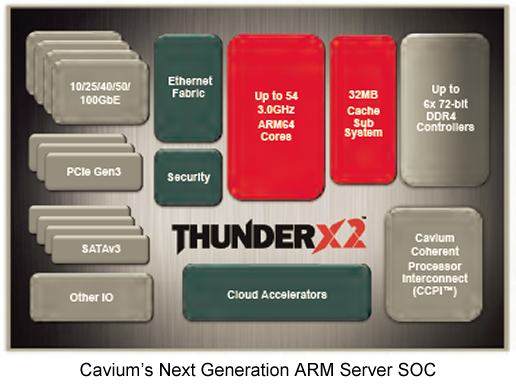 Source: Cavium
Server Ambitions
I have not been very optimistic about the business prospects of ARM servers in the past, and I was initially very skeptical about Qualcomm's (NASDAQ:QCOM) decision to enter the server arena. The main ARM server companies, Cavium (NASDAQ:CAVM) and Applied Micro Circuits (NASDAQ:AMCC), both lost money last year. Furthermore, by the time that AMD's (NYSE:AMD) Seattle server chip appeared, it was almost pointless.
Johan De Gelas, a senior lecturer at the HOWEST University in Belgium, wrote a recent review of the Cavium ThunderX server processor in AnandTech. Equipped with 48 ARM 64 bit cores, the ThunderX proved competitive in performance to comparably priced Intel server offerings such as the Xeon E5-2640 v4.
Maturity of the Linux-based software stack has held back ARM servers, and De Gelas still found problems with the current stack on the ThunderX. He was able to get everything working, but it took a lot more effort than for Intel servers. He noted that Linux on ARM has come a long way, but it's still a work in progress.
The main disadvantage of the ThunderX proved to be energy efficiency. ThunderX is fabricated on a 28 nm process, so it's two generations behind the Broadwell-based E5-2640, which is fabricated on Intel's most advanced 14 nm process. Power consumption, especially at idle, was much higher for ThunderX, by almost a factor of 2 compared to the E5-2640.
The Next Generation
Undeterred by the lack of market success, Cavium and Applied Micro are about to unleash their next generation of server processors. These will benefit from the 14-16 nm FinFET processes now available from foundries such as Samsung (OTC:SSNLF), Global Foundries, and TSMC (NYSE:TSM).
Last November, Applied Micro announced the X-Gene 3, which will be fabricated on TSMC's 16 nm FinFET process. The X-Gene 3 is expected to be available by the end of the year.
At Computex, Cavium announced the ThunderX2 on May 30, which will be fabricated on a 14 nm FinFET process, probably by Global Foundries using the process licensed from Samsung. No time frame was given for availability, but it's probably first half of 2017.
Qualcomm has not made any announcement of commercial availability of its server chips, but it's likely that QCOM will move to Samsung's 14 nm process before going to market with them. Qualcomm is relying on Samsung for fabrication of its industry-leading Snapdragon 820 smartphone system on chip (SOC).
All of the ARM server chips will be fairly massive SOCs with substantial IO capability integrated into the chip. Memory interfaces, PCIe Gen3, and multi-gigabit Ethernet will be common. In addition to the basics, Cavium is promising hardware accelerators for virtualization, security, storage and networking in the SOC.
Even though Intel claims with some justification that it still has the lead in process technology, the output from the various foundries on the 14-16 nm node indicates that the next generation will basically eliminate the 2x efficiency gap of the ThunderX.
Market Impact
It's clear that the hyperscale data center customers such as Alphabet's Google (NASDAQ:GOOG) (NASDAQ:GOOGL) and Facebook (NASDAQ:FB) are very open to alternative architectures, and welcome competition with Intel. Google is reported to have responded very positively to Qualcomm's prototype server.
The hyperscale users build their own server hardware, and Google has even gone so far as to design its own ASIC, the Tensor Processing Unit, for Alpha Go. This openness also extends to other non-Intel architectures, such as Nvidia's (NASDAQ:NVDA) Pascal GP100 accelerator.
Software maturity will be an ongoing concern, even after the new generation arrives, and this will probably blunt their initial impact. I also expect Intel to fight aggressively to maintain market share, so the first impact will probably be felt on the operating profit of the Data Center Group. This impact should begin to manifest in 2017.
Ultimately, the battle for the data center will be won on the basis of total cost of ownership (TCO), and this is a somewhat more difficult problem to unravel than it was in the case of Intel's mobile processors.
Based on architectural differences between ARM and x86, as well as Intel's experience with its mobile device losses, I have argued that ARM architecture has a fundamental cost advantage compared to x86. By the beginning of the year, I argued that Intel had been forced to capitulate in mobile devices based on ARM's advantage. By the end of the first quarter, Intel had confirmed this by discontinuing its Atom mobile processors for phones and tablets.
Will ARM's cost advantage carry over into server chips? It probably does in terms of chip costs, but TCO may be more driven by software configuration and management costs, which currently favor Intel. But eventually, this advantage will go away as the software stack matures.
Investor Takeaway
The continuing declines in PC unit shipments presage the ultimate fate of x86. PCs continue to decline because they aren't cost competitive with ARM-based mobile devices. These devices continue to become more powerful, and take over a larger share of the user's attention and time.
The ARM-based smartphone is now becoming capable of fulfilling most of the roles of the traditional PC, and can even be connected to a desktop monitor and keyboard. They are also less expensive than the new x86 tablets, as well as being more energy efficient.
Intel's answer to the ARM server threat appears to be to try to get into peripheral data center areas such as storage and networking. Intel wants to be a one-stop shop for all the data center needs.
I doubt this will work for the hyperscale customers who seem to want to mix and match components as they see fit. That leaves software maturity as the last remaining barrier to the ARM server adoption, and this can be expected to fall by the wayside in the next year.
Although the battle for the data center is likely to be long and bloody, I consider Intel's prospects for victory to be poor. I rate Intel a sell.
Disclosure: I am/we are long QCOM, NVDA.
I wrote this article myself, and it expresses my own opinions. I am not receiving compensation for it (other than from Seeking Alpha). I have no business relationship with any company whose stock is mentioned in this article.
Editor's Note: This article discusses one or more securities that do not trade on a major U.S. exchange. Please be aware of the risks associated with these stocks.