In an article on Exxon Mobil (NYSE:XOM) earlier this month, I had discussed how the rally in oil prices will have a positive impact on the company's upstream performance. At the same time, I had also pointed out that Exxon Mobil is an integrated oil and gas company, which is why the company's downstream segment will also play an important part in its growth going forward. So, in this article, we will take a closer look at how Exxon Mobil's downstream segment is expected to perform going forward and what factors will affect its performance.
How downstream has been performing this year
The last quarter was not a good one for Exxon Mobil. On a year-over-year basis, Exxon witnessed its downstream earnings go down by $761 million to $906 million, which is a drop in excess of 45%. The majority of the drop in Exxon's downstream segment was a result of lower refining margins, which fell to the tune of $860 million on a year-over-year basis.
This massive weakness in Exxon's downstream segment was a result of the drop in refining margins on the back of lower demand. The mild winter in the U.S. led to a drop in demand for gasoline in late 2015 and early 2016, as a result of which refining margins took a beating. However, it looks like the challenges in the downstream segment are now over, with refining marker margins making a strong comeback post January. This is shown in the following chart: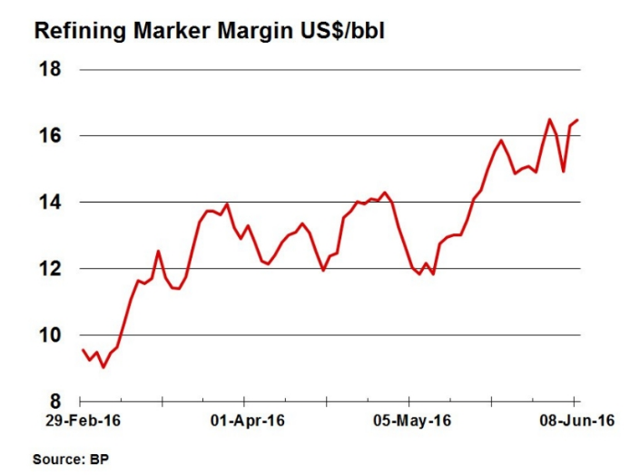 Click to enlarge
Source: BP
As seen above, the refining margins have improved from less than $10 a barrel to over $16 a barrel in less than four months. This will prove to be a tailwind for Exxon Mobil going forward and allow the company to bring about a turnaround in its downstream segment. More importantly, it is likely that the strength in the downstream segment can be sustained in the long run. This is because demand for gasoline and other refined products is anticipated to go up not just in the U.S., but also globally.
For example, the EIA is of the opinion that gasoline demand in the U.S. will increase to more than 9.5 million bpd in the summer months, with the price also increasing to $2.27 per gallon. This is higher than the EIA's previous forecast of 9.48 million bpd for the summer months at a price of $2.21 per gallon. This increase in gasoline demand will be driven by an increase of 2.5% in highway driving this year.
More importantly, an increase in demand is expected to be seen across the refined product portfolio. For instance, after two years of declines in 2015 and 2016, distillate fuel demand is expected to increase 1.9% in 2017 on the back of economic growth, increased drilling for oil, and a rebound in railroad activity. Moreover, consumption of ethane in the U.S. will grow at an impressive pace in 2016 and 2017, rising 6.5% and 7%, respectively.
Hence, as the total demand for refining products increases going forward, margins will continue to remain strong.
Exxon's downstream infrastructure improvements will aid growth
Apart from the improvement in demand for downstream products, Exxon will also benefit from its investments in infrastructure in this segment. For example, Exxon Mobil's refining costs are way lower than that of the overall industry. In fact, Exxon is of the opinion that it saves $1.5 billion on an annual basis in refining cash costs on the back of its larger refineries, which are 70% bigger than its peers, and advantaged feedstock.
The following chart shows Exxon's advantage in the refining segment: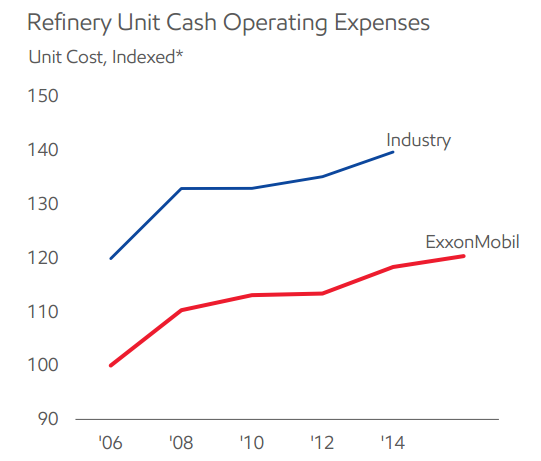 Source: Exxon Mobil
Apart from its stronger infrastructure, Exxon Mobil's focus on higher-margin refined products is also driving its downstream performance. For instance, the company has doubled its premium distillate production in the past decade and increased it lubricant blending capacity. More importantly, Exxon has managed to add such capacity in a strategic manner to integrate these products with its refineries in order to capture gas and liquid cracking benefits so that the feedstock it processes is 30% better as compared to the industry.
Looking ahead, Exxon will continue to invest in downstream infrastructure. For instance, the company is expanding its Beaumont crude unit to increase the capacity for processing advantaged domestic crude feedstock, apart from expanding the Baytown and Mont Belvieu assets so that it can produce premium Ethylene/polyethylene products from low-cost ethane. Both these projects are expected to be completed by next year.
Conclusion
Exxon Mobil enjoys an advantage in the downstream segment as compared to its peers, and this can be seen in the points discussed above. As such, an improvement in the downstream segment due to higher refining margins will have a positive impact on Exxon Mobil's earnings. Thus, along with the improvement in the upstream segment, I think that it will be a good idea for investors to stay invested in Exxon as a downstream recovery will fuel its growth further.
Disclosure: I/we have no positions in any stocks mentioned, and no plans to initiate any positions within the next 72 hours.
I wrote this article myself, and it expresses my own opinions. I am not receiving compensation for it (other than from Seeking Alpha). I have no business relationship with any company whose stock is mentioned in this article.