Overview
Depending upon how you calculate it Amazon (NASDAQ:AMZN) and IBM (NYSE:IBM) are the two largest cloud service providers in the world at about $10 billion a year in sales each. Both reported $2.6 billion in cloud revenue for the first quarter.
Brian Olsavsky, Amazon CFO in Q1 Conference call:
"In the Amazon Web Services segment, revenue grew 64% to $2.6 billion. "
And from IBM CFO Martin Schroeter in IBM's conference call:
"In the quarter, our total cloud revenue grew 36% to $2.6 billion, with the as-a-service components growing 46%."
Amazon is best known with its AWS (Amazon Web Services) that include such well known customers as Netflix and Zynga while IBM tends to concentrate on corporate and institutional hybrid cloud customers that keep some things on the cloud but other things in house.
Beyond cloud services of course the two companies have strikingly different business models. Amazon gets more than 90% of its revenue from their on-line retail sales channel while IBM gets more than 80% of their revenue from providing software, service, mainframes, consulting and analytics.
In this article I will compare the investment merits of each company. I did a similar comparison with Amazon and traditional retailers in this article "Buy Amazon At 298 P/E Or Get 5% Dividend At 12 P/E?".
"The writer is a mysterious figure,
wandering lonely as a cloud,
fired by inspiration,
or perhaps a cocktail or two."
Sara Sheridan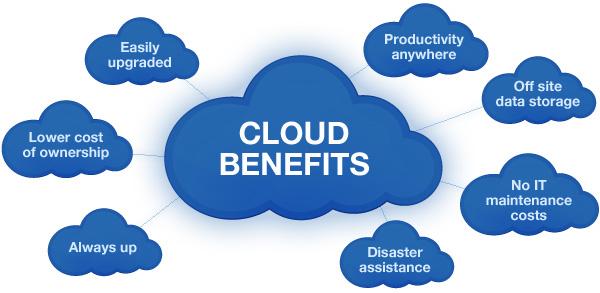 Source: covalence.com
Sales are going in the opposite direction.
In the last few years IBM has been transitioning away from their traditional hardware, package software and data-center model to a model that emphasizes services, cloud and cognitive functions. This has resulted in decreasing sales. Amazon on the other hand has continued its relentless pursuit of more and more on-line sales and in addition has added AWS as a secondary source of income and profits.
As the chart below vividly shows IBM has seen its revenue drop consistently over the last 5 years while Amazon's has more than doubled over the same time period. In 2015 Amazons sales surpassed IBM's for the first time.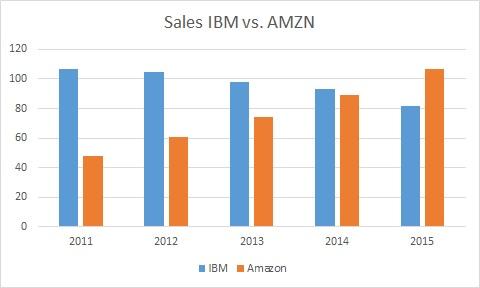 On other financial metrics IBM is a powerhouse.
If we look at profits, EBITA or Free Cash Flow IBM is way ahead of Amazon.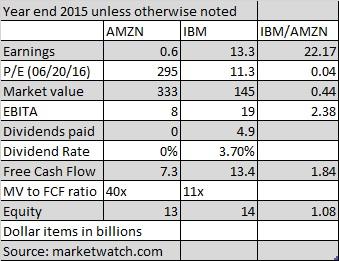 And note IBM's $13 billion in FCF is after paying $5 billion in dividends. But interestingly equity is about the same.
Amazon's net operating margins are very small compared to IBM at about 2% compared to IBM's 11%.
IBM is a tech company, Amazon is a marketing company.
IBM has lead the world in patents for 23 years in a row. IBM has almost 2,000 scientists in its labs all over the world developing new products and technologies. Although it is has discontinued most of its hardware products its ever increasing investment in cognitive, data analytics and IoT functions like that from Watson and the Weather Channel means it will become a high-tech source of very high-margin services. I wrote about the Weather Channel acquisition here "5 Reasons IBM Is A Buy Whether You Like The Weather Or Not".
Amazon on the other hand is arguably the leading retailer of the 21st century. It reminds me of Procter and Gamble's (NYSE:PG) takeover of the retail markets in the 20th century. With AWS Amazon is taking something it needed to develop to stay competitive and expanding it enormously for use by other large companies. A great marketing idea but akin to a REIT where large amounts of capital are invested at a certain rate with expectations that it will give a return much higher than the original cost of capital and Operating Expenses (OPEX). This does not mean AWS is not a high tech product it is but IBM's services to the cloud are intended for a much higher value proposition than AWS services. But AWS does have some sophisticated happy customers as shown in this youtube presentation by Capital One.
If there is a market correction coming do you want to be in Amazon?
Pundits on Seeking Alpha and elsewhere are constantly warning us of the big market correction that is well overdue. Some speak of 20% some much more than that. If you think a correction is inevitable sometime in the not too distant future then you should consider the following.
According to Yahoo Finance AMZN's beta is 1.65 and IBM's is .81 or about half. Here are two charts that show the comparison between the two stocks over two slightly different time periods.
The first chart shows that AMZN and IBM are virtually identical in their Year-to-date increase. But in the 2nd chart you see that when there is a correction, like the 10% S&P (NYSEARCA:SPY) correction between late December and late February, AMZN falls off the cliff. That is to be expected when your beta is 1.65.
So if the market falls 20 to 25% how far will AMZN's stock price fall? Seems to me 50% would not be out of the question.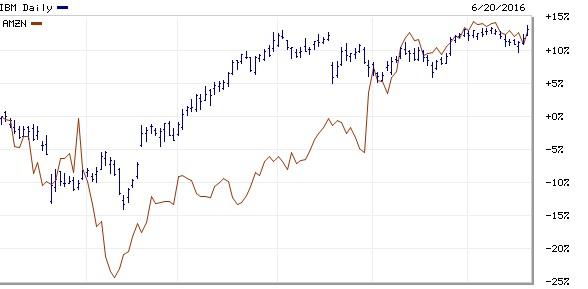 YTD comparison from marketwatch.com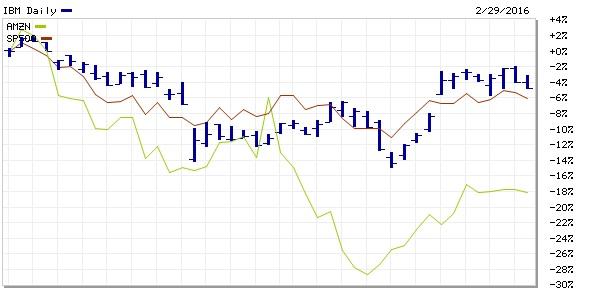 Dec 28 to Feb 28 comparison from marketwatch.com
Conclusion
This comparison is about investing for dividends with some growth compared to potential huge growth without dividends. One company, IBM is in turnaround mode and one, Amazon, is in growth mode.
I believe that AMZN's electronic warehouse approach with AWS will over time have much lower margins than IBM or Microsoft's (NASDAQ:MSFT) high-tech cloud service approach. Competition in AWS's market is increasing with very large, technically sophisticated rivals such as IBM, Microsoft and Oracle (NASDAQ:ORCL) competing for the same customers. What unique abilities can AWS offer those customers that the other three cannot? Nothing I can think of.
IBM is a buy, Amazon is at best a hold.
If you found this article to be of value please scroll up and click the "Follow" button next to my name.
Disclosure: I am/we are long IBM.
I wrote this article myself, and it expresses my own opinions. I am not receiving compensation for it (other than from Seeking Alpha). I have no business relationship with any company whose stock is mentioned in this article.