As I had mentioned earlier, oil prices had reached its one-month low levels last week mostly because of negative market sentiments that were related to Brexit fears. With reports emerging that U.K. will (probably) remain in the European Union, oil markets responded positively and oil prices are again headed towards the $50 level with WTI (NYSE:WTI) and Brent trading at $48.62 and $49.88 respectively at the time of writing this article. Does this mean that oil has resumed its upward trend especially when the U.S. crude oil inventories and U.S. oil production have declined?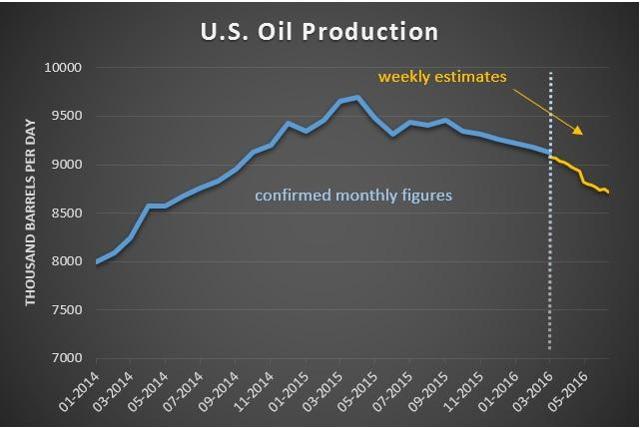 Click to enlarge
Source : oilprice.com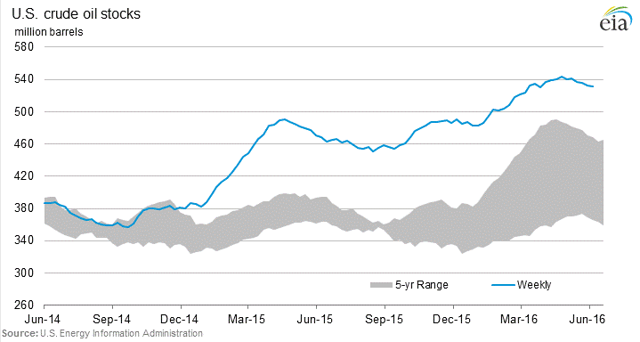 Click to enlarge
Last month, I had explained how global oil and gas companies had slashed their capex by 24% in 2015 and how will they reduce it by another 17% at around $330 billion this year. Now, energy consultancy Wood Mackenzie has revealed in its report that almost all oil-producing countries have seen some kind of capex cuts since oil prices collapsed in 2014.
Which country has seen the biggest capex cut?
As per researchers at Wood Mackenzie, oil and gas development projects worth more than $1 trillion have been reduced through the end of this decade. This is indeed a staggering figure. Of all the oil producing countries, it is U.S. that has seen the highest capex cuts. In fact, its capex forecast for 2016 and 2017 has been reduced to half by almost $125 billion. As more U.S.-based oil and gas companies are struggling to break-even at the current low oil price levels, these capex cuts are expected to increase in the coming time. It needs to be noted that some of the oil producers, who had hedged their prices in futures market, will be in a difficult position once their hedges expire this year. As per the report, even producers like Russia and Canada are looking to reduce their oil and gas capex by $25-$40 billion.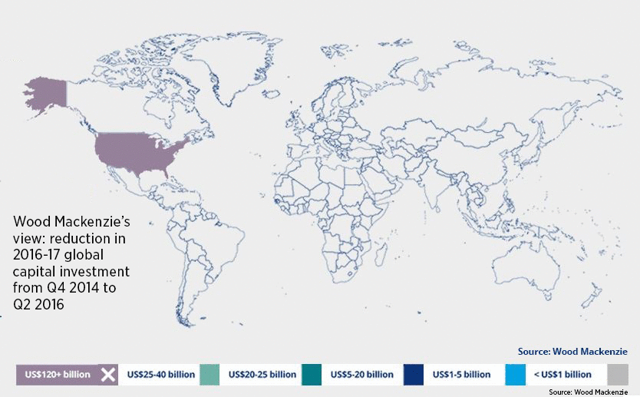 Click to enlarge
The most significant observation made by Wood Mackenzie is that these capex cuts will eventually affect the global crude oil supply in the coming time, with a global supply reduction of around 3% in 2016 and a supply reduction of 4% in 2017. Even IHS predicts that U.S. oil and gas producers will reduce their capex by around 35% this year.
What does this mean for the markets?
It is clear that this trillion dollar cut in oil and gas investment is the result of the oil price collapse of 2014 and continuing volatility in oil prices. However, it needs to be noted that if these capex cuts keep on increasing the way they are, the ongoing supply-demand rebalancing of crude oil (which is already on a fast mode thanks the supply outages in Nigeria and Latin America) will gain further momentum. In its latest oil market report, IEA predicted that the global oil demand will increase by 1.3 million barrels a day to 97.4 million barrels a day in 2017, while the non-OPEC supply will only grow by 0.2 million barrels a day. The report even suggests that global oil demand might outstrip the global oil supply by the third quarter of 2017 (refer the below figure).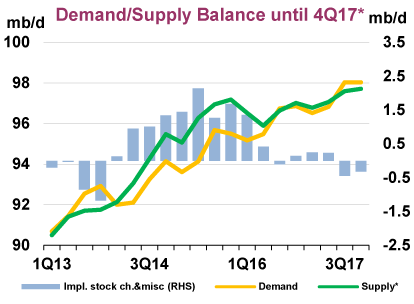 Image Source : IEA
This makes it pretty clear that the global oil industry requires a substantial increase in amount of oil supplies in the next two years. However, considering the effects of increasing capex cuts in this scenario, I expect the prices (NYSEARCA:USO) to increase substantially from the current $50 levels in the coming time.
Disclosure: I/we have no positions in any stocks mentioned, and no plans to initiate any positions within the next 72 hours.
I wrote this article myself, and it expresses my own opinions. I am not receiving compensation for it (other than from Seeking Alpha). I have no business relationship with any company whose stock is mentioned in this article.