Although factually correct that overall electric power generation was down as we enter the 2016 cooling season, natural gas (NYSEARCA:UNG) has actually taken significant market share from coal. I feel that it is not telling the full story to argue that there is pent up power demand when warmer weather arrives during June - August 2016.
Enclosed below is the empirical May data from the EIA.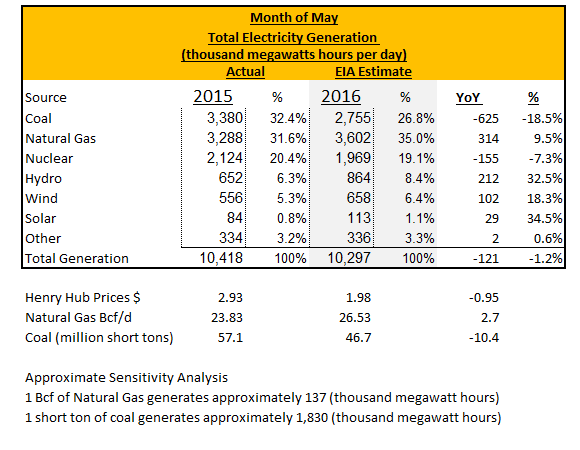 Yes, it is correct that overall power demand was down 1.2% YoY in May 2016. However, as we can see, natural gas power burn was 2.7 Bcf/d higher in May 2016 compared to May 2015. As I have mentioned in recent pieces, coal, natural gas, nuclear, hydro, wind, solar, and other renewables all compete for market share. The overall analysis is more complex than simply suggesting higher temperatures will lead to huge power burn gains that exclusively benefit natural gas. Wind and solar are slowly gaining market share and nuclear and hydro can vary, but are fairly steady.
So, it is really a big surprise that when May 2016 natural gas averaged $1.98 mm/Btu that it took market share from coal?
Moreover, I would argue that June 2016 power burn is not a great barometer for natural gas's attractiveness as the June 2016 natural gas futures contract averaged about $2.10 mm/Btu during the month. We will get a truer picture of demand during July as the July natural gas contract was above $2.70 mm/Btu (today) and has been north of $2.50 mm/Btu for many days.
2016 vs. 2012
Switching gears - I continue to read reports from natural gas bulls pointing to 2012 as evidence of how the price of natural gas in 2016 will mirror this trajectory. Unfortunately, the data doesn't fully support this view either. The popular narrative is that the summer of 2012 was scorching hot and therefore higher temperatures led to natural gas inventories melting away.
Lo and behold, in 2012, besides the month of May, overall total electricity generation during the months of April through September was down YoY in 2012 from 2011. To prove that I am not cherry picking data, in 2012, during the months June, July, August, and September total electricity generation was down compared to 2011.

Click to enlarge
The incremental 1,500 Bcf of natural gas power burn was mostly from natural gas being cheaper than coal, as utilities switched to natural gas. As readers may recall, coal and coal prices were in much better shape in 2012 compared to 2016. So the relative attractiveness of natural gas enabled 2012 natural gas inventories to get worked off.

Click to enlarge
In summary, we all love compelling narratives, but the reality is much more nuanced. The empirical evidence suggests that higher natural gas power burn is more a function of price attractiveness relative to coal. It will be more telling to see how natural gas competes with coal in July, given where July futures are trading.
Disclosure: I/we have no positions in any stocks mentioned, and no plans to initiate any positions within the next 72 hours.
I wrote this article myself, and it expresses my own opinions. I am not receiving compensation for it (other than from Seeking Alpha). I have no business relationship with any company whose stock is mentioned in this article.