In my monthly newsletter, I provide subscribers with a handful of REIT portfolios to assist with various asset allocation strategies. Our most diversified portfolio is called the Durable Income Portfolio and it is comprised of over 20 REITs that are vetted for their sustainable dividend characteristics.
We also put together a Small Cap REIT Portfolio that is engineered to be a more tactical basket of small cap REIT securities. Our purpose for this portfolio is to filter out the less glamorous names that are often over-looked and that offer out-sized risk/return prospects. One example, we added City Office REIT (NYSE:CIO) yesterday (see article here) after we determined shares were somewhat cheap.
We also provide our newsletter subscribers with a Monthly Paying REIT Portfolio. As the name suggests, this basket of stocks was assembled to provide investors with monthly income that we determined to be safe and reliable. We are pleased with the performance of this portfolio that we launched around eleven months ago (on July 28, 2015).
As with all of our stock picks, we are not fans of technical analysis. We believe that a big part of our success has to do with our deep-rooted conviction for value investing. Year to date, all of our portfolios have produced above average results, validating the fact that fundamental research is the secret to being an intelligent REIT investor.
We also provide our subscribers with a Preferred REIT Portfolio with around 20 equity and mortgage REITs. In a Forbes article yesterday, we highlighted two of our preferred REIT picks (see article here).
Our best performing REIT portfolio is The Monthly Dividend Portfolio. Since inception, this portfolio has returned 21.86% - considerably better than the SNL US Equity REIT average of 13.55%.

Click to enlarge
Our Monthly REIT Portfolio has returned 19.31% year to date, beating our Durable Income Portfolio (+16.3%) and our Small Cap REIT Portfolio (+9.4%).

Click to enlarge
Four of our REITs in the Monthly Dividend Portfolio have returned in excess of 25% year to date and only one of our picks generated negative results. We continue to hold the ugly duckling because we believe that eventually it will climb back in line with the others.
Our top pick in the monthly-paying portfolio is Whitestone REIT (NYSEMKT:WSR); shares have returned a whopping 30.6% year to date. The purpose for this article today is to examine the latest quarter results to determine if we should take further action (buy/sell) or maintain the status quo (HOLD). Let's get started…
A Closer Examination of Whitestone REIT
Whitestone REIT was founded in 1998, and began trading as a public company on August 25, 2010. Its portfolio today consists of 69 properties, including retail and office/flex properties, with ~5.9 million square feet of gross leasable area (or GLA). The company owns 55 retail properties with a targeted geographic model that is focused on high growth markets such as Dallas, Houston, Phoenix, San Antonio, and Chicago. The majority (43 properties) are located in Texas and Phoenix (25 properties).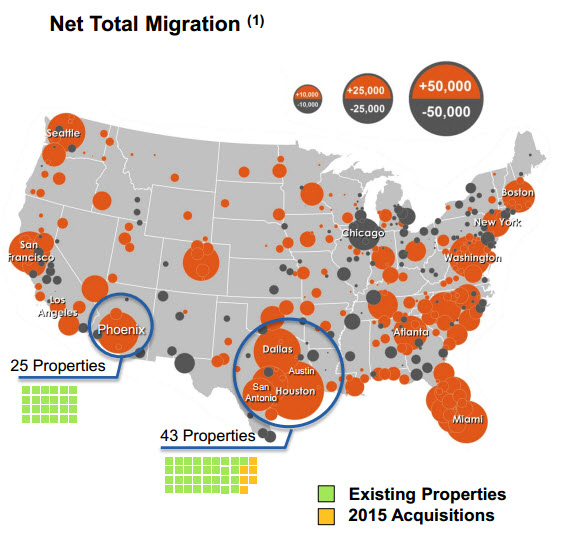 WSR has investments in many of the fastest growing cities; however, Houston is also a core market with a large dependency on energy that could weigh on the overall share price. WSR has exposure in Dallas (11%), Houston (21%), Phoenix (48%), Austin (13%), San Antonio (6%), and Chicago (1%).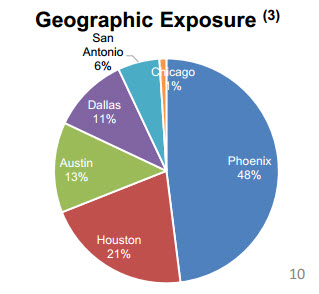 As illustrated below, these core markets have strong population growth: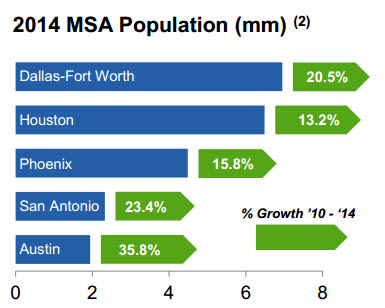 WSR's differentiated investment approach is to increase its market share by being a consolidator (in a highly fragmented industry) of financially distressed properties and to broaden its competitive strengths of turning around troubled shopping centers. As the chart below illustrates, WSR has "top-rated" demographics based upon the 3-mile radius (based on household income) below: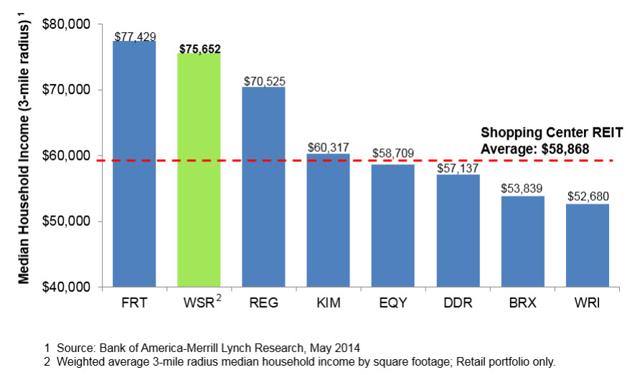 Click to enlarge
Compared with the peer group, WSR has attractive demographic drivers:
Estimated 5-Year Household Growth (3-mile radius)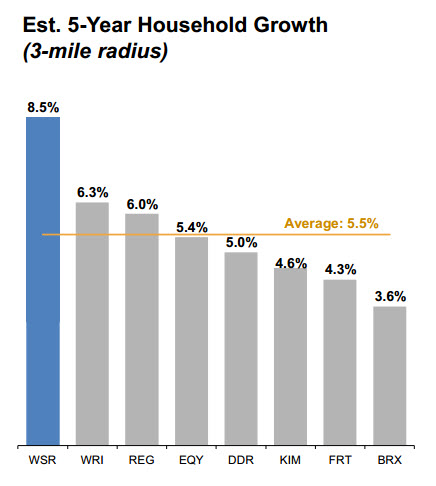 Estimated 5-Year Household Income Growth (3-mile radius)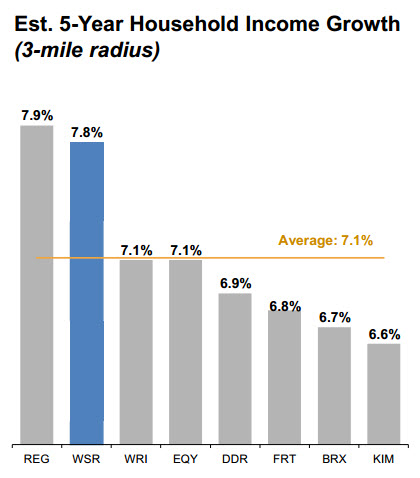 In WSR's investor presentation, the company provided data to support the argument related to its minimal impact from the downturn in oil prices (in Houston). The following chart suggests that Houston is a diverse economy with multiple demand drivers (26 Fortune 500 and 52 Fortune 1,000 companies are located in Houston). Six of the top 10 employers are non-energy.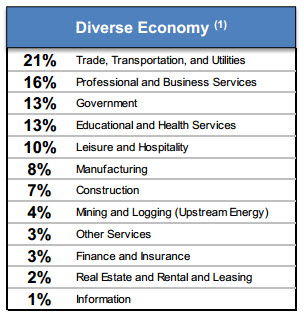 Here's a chart suggesting the muted supply and continued demand in the Houston market: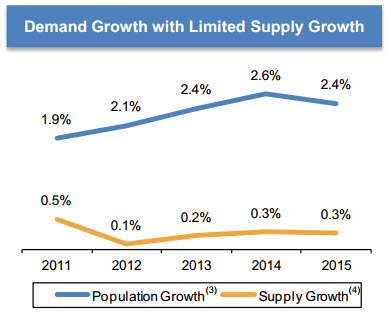 A Unique Player in the Shopping Center Sector
Although buying value-add shopping centers is somewhat of a niche investment strategy, WSR's model is scalable and produces exceptionally high returns. WSR is considered a more tactical re-developer in that the company seeks to acquire "broken" centers and then "bring them back to life" by leasing up space.
As you can see below, WSR focuses on community centers and neighborhood centers (see definitions in the chart below):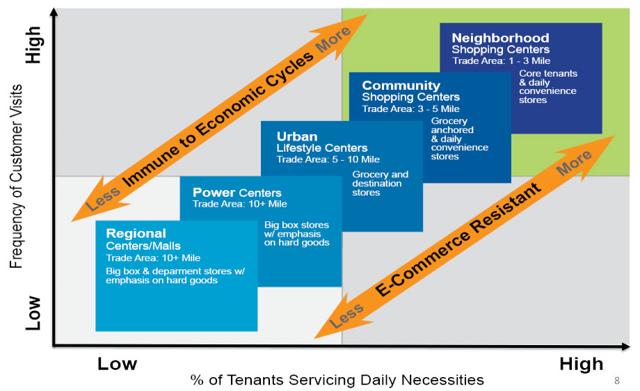 Click to enlarge
WSR has a diverse portfolio that includes grocery (13%), dining (21%), services (23%), beauty & health (20%), education (6%), and specialty retail (17%). 83% of the company's tenants are service based and resistant to e-commerce. Also, WSR has only two tenants with more than 1% ABR (annual base rent):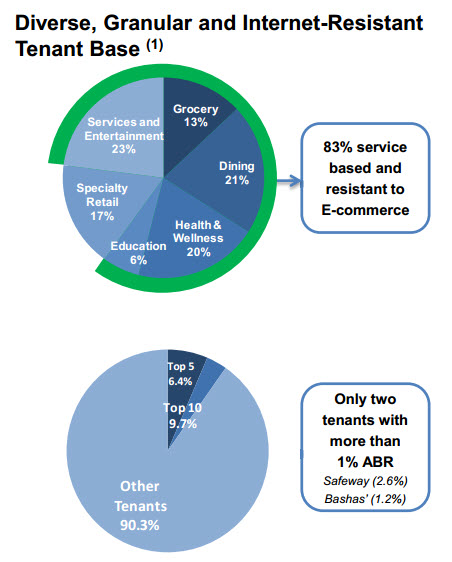 WSR's diverse tenant base is concentrated in a variety of categories, so the tenants tend to occupy smaller spaces (less than 3,000 square feet), whereby the small tenants pay a 48% premium over the large tenants. The obvious advantage is that the more diverse portfolio minimizes downside risk with no single tenant concentration.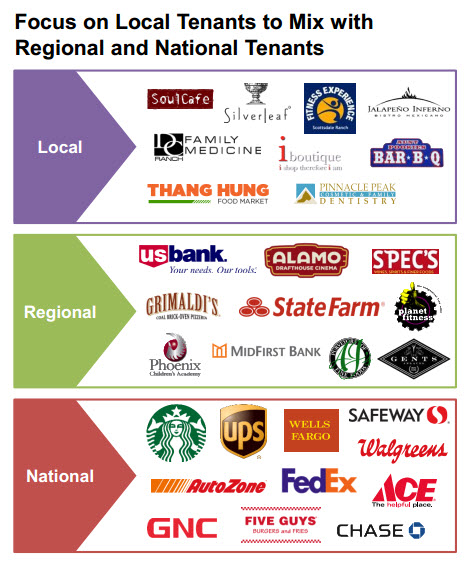 The Growth Drivers
WSR has continued to be very active in the acquisition side of the business, maintaining a strong pipeline of opportunities sourced through deep relationships in targeted markets. WSR expects to fund these acquisitions from many sources of capital, which include non-core asset sales and issuance of operating partnership units. As evidenced by the chart below, WSR has maintained a disciplined acquisition strategy: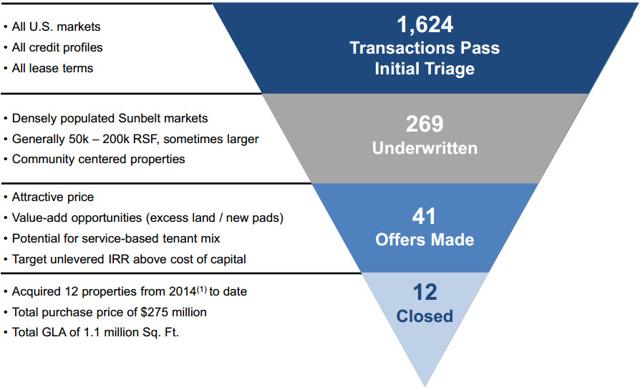 Click to enlarge
WSR has averaged around $105 million in acquisitions annually. As the chart below illustrates, the growth has been relatively stable and predictable. In Q3-15, WSR closed on a record $96 million of acquisitions.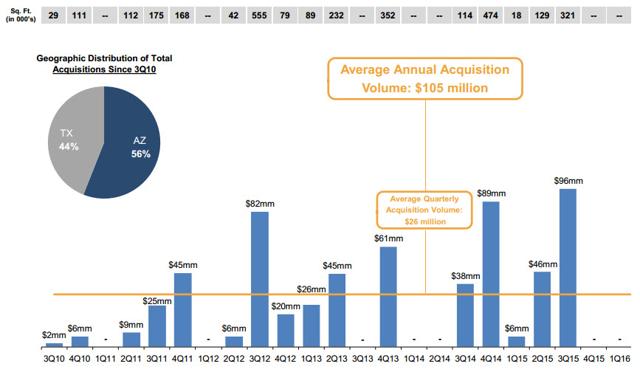 Click to enlarge
As noted above, WSR typically acquired centers that require TLC (tender loving care) and that means that the company has been successful at increasing the yield on cost of the properties when acquired. From 2011 through 2013, WSR has improved its yields by 126 basis points (from 7.3% to 8.6%).

Click to enlarge
In 2014 and 2015, WSR had the potential to improve yields, although they have compressed substantially.

Click to enlarge
WSR also has strong organic growth drivers.
For the first quarter, WSR's leasing team signed 122 new and renewal leases totaling 285,000 square feet and $16 million in total lease value for future rental revenue income. The total lease value signed during the quarter represents an 88% increase over the prior year.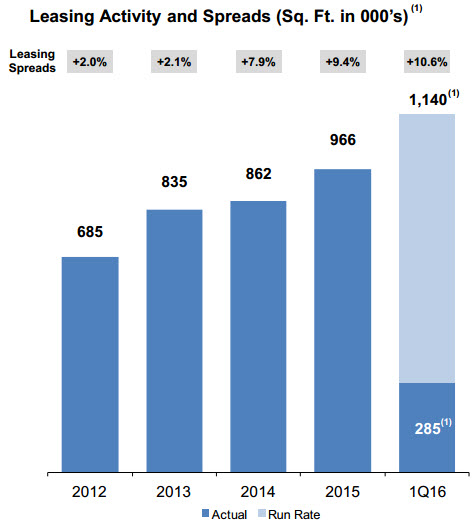 In WSR's retail properties, which represent almost 90% of invested capital, occupancy was 89.3%, which was an increase of 150 basis points year over year. Here's how WSR's same-store NOI performance (2014 Q1-16) compares with the peer group:

Click to enlarge
Occupancy for WSR's core community center retail properties grew to over 89% in Q1-16.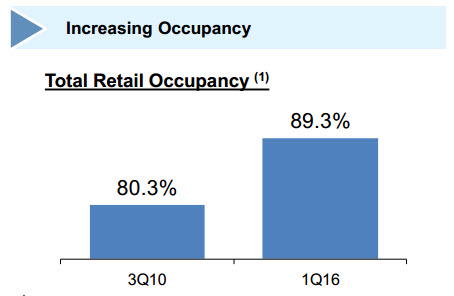 Also in Q1-16, WSR's rental rates on new and renewal leases signed during the quarter increased 12.8%, signifying healthy operating fundamentals.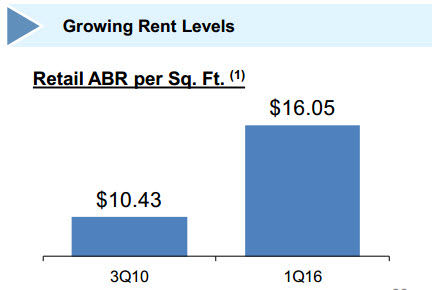 One of my concerns with WSR is the fact that many of the tenants are non-investment grade rated "mom & pop" tenants. With an average lease term of 3.8 years, WSR is exposed to substantially more retention risk than the peer group. In a recession environment, WSR's tenants are more likely to default.
However, in the short term, it appears that the Federal Reserve will keep rates low and that should give WSR more time to manage the risk. Also, there's a silver lining: WSR has the potential to capture growth from below market leases.
In May 2015, WSR acquired Davenport Village in Austin, TX. The property was purchased at a price of $45.5 million and WSR intends to re-tenant the grocery-anchored center. The property has below market rents and is situated in a densely populated trade area ($156,000 median HHI).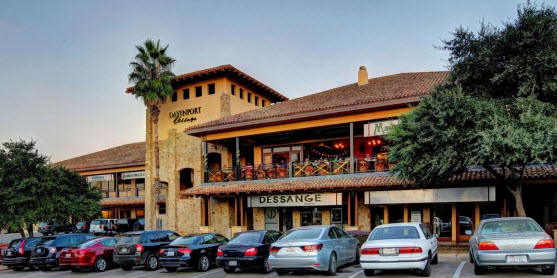 Hopefully, WSR can create similar success as the company enjoyed in Village Square at Dana Point in Meza, AZ. In 2012, WSR purchased this center for $55.2 million, and since that time, occupancy has increased 21%. The NOI was $3.2 million when WSR purchased the center and is $5.6 million now.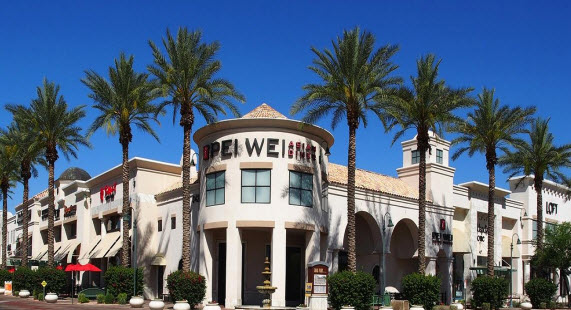 The Balance Sheet
WSR's capital structure is simple: one class of stock, no joint ventures and a combination of property and corporate level debt. Approximately 73% of the debt is subject to fixed interest rates. The weighted average interest rates on all of the fixed-rate debt is 3.9% with a weighted average remaining term of 6.1 years.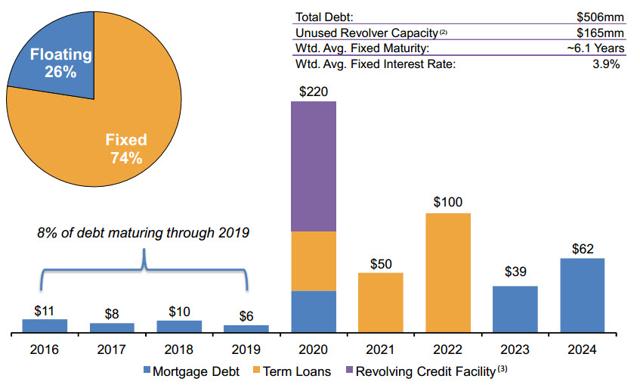 Click to enlarge
The underlying debt structure remains sound with a prudent mix of secured and unsecured debt and well-laddered maturities. This composition gives the company flexibility and support to react quickly to growth opportunities and changing conditions. At the end of Q1-16, the debt was $506.2 million and the ratio of net debt to EBITDA was 8.66x.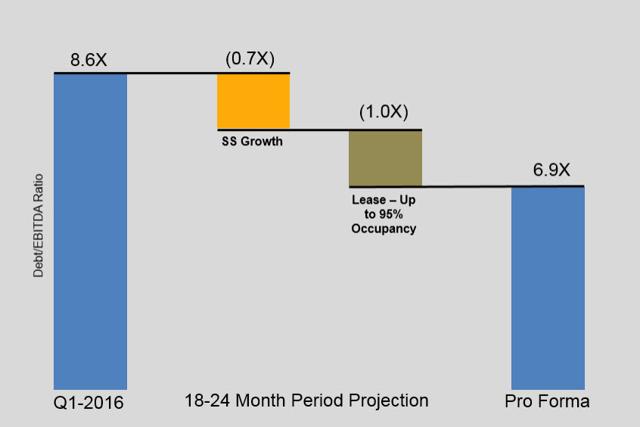 Click to enlarge
WSR's debt has improved by almost 1 turn over the last six months from increases in EBITDA. WSR maintains a largely unsecured debt structure with 49 unencumbered properties out of our 69 properties with an unappreciated cost basis of $586 million.
At quarter end, WSR had total assets on a gross book basis of $838 million producing approximately $70 million in annual NOI. The company had $165.4 million of availability remaining under its credit facility at the end of the first quarter, and the facility has an additional availability of up to $200 million (accordion feature).
Is The Dividend Safe?
This is the question you should always be asking yourself.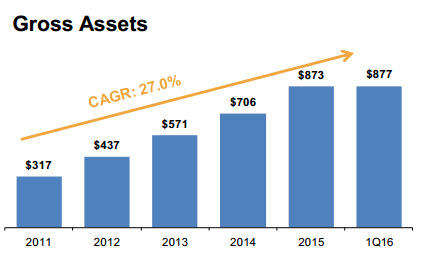 Now let's review the historical growth in revenue: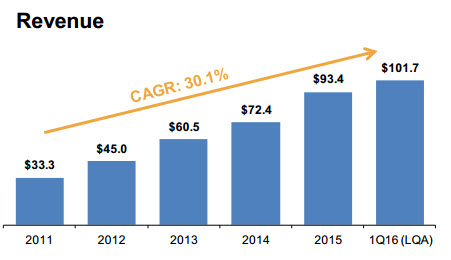 Now let's review the historical growth in NOI: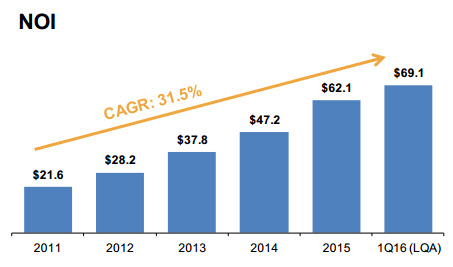 The first quarter marked WSR's 22nd consecutive quarter of revenue and NOI growth, and 23rd consecutive quarter of FFO growth. For the quarter, WSR's FFO was $0.34 per share compared to the dividend of $0.285 per share, which is an 81% coverage.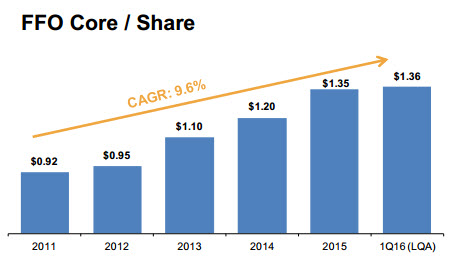 One of the reasons that I decided to add WSR to the Monthly Dividend Portfolio and take an ownership stake is because of the steady improvement of the company's dividend payout ratio.

Click to enlarge
WSR's dividend is safer today (than when I commenced research on the company a few years ago); however, the yield is seemingly higher than the peers:

Click to enlarge
Let's compare the P/FFO multiple:

Click to enlarge
Keep in mind, WSR is a small-cap and is subject to more volatility as a result (second from left):

Click to enlarge
To sum it up: We're glad we saw the pullback with WSR and our patience has been rewarded in the form of strong shareholder returns. We are also reminded of the risks: (1) non-rated tenants with short-term leases, (2) development and re-development risk, (3) concentration in TX and AZ, (4) slowdown in higher margin acquisitions, and (5) higher cost of capital.
We intend to maintain our position in the Monthly Dividend Portfolio and we're reiterating our BUY recommendation with a target (FV) price of $13.00 per share. (In other words, we would wait on a pullback). WSR's fundamentals are sound and we believe the shares have more room to run.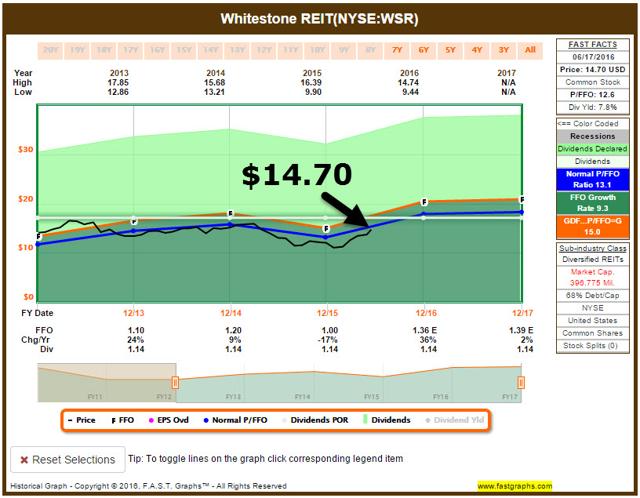 Click to enlarge
Author's Note: Brad Thomas is a Wall Street writer and that means that he is not always right with his predictions or recommendations. That also applies to his grammar. Please excuse any typos, and I assure you that he will do his best to correct any errors if they are overlooked.
Finally, this article is free, and the sole purpose for writing it is to assist with research (Thomas is the editor of a newsletter, Forbes Real Estate Investor), while also providing a forum for second-level thinking. If you have not followed him, please take 5 seconds and click his name above (top of the page).
Source: SNL Financial, FAST Graphs, and WSR Investor Presentation.
Disclaimer: This article is intended to provide information to interested parties. As I have no knowledge of individual investor circumstances, goals, and/or portfolio concentration or diversification, readers are expected to complete their own due diligence before purchasing any stocks mentioned or recommended.
Disclosure: I am/we are long O, DLR, VTR, HTA , STAG, GPT, ROIC, HCN, OHI, LXP, KIM, WPC, DOC, EXR, MYCC, TCO, SKT, UBA, STWD, CONE, BRX, CLDT, HST, APTS, FPI, CORR, NHI, CCP, CTRE, WPG, KRG, SNR, LADR, PEB, BXMT, IRM, CIO.
I wrote this article myself, and it expresses my own opinions. I am not receiving compensation for it (other than from Seeking Alpha). I have no business relationship with any company whose stock is mentioned in this article.