If I were to tell you that the anti-obesity market would have three pills and one injection that all deliver similar results you would likely say that the injection had the least chance of success. If I were to tell you that the injection would cost 8 times more than the pills you would likely say that the chances of success are even worse. The anti-obesity sector seems to defy logic.
When the idea of new anti-obesity treatments was first contemplated analysts and investors looked at the numbers and saw dollar signs. With 30% of the United States overweight, and another 30% actually obese, the massive size of the market was simply too good to ignore.
Now we have four branded anti-obesity drugs on the market and sales that are much lower than what is needed to make a drug candidate in the space viable. Arena (NASDAQ:ARNA), Vivus (NASDAQ:VVUS), and Orexigen (NASDAQ:OREX) are all seeing severe financial challenges due to slow sales. The one company defying logic is Novo Nordisk (NYSE:NVO) with Saxenda.
This past week Saxenda, the newest player in the space, saw sales of about 3,800 scripts. That was enough to recover from the holiday dip in the week prior as well as add growth from the pre-holiday week which saw sales at 3,700.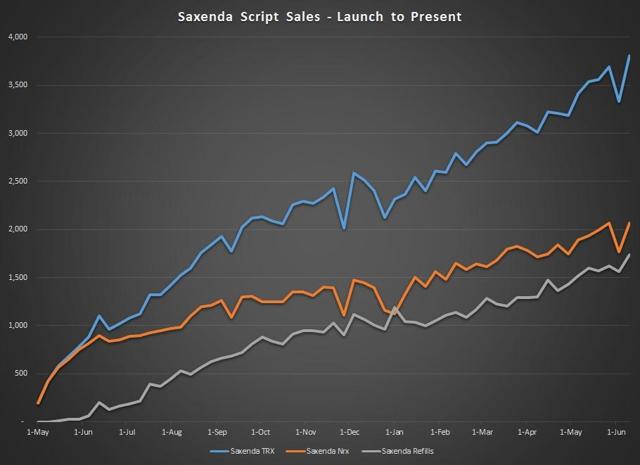 Click to enlarge
Chart Source - Spencer Osborne
After a year on the market, Saxenda has yet to see its growth trajectory slow down. The company seems to simply march in stride week after week. Posting new record highs with regularity.
On a quarter over quarter basis we are seeing growth pacing at 27.69%. At the end of Q2, it is likely that Saxenda may be the only drug in the space to provide quarter over quarter growth.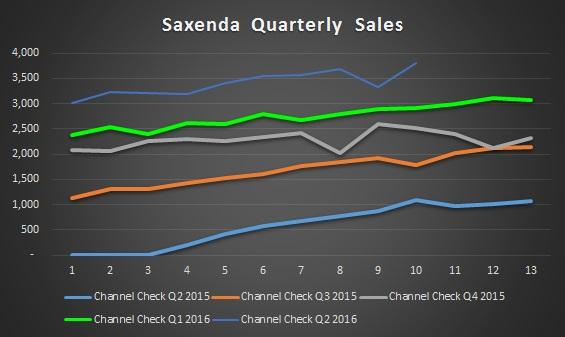 Chart Source - Spencer Osborne
This quarter will be the first time that Saxenda will begin to have year over year comparisons. The current pace is that Q2 of 2016 is pacing at 632.49% better than Q2 of a year ago. Yes, the number is massive. The reason is that a year ago this drug was just launching.
What Novo investors may find pretty interesting is that Saxenda is actually posting impressive and consistent gains in market share for branded anti-0obesity products. This past week Saxenda captured 10.55% of the market. On a linear basis, the drug is actually projecting to finish the year at 15%. That being said, the actual market share has a very good chance of approaching 20%.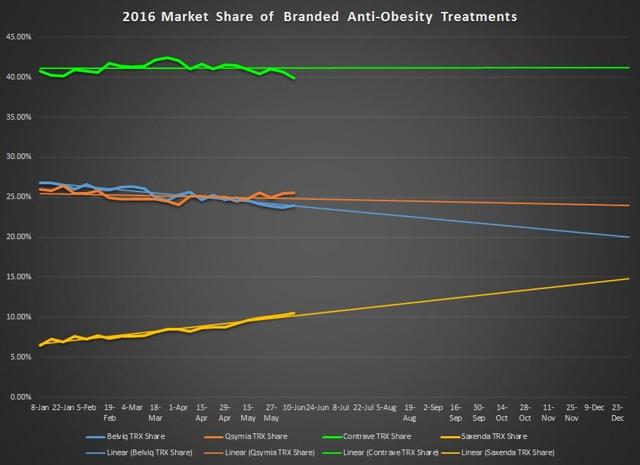 Click to enlarge
Chart Source - Spencer Osborne
The bottom line is that Saxenda seems to be well positioned to be the biggest story in the sector in 2016. It will not have the highest sales volume, but could win the growth story as well as the revenue story. People do not think of anti-obesity when you mention Novo Nordisk, but that narrative may change based on what we are seeing thus far in 2016. Indeed, my investment in Novo was despite its entrance into the anti-obesity space, not because of it. It may prove out that Saxenda is actually a compelling reason to consider an investment into a well established big phrama company. At prices in the low $50's, I consider Novo a good play for the balance of 2016 and going into 2017. Stay Tuned!
Disclosure: I am/we are long NVO, ARNA.
I wrote this article myself, and it expresses my own opinions. I am not receiving compensation for it (other than from Seeking Alpha). I have no business relationship with any company whose stock is mentioned in this article.
Additional disclosure: I have no position in Vivus or Orexigen