Late in the day on Monday, June 20th, what must have been a private board level disagreement, suddenly and without warning, became public knowledge regarding mall REIT WP Glimcher (NYSE: WPG).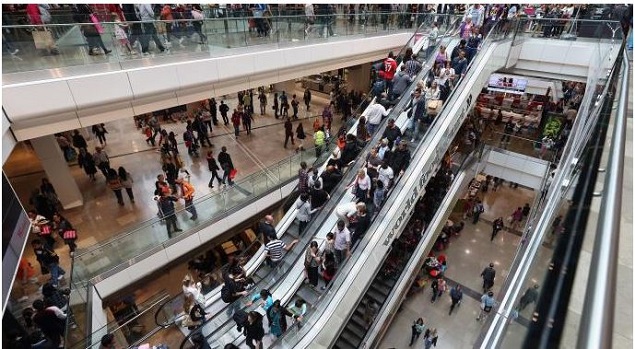 Source: Benzinga
Sudden CEO resignations are never welcome news for investors, especially two weeks after a REITWeek presentation where things were described as business as usual. Second generation shopping mall executive Michael Glimcher abruptly resigned as Vice-Chairman and CEO of the successor company to Glimcher Realty Trust.
Here is a link to the Seeking Alpha breaking news: "WP Glimcher Announces Leadership Transition and Proposed Corporate Change of Name."
Frankly, nobody could have seen this one coming based upon the information shared with the public by this REIT during the past two weeks: 1) A business as usual REITWeek presentation and; 2) A clear denial last week of any deal or strategic alternative being discussed by management with Kite Realty (NYSE: KRG), or any other third party.
Clearly, there was more going on the past two weeks than investors or shareholders could possibly have known. Nobody likes being blindsided by management, especially analysts and writers who closely follow a company, sector or industry.
I feel badly for my friend and colleague Brad Thomas. He had the misfortune of working hard over the weekend writing an SA article published Monday morning based upon the REITWeek information disseminated by WP Glimcher.
Two Higher Risk "Mall REITs"
Fellow REIT analyst Brad Thomas and I happen to agree on REIT sector picks in the vast majority of cases. However, one area where my views and Brad's diverged was on my retail REIT sector bonus pick Seritage Growth Properties (NYSE: SRG), the recently formed Sears Holdings (NASDAQ: SHLD) REIT.
In my view, Seritage is a "value-add" total return play. However, in the short run, it is a bet on how long Sears Holdings can extend the death spiral through asset sales and cost cutting. This made SRG shares a special situation, appropriate for investors willing to accept higher risk for higher returns.
Brad and I both share a low opinion of Sears Holdings CEO and Chairman Eddie Lampert. This is another risk factor.
However, I felt that the value embedded in the average $4.30 per SF Sears and Kmart leases still made Seritage an attractive risk-reward proposition. In fact, it is in Lampert's best interest for Seritage to succeed, even if Sears Holdings enters bankruptcy.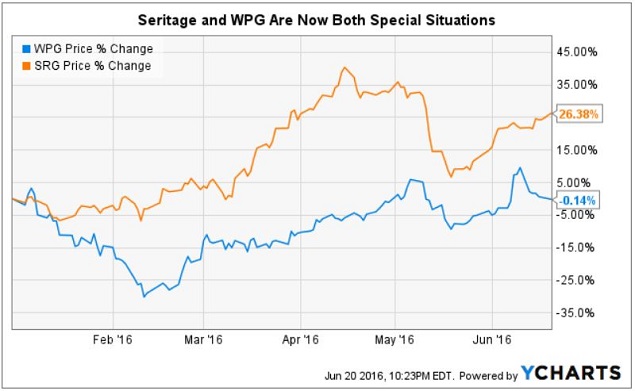 Notably, I particularly like the experienced management team Lampert hired to run the Seritage REIT, and redevelop the portfolio. While Seritage is often compared with mall REITs, it really has a unique portfolio of assets and lease contracts.
Brad's preferred pick among the riskier members of the mall REIT sector was WP Glimcher. WP Glimcher owns a ~50/50 combination of B-malls and open air centers which also makes its asset portfolio somewhat unique in the REIT world.
Back in 2014, Simon Property Group (NYSE: SPG) spun out its smaller and lower quality malls into Washington Prime Group. Washington Prime then merged with mall REIT Glimcher Realty to form WP Glimcher in January 2015. Michael Glimcher, an experienced mall REIT executive, and several members of his team, were installed as internal management of the combined REIT.
While the WPG shares have bounced back quite a bit the past few months, they are still down about 39% since Glimcher Realty was acquired. As of this writing, the yield on WPG shares was 9.4%. This appeared to be an attractive risk-adjusted return given its S&P BBB-rated balance sheet.
The original WPG stock symbol happened to work well for the combined Washington Prime/Glimcher entity's name, and at the time, I felt that it was more than just a coincidence. Mr. Glimcher's sudden resignation both as Vice-Chairman and CEO, combined with the proposal to shareholders to change the name back to Washington Prime Group, speaks volumes to me as well.
Do B-Malls Have A Huge Upside?
The short answer is no.
The WP Glimcher malls have sales per square foot of about $375 and 90% occupancy vs. A-malls which have sales of $600+ per SF, and typically have occupancy of 95% and higher.
I am not a big fan of the future of B-malls.
However, I do like Simon in the A-mall space, as well as Tanger Factory Outlet Centers (NYSE: SKT), and retail blue-chip Federal Realty Investment Trust (NYSE: FRT). I view these three as top-notch bricks and mortar operators with strong balance sheets. Perhaps more importantly, they typically own the "pins in the map" which are the top locations in their respective market areas.
I chose those three names in January as top mall REIT picks, along with Seritage, a special situation, as my bonus pick. I subsequently updated the Seritage situation with my recommendations in late April, and again in May.
Seritage Has A Huge Upside
One reason why Brad didn't like the Seritage value proposition is that over 75% of revenues are still currently being generated by Sears and Kmart store locations on a master-lease agreement. However, the lease agreement allows Seritage to recapture 50% of the space and re-tenant it at much higher rates on all stores where it does not have the right to recapture 100% of the space.
Seritage also has the right to recapture 100% of the portfolio Sears Automotive locations, both attached and freestanding. This part of the portfolio appears to represent a huge redevelopment opportunity, with rents over $40 per square foot.
Yes, Seritage is a bit of a gamble, but it is also a chance to bet with the house. The Seritage assets are of a higher quality than many of the remaining Sears Holdings store locations. Seritage represents an asymmetrical upside opportunity, because these former Sears locations are being re-leased at 3x to 10x the rents previously being paid by Sears Holdings.
WPG Is Now "A Box Of Chocolates"
Recently, the initials "W.P." in front of an equity REIT name have come to mean "consider strategic alternatives."
Earlier this year, W.P. Carey (NYSE: WPC) had an abrupt change of management over an apparent disagreement over how the company should be structured, and strategy to pursue moving forward.
The uncertainty became a self-inflicted cloud over the WPC shares, as shown on the chart below. This caused WPC shares to become an "accidental high-yield" REIT.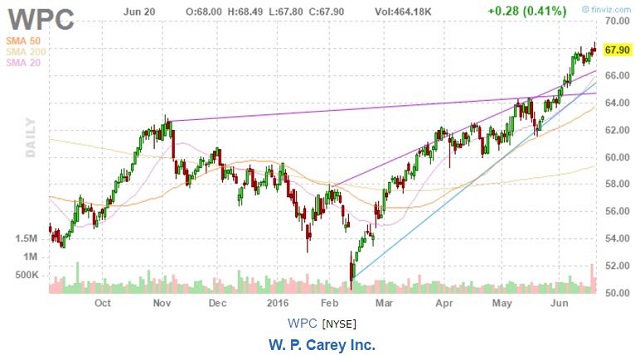 The WPC gap-down in February, reflected shareholder uncertainty which exacerbated an already difficult time for the equity REIT sector.
However, in the case of W.P. Carey, shareholders liked the net-lease assets in the portfolio and the original business plan. Once the direction was settled, the shares have rebounded and now trade closer to fair value.
In contrast, WP Glimcher is a high-yield income play where I don't see a rosy future for many of the mall assets. Apparently, the majority of the board may be having second thoughts as well. In this case, splitting the company, or selling off some of the assets may actually be a good idea.
However, at least in the short run, don't be surprised if this REIT found in the unpopular "B-Mall REIT aisle" is sold-off by investors.
The Right Jockey?
The interim CEO appointed to replace Michael Glimcher was Louis Conforti, a WPG board member, who also serves as Global Head of Strategy at Colony Capital (NYSE: CLNY). His background includes stints in alternative asset management/investment banking, private equity and hedge fund shops.
An experienced shopping center/mall CEO, has been replaced by an asset manager/deal maker. Mr. Glimcher may not have been willing to consider some of the strategic alternatives, or been the right person to lead an impartial review of a portfolio where many assets had been in his family for decades.
It now remains to be seen how long it will take WP Glimcher/Washington Prime Group to evaluate the strategic alternatives, and remove the cloud of uncertainty.
Investors Takeaway
WP Glimcher's main attraction for investors recently has been a well-covered dividend in the 10%+ range. The high dividend corresponds to a low FFO per share multiple, so both value and income investors could have a dog in this fight.
Now all bets are off until the dust settles, and there is a bit more clarity on how the new management and board members intend to proceed in order to create shareholder value.
The proposed name change back to Washington Prime Group seems to foreshadow a change in direction, and depending if the WPG share price dips severely - perhaps a special situation for investors.
I relentlessly hunt for diamonds in the rough and rising stars, in addition to closely following data centers, covering REIT blue-chips and breaking news. Please consider following me as a Seeking Alpha author if you would like to be notified when my future articles are published.
Disclosure: I/we have no positions in any stocks mentioned, and no plans to initiate any positions within the next 72 hours.
I wrote this article myself, and it expresses my own opinions. I am not receiving compensation for it (other than from Seeking Alpha). I have no business relationship with any company whose stock is mentioned in this article.