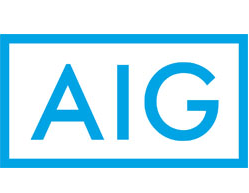 Brits will decide on Thursday on whether they are going to leave the European Union and reassert their sovereignty, or remain a part of the union. U.K. Both camps, the 'remain' and the 'leave' camp, are fighting bitter campaigns, hoping to sway voters in the final days leading up the referendum which will be held on June 23, 2016. Finance Minister George Osborne, for instance, has threatened tax and spending cuts to the tune of £30bn should Britain indeed cut ties with the EU. The polls show a tight race, with both camps catching 44 percent of the vote, according to the Financial Times' Brexit poll tracker.
Without a doubt, a Brexit would be an unprecedented event for the EU, and certainly a negative catalysts for stocks over the short haul. George Soros, a billionaire and hedge-fund manager who became famous for his 1992 wager against the British pound, warned of significant downside for the British currency, should a Brexit become reality.
AIG a Brexit Play?
A potential Brexit vote would most likely lead to an imminent market sell-off as investors shed risky assets. Falling share prices, however, are not by default a bad thing. Investors with cash on hand may welcome the occasional market drop to load up on discounted shares.
Investors are not the only buyers of stock, though. Companies also buy back stock as part of their capital return plans. And insurance company American International Group, Inc. (NYSE:AIG) has one of the most compelling capital return plans I am aware of.
Do you remember this slide from American International Group's strategic investor update, which was originally published in January?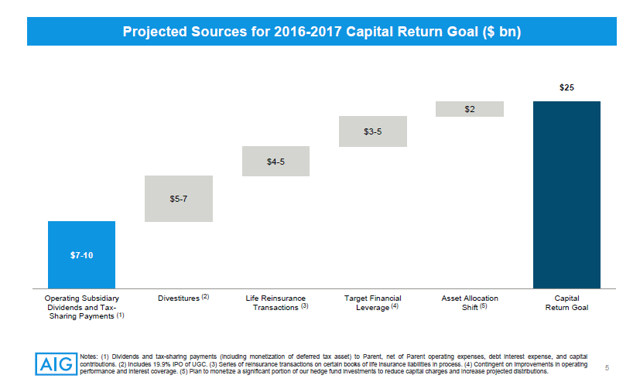 Click to enlarge
The presentation basically laid out American International Group's plan to return $25 billion in capital to shareholders over the next two years. The slide was published at the beginning of the year, so Mr. Market is well aware of the cash flood that is coming shareholders' ways.
By the way, American International Group already returned $3.5 billion through stock buybacks, $363 million through dividends, and $173 million through warrant buybacks in the 1st quarter.
A Brexit-induced market sell-off, therefore, would give the insurance company the opportunity to buy back more stock at discounted prices. In other words, a market drop in case the 'leave' camp wins the referendum in Britain later this week, would open up a golden buyback opportunity for the cash-rich, but yield-starved insurance company.
AIG Priced At A Deep Discount To Accounting Book Value
American International Group's recovery has faded, partly thanks to Brexit fears that have taken over investors lately.
Today, American International Group's shares are priced for a 31 percent discount to accounting book value, which makes stock buybacks very lucrative for the insurance company. And even more so if stocks drop in case of a Brexit.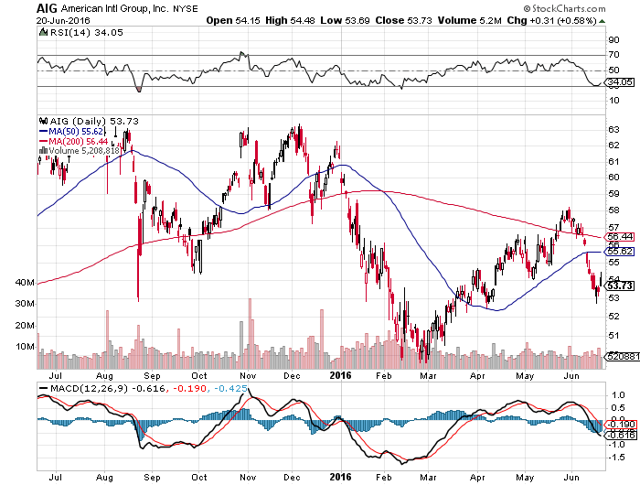 Click to enlarge
Your Takeaway
It is worth keeping an eye on American International Group IMO. If Brits indeed vote for a Brexit, stocks are in for a wild ride, at least over the short haul. Companies with voluminous capital return plans that are planning on buying back mountains of stock in the open market could profit from a market drop since they can buy back more stock at lower prices. Though I do not hope for a Brexit, American International Group and its shareholders may actually profit from it.
Disclosure: I am/we are long AIG.
I wrote this article myself, and it expresses my own opinions. I am not receiving compensation for it (other than from Seeking Alpha). I have no business relationship with any company whose stock is mentioned in this article.