By Gary Alexander
With the Olympics coming to Rio in August, we'll be seeing a lot of gold, silver, and bronze medals awarded this summer. If there were an Olympics of global economies - or hemispheric rivals - the U.S. would win in both categories. According to a new report by the Organization of Economic Cooperation and Development (OECD) - a kind of country club for rich nations - the U.S. leads the three major developed economic zones (Europe, the U.S., and Japan) since the last global recession in 2008-09.
The OECD's "Economic Outlook No. 99 - June 2016" (released June 1) showed that the U.S. had negative GDP growth rates in 2008 and 2009, but positive years ever since, while Japan suffered negative growth in 2011 and 2014 and the OECD's Euro area suffered down years in 2012 and 2013. Last week, The Wall Street Journal's Eric Morath weighed the OECD's data (June 16: "The U.S. Economy Is in Great Shape (Compared with its Peers)," ranking Europe, Japan, and the U.S. in several categories.

These figures are somewhat mirrored in the growth rates for business investment in the last eight years:

The OECD began as a union of 18 European nations plus the U.S. and Canada in 1961. Japan was added in 1964. The 34 current members include 25 European nations plus the U.S., Canada, Japan, Australia, New Zealand, Mexico (added in 1994), South Korea (1996), Chile, and Israel (both added in 2010).
On June 1, the OECD lowered its estimate for the growth of the 34 OECD countries to 1.8% this year and 2.1% in 2017 from 2.2% and 2.3% respectively last November. On June 7, the World Bank followed suit, revising its 2016 global growth forecast lower to 2.4% from January's 2.9% projection, citing "sluggish growth in advanced economies, stubbornly low commodity prices, weak global trade, and diminishing capital flows." (Source: Yardeni Research, June 9, "Global Earnings Lack Luster.")
Expanding to the developing economies, here are the 10 largest national GDP totals estimated for 2015: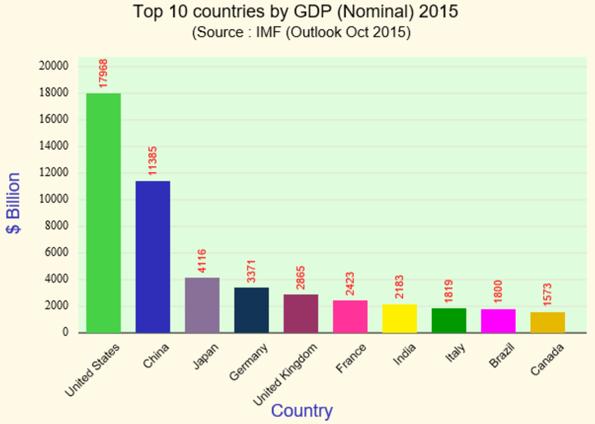 Graphs are for illustrative and discussion purposes only. Please read important disclosures at the end of this commentary.
Global stock markets reflect U.S. leadership since the Great Recession. According to the same Yardeni report from June 9:
Since the start of the bull market in early March 2009, the US MSCI stock price index is up 212%, while the All Country World ex-US MSCI is up 83% in local currencies and 82% in dollars. Over this same period, forward earnings are up 90% for the former and 26% for the latter.

Overall, the U.S. wins the gold medal in most of these categories, vs. the other two developed powers.
Looking forward, America faces big challenges in this election year - avoiding the trade protectionism of candidate Donald Trump or the stifling business regulations of candidate Hillary Clinton. In the best of all possible worlds, the winner will be restrained by Congress from fulfilling unwise campaign promises, but their rhetoric does not augur well for the continuation of American economic supremacy in 2017.
Last year, Jim Clifton, Chairman and CEO of Gallup said:
The U.S. now ranks not first, not second, not third, but 12th among developed nations in terms of business startup activity. Countries such as Hungary, Denmark, Finland, New Zealand, Sweden, Israel, and Italy all have higher startup rates than America does. We are behind in starting new firms per capita, and this is our single most serious economic problem. Yet it seems like a secret. You never see it mentioned in the media, nor hear from a politician that, for the first time in 35 years, American business deaths now outnumber business births.(source: Gallup's Business Journal, January 13, 2015, "American Entrepreneurship: Dead or Alive?").
In 2012 the Institute for Justice's "License to Work: A National Study of Burdens from Occupational Licensing," found that "in the 1950s only one in 20 U.S. workers needed the government's permission to pursue their chosen occupation. Today, that figure stands at almost one in three." To get a license to braid hair in Mississippi, it took "a cosmetology license, requiring 1,500 hours of training and $10,000 in tuition - and yet none of the training had anything to do with braiding hair." In 2005, Mississippi changed that law and there are now 1,500 hair-braiding entrepreneurs in Mississippi (source: CEI, June 7, 2016).
The Hemispheric Olympics
"There are four kinds of countries in the world: developed countries, undeveloped countries, Japan and Argentina." -- Nobel-Prize-winning economist Simon Kuznets.
In Houston tonight, the U.S. men's soccer team faces mighty Argentina in the semifinals of the centennial edition of Copa America, a hemispheric soccer tournament. Argentina is currently ranked #1 in the world (by FIFA, the controversial soccer organization) vs. the 31st-ranked U.S. men's team. Argentina will probably win, but the more important competition has been in the economic policies of growth in what were the top two economic powers of the Western Hemisphere 100 years ago - Argentina and the U.S.
This year marks the centennial of Copa America and the bicentennial birthday for Argentina, which declared its national independence on July 9, 1816 (Wikipedia, "Independence of Argentina"). A century ago, Argentina was the 8th richest nation in the world, behind only the U.S. and six European powers.
In 1909, per capita income in Argentina was 50% higher than in Italy, 180% higher than Japan and almost five times higher than in neighboring Brazil. Over the course of the 20th century, Argentina's relative standing in world incomes fell sharply. By 2000, Argentina's income was less than half that of Italy or Japan. (source: New York Times, Oct. 6, 2009, "What Happened to Argentina?" by Edward L. Glaeser, a Harvard economics professor).
A century later, no hemispheric economy is even one-tenth the size of the U.S. Once-mighty Argentina has fallen from #2 to #5 (for GDP) in the hemisphere and fell from #8 to a distant 21st in the world:

The major cause of Argentina's decline was trade protectionism and Peronism - the impact of Juan Peron, his wife Eva Peron, and their recent incarnations in President Nelson Kirchner and his widow, Christine Kirchner. They ruled Argentina from 2003 to 2015. There is hope under new President Mauricio Macri, but the damage from 70 years of Peronism and protectionism since Peron's 1946 ascension is very deep.
I'm running out of space, so I may continue this Argentina story next week, since it is a cautionary tale for accepting the kind of trade protectionism being touted by our 2016 Republican presidential candidate.
In the meantime, here's an optional homework assignment: Read one or both of these excellent surveys:
"Argentina: The Superpower that Never Was" (Financial Times, May 22, 2009) by Alan Beattie
"A Century of Decline: 100 years ago, Argentina was the future. What went wrong?" (Economist, February 15, 2014)
Disclosure: *Navellier may hold securities in one or more investment strategies offered to its clients.
Disclaimer: Please click here for important disclosures located in the "About" section of the Navellier & Associates profile that accompany this article.