Orexigen (NASDAQ:OREX) investors saw a very modest recovery in script sales, with the company posting about 14,400 scripts last week. The previous week saw scripts dip to about 13,200 due to a holiday. The big problem with the sales recovery was how modest it was. Two weeks ago, sales were at about 15,000 scripts. Simply stated, the sales trajectories are headed in the wrong direction.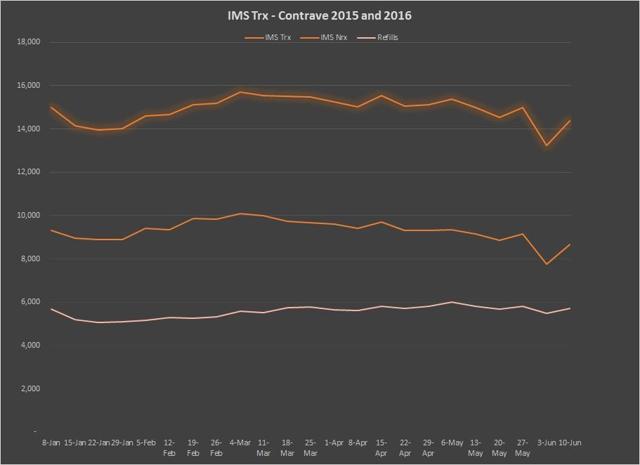 Click to enlarge
Chart Source - Spencer Osborne
Orexigen offered up some projections for investors in its Q1 presentation. In that presentation, the company offered conservative and aggressive projections. The conservative projection called for sector growth of 4% per year, while the aggressive one called for 10% growth. The problem I am seeing is that growth in 2016 is actually going to be negative. That means we could see some massive adjustments in the assumptions made by management as well as analysts.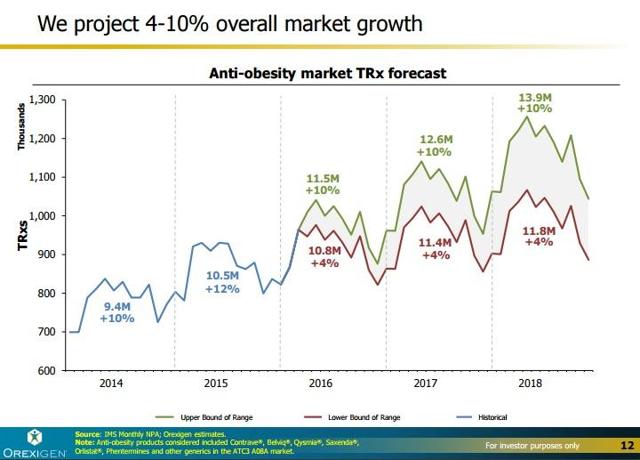 Click to enlarge
Chart Source - Spencer Osborne
On a quarter-over-quarter basis, we are seeing Contrave sales that are just 0.25% better than what was delivered at this point in Q1. Essentially, the drug is on the cusp of seeing negative quarterly growth in a second quarter for the first time. The trend is not good, and it does not appear that it will improve as the remainder of the year passes.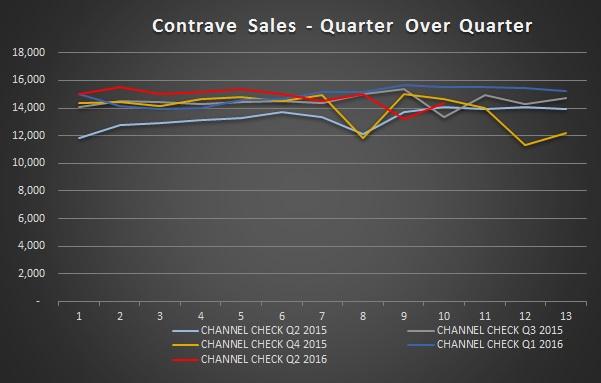 Chart Source - Spencer Osborne
On a year-over-year basis as well, Contrave's problems are beginning to be demonstrated. Year-over-year growth now stands at just 13.19%, and that number is shrinking each week. It is very likely that in Q3 2016 the company will put up numbers well below those seen in Q3 2015.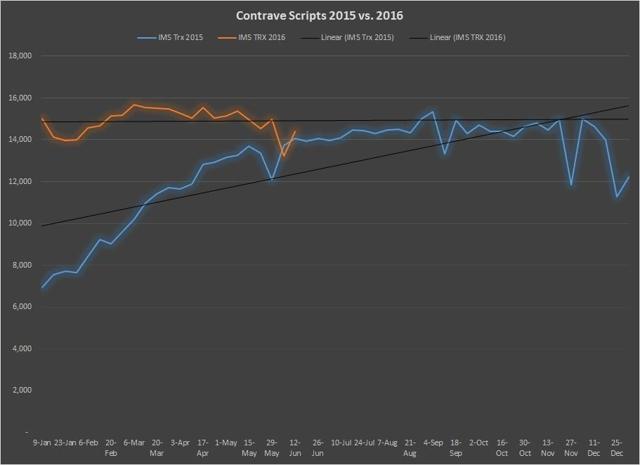 Click to enlarge
Chart Source - Spencer Osborne
In looking at market share, we can see that the impacts of marketing partner Takeda (OTCPK:TKPHF) walking away are beginning to take shape. Contrave's market share has now dipped below 40% for the first time in 2016. This past week, the drug accounted for 39.9% of sales. While indeed, the company may have the most sales volume, it is also the least expensive, and even these numbers are not high enough to generate the type of revenue needed to pay the bills. In the past month, Contrave's market share trend line has gone from modestly positive to flat. In the next few weeks, it is very likely to go negative.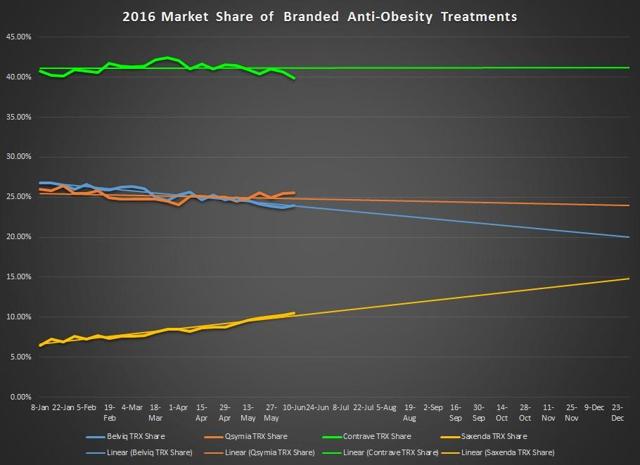 Click to enlarge
Chart Source - Spencer Osborne
As stated above, the overall market in the branded anti-obesity space is not good. Sales of these branded anti-obesity solutions are now pacing just 1.33% higher from what we saw in 2015. That is certainly not 10% growth, nor is it 4% growth. In the next few weeks, we could see the growth number go negative.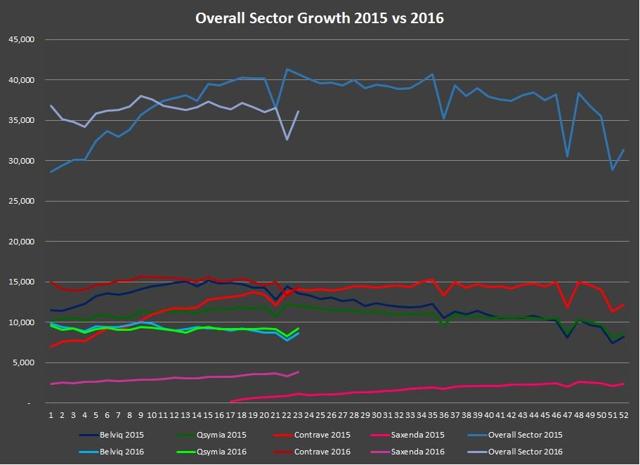 Click to enlarge
Chart Source - Spencer Osborne
With Orexigen trading below $0.50, the most likely situation is a reverse split to solve the Nasdaq listing requirements. Long-term longs are likely hoping that a launch in South Korea can deliver a cure to this equity, but the reality is that sales there may work their way toward delivering about $1 million per quarter. The situation in Europe is that the drug is partnered only with more minor countries.
Orexigen's sole product is the anti-obesity pill, Contrave. That product resides in a sector that is not growing as needed, and cannot support the costs associated with bringing the product to market. This is not about whether or not Contrave can deliver benefits to patients, it is about whether or not it can deliver benefits to investors. In my opinion, analysts will get more and more critical of the prospects of Orexigen. Simply stated, the company is in an uphill battle. Stay tuned!
Disclosure: I/we have no positions in any stocks mentioned, and no plans to initiate any positions within the next 72 hours.
I wrote this article myself, and it expresses my own opinions. I am not receiving compensation for it (other than from Seeking Alpha). I have no business relationship with any company whose stock is mentioned in this article.
Editor's Note: This article covers one or more stocks trading at less than $1 per share and/or with less than a $100 million market cap. Please be aware of the risks associated with these stocks.