After becoming sold back in February that oil prices are likely going to do pretty well for the next few years we have looked at a lot of oil producers. We have to admit that it has been hard to get terribly excited about many of them given how little free cash flow the industry created even at high commodity prices.
The conclusion we are reaching is that this oil producing business just isn't a good one. A lot of big salaries are paid in this industry during the boom times, but there doesn't seem to be much shareholder value created ever.
It is likely no surprise that we don't see too many oil producers in the Superinvestor portfolios that we follow on a daily basis.
Because the shares of Marathon Oil (NYSE:MRO) were so beaten down, we spent quite a bit of time looking at this company as a way to play an oil rebound. In the end, we just couldn't pull the trigger. That makes it sound like it was a hard decision, it wasn't. It took very little time at all to toss this one in the "no thank you" pile.
We couldn't get past how much value the management and Board of Directors have destroyed by repurchasing shares aggressively when oil prices (and Marathon's share price) were high and then being forced to issue far more shares when Marathon's share price was extremely low to fix a wonky balance sheet.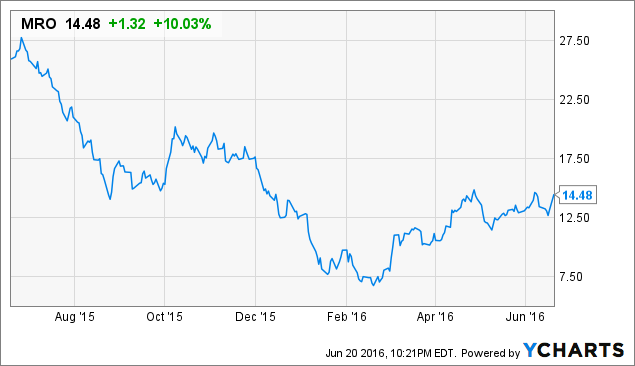 The numbers on that by the way were $1.5 billion of shares repurchased at over $35 per share (43 million shares in total) in 2013 and 2014. This was followed by the issuance of 145 million shares on February 29, 2016 at $7.65 for $1.1 billion.
This was brutal for shareholders who net of the two transactions find themselves out of pocket by $400 million and owning a company with more than 100 million additional shares outstanding.
As we said, value destroying. Throw away cash and crank up the share count.
At least management continued to get paid either way.
Diluting Shareholders At The Absolute Bottom, Now Spending That Cash Already
Repurchasing aggressively at the top and then diluting painfully at the bottom is tough to look at. The reality though is that if the company needed to fix its balance sheet, then it needed to fix its balance sheet.
If issuing shares at $7.65 (down from $40 just 18 months earlier) was the best move, then all you can do is suck it up and do it.
We were thrown for a bit of loop then when the company announced this week (just a couple of months later) that it was now acquiring assets in the STACK shale play for $888 million.
Houston, June 20, 2016 (GLOBE NEWSWIRE) -- Marathon Oil Corporation today announced the signing of a definitive purchase and sale agreement to acquire PayRock Energy Holdings, LLC ("PayRock"), a portfolio company of EnCap Investments, for $888 million. PayRock has approximately 61,000 net surface acres and current production of 9,000 net barrels of oil equivalent per day (boed) in the oil window of the Anadarko Basin STACK play in Oklahoma.
This $888 million being spent effectively offsets most of the cash raised from the equity issuance that was done at a brutally low share price. An equity issuance that was done at the near absolute bottom of the oil market. As in the worst possible time almost ever for an oil company to be issuing shares.
WTI Crude Oil Spot Price data by YCharts
Marathon management is effectively making the statement that these STACK assets being purchased for $888 million are a better deal than Marathon shares at $7.65. We don't think that we would be going out on a limb in saying that $7.65 per Marathon share had the company priced as though it was in serious distress. If management had an option to not issue shares then you would have thought it would have taken it. But clearly, it did have an option because those cash proceeds are now already heading out the door.
Does that mean that the $888 million paid for these STACK assets is pricing this acquisition at an even more distressed valuation than Marathon at $7.65? That would be the only way that this deal, immediately after the equity raise, makes sense to us.
For $888 million, Marathon received an asset that it describes as: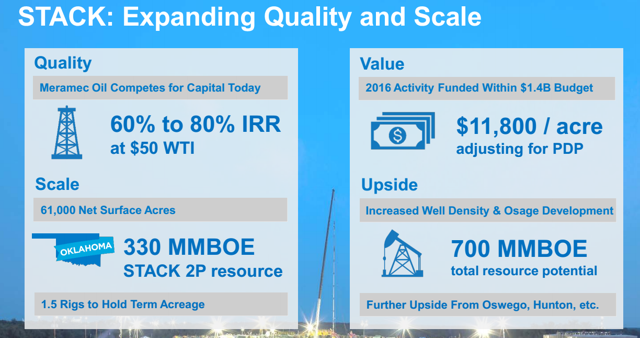 Click to enlarge
Source: Marathon Oil Presentation
We have read through the analyst reports on the transaction and they do seem to universally approve of it.
The point that we would again like to make is that Marathon's management team and Board are effectively saying that these STACK assets at this price are a better deal than Marathon shares at $7.65.
Therefore, today with Marathon shares at $14.48 just imagine how unattractive Marathon's management team thinks its own shares are today versus STACK assets similar to what Marathon just acquired.
As investors, why would we ever buy Marathon at $14.48 when Marathon management was willing to dilute shareholders at $7.65 only to take that cash and buy something else? If the dilution was done solely to shore up the balance sheet, we would understand. We wouldn't like it, but we would understand.
The fact that shares were issued at that rock bottom price and the cash was then used a couple of months later on an acquisition makes us really wonder about either Marathon management's decision-making or what it really thinks about its asset base.
Either way, we aren't ever going to own this company. This management team (and many others) get paid incredible amounts of money to create value for shareholders not destroy it. Yes, this oil crash was severe, but these crashes happen every decade. Shouldn't all that money that Marathon's management team gets paid buy a leadership group that is seemingly aware that this is a cyclical industry?
We did recently find a company that we do think is worth owning. Two of the Superinvestors we follow have more than 10% of their portfolios in this single company. One of the Superinvestors believes the company to be trading at only one-time normalized EBITA. You can get a full 20-page report on this Superinvestor idea and others, just follow the link and get started.
Good luck with your investing. Thanks for reading.
Click the follow button at the top of this article if you want to read more of our free Seeking Alpha content.

Click to enlarge
Disclosure: I/we have no positions in any stocks mentioned, and no plans to initiate any positions within the next 72 hours.
I wrote this article myself, and it expresses my own opinions. I am not receiving compensation for it (other than from Seeking Alpha). I have no business relationship with any company whose stock is mentioned in this article.