Did you think Bill Ackman would lay low for a while? Wrong. Pershing Square (OTCPK:PSHZF) put out a new video on Herbalife (NYSE:HLF) on its Truth about Herbalife website and the company is going to drip feed us more content during the week. It needs to be really good for it to move the stock down substantially because Pershing Square already put out so much negative content about Herbalife. Still, with a week-long diet of potentially market moving release, it's a good time to check in on the Herbalife short thesis.
First of all, I frequently encounter commentary Ackman isn't doing well with the short because he is down on the position. It's true he is down on the position, I think, as the stock is up ~30% since he first acknowledged the position at the end of 2012. However, the short is doing fine considering how much the S&P 500 is up since that time: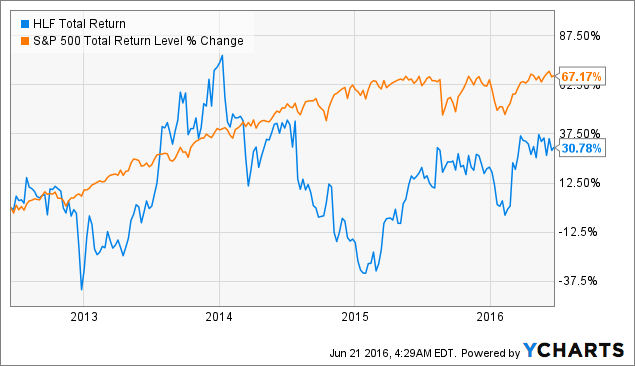 HLF Total Return Price data by YCharts
Calling it a cheap source of capital would be an overstatement but Pershing isn't taking a brutal beating on this one either.
But is it a good short now?
If the FTC decides to shut down Herbalife, it will obviously be a homerun. The problem is the downside. Ackman believes there is little downside risk (shareholder letter 11 May):
We continue to believe that HLF's share price assigns little to no downside for a material adverse regulatory outcome, nor is it justified by a business of HLF's poor quality. As a result, we believe that HLF currently represents an extremely attractive risk-reward for short sellers.
But I don't agree.
The problem is, the share price can easily be justified in case the ongoing FTC discussions do not result in permanent impairment of the business as is. A penalty wouldn't permanently impair the business, but if the company had to amend business practices or were shut down, it would definitely be impaired.
At first glance, Ackman's claims there is little downside risk to the shorter appears compelling, especially given the potentially 100% payoff if Herbalife is shut down. The company trades at a P/E of 14.5x which is only a few turns below the S&P 500 average, its EV/EBITDA is 8.6x and it trades at no less than 84x book value. Nothing suggests a company in mortal danger of a FTC shutdown here…
Ackman's contention the "share price assigns little to no downside for a material adverse regulatory outcome" appears correct.
However, analysts estimate $4.5 in earnings per share in 2017 and over $5 for 2018:

Click to enlarge
The company sports an asset light business model and has been successfully growing the top line even under pressure from the public short case: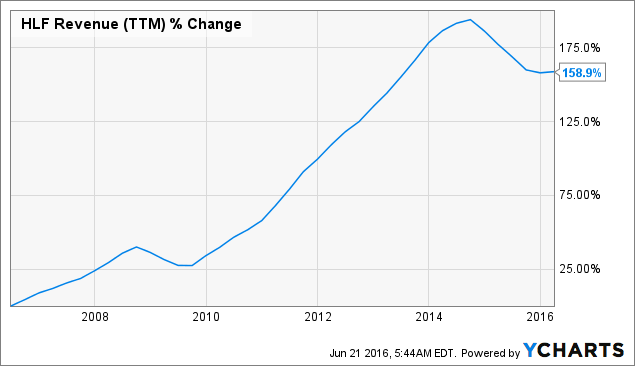 HLF Revenue (TTM) data by YCharts
EPS has been growing even faster, although it has slowed down a great deal since Ackman started his campaign: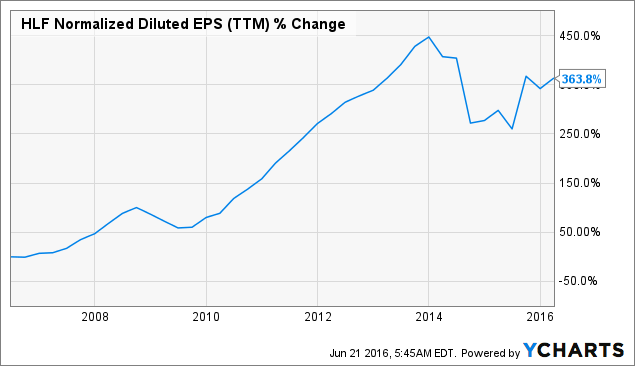 HLF Normalized Diluted EPS (TTM) data by YCharts
One of the reasons EPS growth held up is the aggressive buyback program: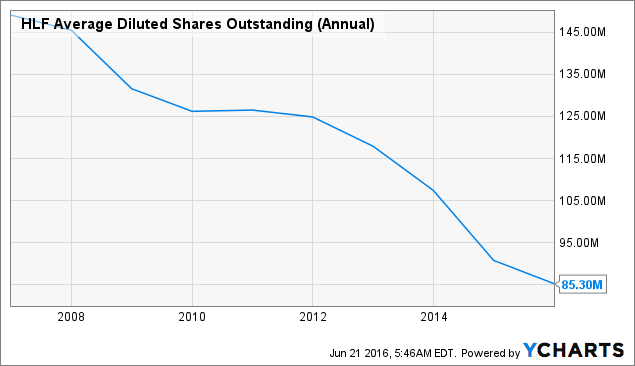 HLF Average Diluted Shares Outstanding (Annual) data by YCharts
Ackman may have induced some really value accretive buybacks with his short campaign. His campaign may have brought the share price down a bit, while the company reduced its outstanding shares from 118 million to 86 million. If the FTC ultimately does nothing, long-term Herbalife shareholders can thank Ackman for an incredibly effective activist campaign for THEM.
If you take the speed of growth under consideration, clearly, there is a lot of downside to a short seller. The current 14 P/E or ~11x forward P/E multiples do not accurately reflect what the market pays for companies growing earnings per share at such a high speed.
Summary
Ackman's reinvigorated short sellers' campaign, his argument the shorter's downside is limited and the rebound of the stock compelled me to check out the short case. I don't agree the downside to the short side is limited. IF the FTC does not permanently impair the company's business model, I have little doubt the stock will move up strongly. This is because of its historical track record of EPS growth and returning capital to shareholders through buybacks. Be careful jumping on the short train based on misguided ideas about the potential downside.
Disclosure: I/we have no positions in any stocks mentioned, and no plans to initiate any positions within the next 72 hours.
I wrote this article myself, and it expresses my own opinions. I am not receiving compensation for it (other than from Seeking Alpha). I have no business relationship with any company whose stock is mentioned in this article.