ProPhase Labs, Inc. (NASDAQ:PRPH) is a homeopathic health care company known primarily for its Cold-EEZE line of products.
Most popular in lozenge form, Cold-EEZE uses a formulation of zinc that is clinically proven to reduce the duration of the common cold.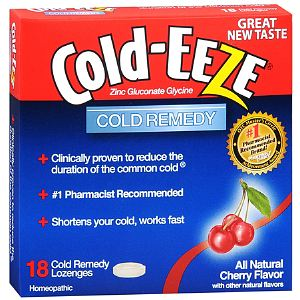 The market for supplements meant to shorten and/or prevent sickness during the winter months is quite large, with industry leaders Airborne and Emergen-C each being snapped up in acquisitions in recent years. The former went to Schiff Nutrition for $150 million, and the latter to Pfizer (NYSE:PFE) for an undisclosed but certainly even larger amount.
Interestingly, despite them dwarfing ProPhase's $20 million in annual revenue and $25 million market cap, neither of these larger companies are capable of making the types of claims about their products that ProPhase can make of Cold-EEZE. Airborne's website homepage mentions supporting immunity, but it relates supplements within the product and not the product itself. Deeper in the site, it is explained that, "Research has confirmed that the key ingredients in Airborne® support immune health, and those studies have appeared in a number of peer reviewed journals." EmergenC similarly only discusses ingredients and does so in even more vague terms.
This contrasts with Cold-EEZE which has a clinical trials tab on its landing page that leads to the following:

Click to enlarge
If ProPhase's Cold-EEZE has the best science, does this mean the product will eventually take over the category? More on that later. What's important to understand at this point is that it has an established product generating real sales.
One major problem with the cold and flu fighting industry is that it is both seasonal and epidemiologically dependent. Fixed costs persist in the warmer months even when product shipments are down, and sales can decline due to low incidence of viruses which are beyond company control.
To combat these issues, the company has decided to begin branching out. According to the latest 10-K filing, ProPhase has three products in the pipeline, "Legendz XL for sexual health, Triple Edge XL, a daily energy booster plus testosterone support, and Super ProstaFlow Plus for prostate and urinary health. The first of these three TK Supplements products, Legendz XL is scheduled for launch in the first half of Fiscal 2016."
Currently, Legendz XL is available through the free trial plus automatically renewing subscription model. Revenue is minimal at this point, however, as the sales are simply a way for ProPhase to test several different television marketing strategies. To get a sense of the direction it is leaning, you can check out the supplement's YouTube Channel.
It appears humor and a character named Average Joe are looks to be included in any campaign, but other decisions remain. Chief among these is whether or not ProPhase will be leveraging the Cold-EEZE name as only one of the three ads take advantage of the brand.
It is obvious that Legendz XL stands to benefit from the association. Few product reviews are currently available, but one which I did find kept harping on one way in which Legendz XL was separating itself:
"their business model closely mirrors these other supplements. But since it comes from a fairly reputable company with an established business reputation, it might be an exception to the rule."

"as we mentioned in the previous section, because Legendz XL comes from an established company, they might not present the same level of risk."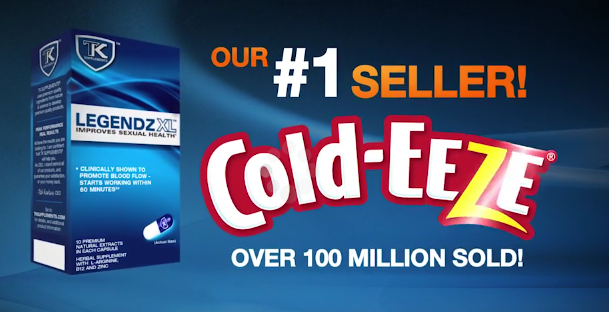 Legendz XL wants to be associated with Cold-EEZE, but does the relationship work both ways? It appears at this point it does not. Management explained in a lengthy conference call, "with regards to using the Cold-EEZE brand name and associating that with Legendz and research we've done in the past, that was a mix bag at best." Undoubtedly, the damage that could be done to the clinically vetted family friendly Cold-EEZE by infomercial penis pills is viewed as too great a risk.
This is not to say that Legendz XL itself is snake oil, in fact, it is following the same path to validation as Cold-EEZE. The product's marketing materials reference clinical trials that are again related to the product as a whole. CEO Ted Karkus - a major owner of the company - points out, "unlike competitors we conduct clinical studies on the whole product. We don't simply add ingredients that others have provided some clinical studies just on their one ingredient which was then put into the product, our product works really well."
Still, perception matters. The only way Legendz XL will succeed is by standing out, and a non-prescription tablet that increases blood flow is going to have to fight to differentiate itself. For example, that same review erroneously states, "Based on our experience reviewing these types of supplements... the website is referencing some of Legendz XL's ingredients - specifically the l-arginine we discussed above-and not the supplement itself." For this reason, my personal opinion is that ProPhase should take the risk and create the Cold-EEZE association in the mind of consumers.
Despite a reluctance to utilize Cold-EEZE in media, the existing product still is a major resource for Legendz XL. Once testing determines the best marketing strategy and pricing, ProPhase intends to move the product into retail. This is a step that would be difficult for a fly-by-night sexual health company, but with Cold-EEZE in thousands of locations and a distribution network in place the task becomes substantially easier. Additionally, "initial indications are that convenience stores are very interested in the product. One reason they're interested in the product is because we make a clinically shown claim."
If Legendz XL were to succeed for ProPhase, then the company would really take off. Both of the other named products that are in the works serve a similar market, so there would be no more dilemma about how to leverage the existing brand. 'From the makers of Legendz XL' would be plastered all over every box of Triple Edge XL and Super ProstaFlow Plus.
A scenario involving those other products is just a fantasy of management at this point, though. An investor in the ProPhase of today has two questions to consider.
Will Legendz XL's clinical trials, distribution, and maybe Cold-EEZE association be able to differentiate it?
And...
How strong is Cold-EEZE, really?
The answer to the first is up for debate. As I have laid out, the potential is there. However, it is this second question that would keep me away from shares of ProPhase.
Despite having the best science, Cold-EEZE sales are sputtering. Gross profit for the company, once rising nicely, has declined each of the last two years. (Maybe all the people for whom clinical trials are a differentiator are going to their doctors and getting FDA approved treatments)
| | | |
| --- | --- | --- |
| Year | Net Sales | Gross Profit |
| 2011 | $17,453.00 | $11,282.00 |
| 2012 | $22,406.00 | $14,252.00 |
| 2013 | $25,032.00 | $16,671.00 |
| 2014 | $22,070.00 | $14,179.00 |
| 2015 | $20,604.00 | $12,178.00 |
From 2013 to 2014, the decline was attributed to lost shelf space for the product category as a whole and higher coupon usage for Cold-EEZE. For the 2014 to 2015 slippage, the company is blaming an unusually mild cold and flu season. In fact, it is spinning its results as a positive stating that because incidence of upper respiratory tract infection was down double digits and sales were down less than that then effectively sales rose.
There are two problems with that logic. First, even if the prior year's gross profit was applied to 2015, the company would still have lost money. It needs to get back to 2013 levels to turn a profit. Additionally, 2015 marked the introduction of Cold-EEZE liquids into the market place. Distribution wasn't as wide as for lozenges, but it certainly added to the top line. This means it is entirely possible that even the 'pro forma' growth in sales described by ProPhase is inaccurate. Independent of the new product, sales of existing products may very well have fallen more than the decline in infection would indicate.
Google Trends data bears this out as Cold-EEZE appears to be caught in a channel or even modestly declining.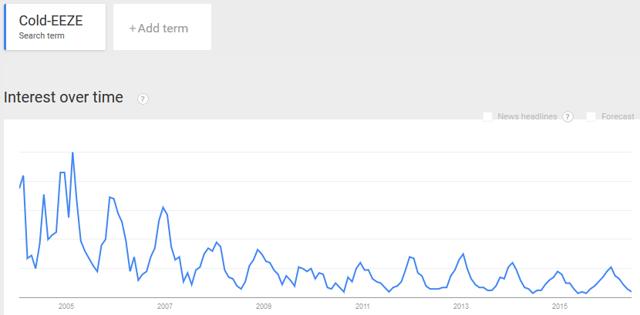 Click to enlarge
Financially, this puts ProPhase in a tough spot. Once it has calibrated Legendz XL's pricing and settled on a marketing strategy, it will need money to advertise. Potentially a good deal of it. Yet it's only sitting on a few million in cash. CEO Karkus very directly answered the query, "So basically you're not going to be profitable this year and you're going to have negative cash flow?" by stating, "That's probably a fair statement."
In other words, the balance sheet will get worse before it gets better, and dilution is almost assuredly coming. The company can control for when, but for a business with a small market cap like ProPhase, it's going to likely be significant. Karkus discussed this stating,
"I am trying really hard not to issue millions and millions of shares of stock and raise $10 million and then burn through it, I am really trying to do this as conservatively as possible. At the same time, a couple of million dollars of dilution to potentially build a new brand that could be worth $10 million or tens of millions dollars."
What's worse, is the investors might come demanding a discount. Why? Besides having all the leverage, Karkus seemed to make the unwitting argument that his company is at best properly valued.
A caller to the company's call asked Karkus's opinion on the value of the Cold-EEZE brand and he responded,
[with] a small and shrinking brand, maybe you get between half and one-times revenue. If its a stable brand, it depends on the size of the brand, it depends on the gross profit margins. It can go for anywhere from one to four times revenues. The Cold-EEZE brand is certainly worth more than one times revenue. And to put that in perspective, our stock right now probably values our brands at about one times revenues. But we also own two properties, we own a state-of-the-art manufacturing facility, which I really didn't even touch on. We have one of the best manufacturing facilities in the country for manufacturing lozenges and hard candy. So we have a valuable manufacturing facility, we own two properties."
Cold-EEZE has strong gross profit margins at around 60%, but to say it is growing or even that it is stable is suspect. The numbers, both financial and via Google Trends, don't lie. Therefore, valuing it at one times revenue, meaning the high end for shrinking properties or the low end for stable ones, seems fair. Also, whatever value is added by the facilities is likely negated by Legendz XL - a venture that may prove to push the company to the next level eventually but for now is simply a way to accelerate cash burn.
Furthermore, a fair price for the ProPhase can be assessed historically. In 2012, a company made a bid to acquire ProPhase for first $1.40 and later $1.60 per share. That was in the midst of the company's best year, so it would be hard for any potential acquirer to justify offering more without seeing the new product line take off or Cold-EEZE suddenly gain market share.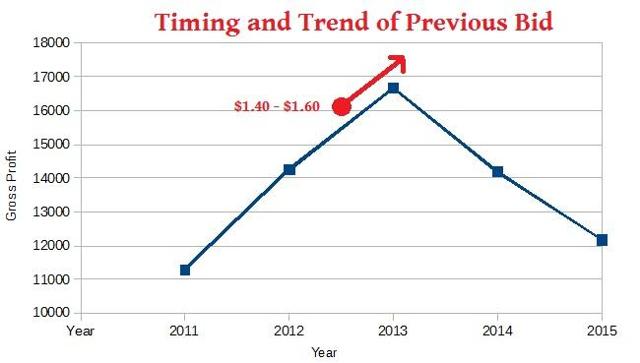 Click to enlarge
I like Cold-EEZE the product, but at this point I am not the biggest fan of ProPhase the company. For my interest to be piqued, shares would have to be trading near their 52 week lows of around a dollar, the company would need to risk Cold-EEZE to support Legendz XL, or I would at least have to see Legendz XL popping up in retail stores therefore signaling that the test phase of marketing was complete. Even then, I'd rather invest in a post dilution environment.
Karkus insists that the company is undervalued, Cold-EEZE is not in decline and Legendz XL will succeed. Over the course of the next year, it will be his job to prove it, but for now his claims come with the same type of asterisk that accompanies so many homeopathic remedies. Let the buyer beware.
Disclosure: I/we have no positions in any stocks mentioned, and no plans to initiate any positions within the next 72 hours.
I wrote this article myself, and it expresses my own opinions. I am not receiving compensation for it (other than from Seeking Alpha). I have no business relationship with any company whose stock is mentioned in this article.
Editor's Note: This article covers one or more stocks trading at less than $1 per share and/or with less than a $100 million market cap. Please be aware of the risks associated with these stocks.