June 19, 2016. Steph Curry and the Golden State Warriors, defending champions and coming off the best regular season in NBA history, completed their epic collapse in the NBA finals, becoming the first team to ever lose a series after being up three games to one.
The Warriors, a team that had become the embodiment of the "disruptive" generation of tech companies with a new brand of position-less basketball, lost to a team that played a more classical NBA style, that is, a heavy reliance on a single, freakishly athletic superstar. (see: Jordan, Kobe, LeBron)
The court-side seats were lined with the executives of "unicorns" who paid thousands of dollars for the hottest ticket in town, despite running companies that have yet to turn a profit. The stars of Silicon Valley watched as a team that coasted through the regular season (a regular season characterized by a relative lack of defensive intensity) increasingly struggled as the scrutiny increased on their top shooters.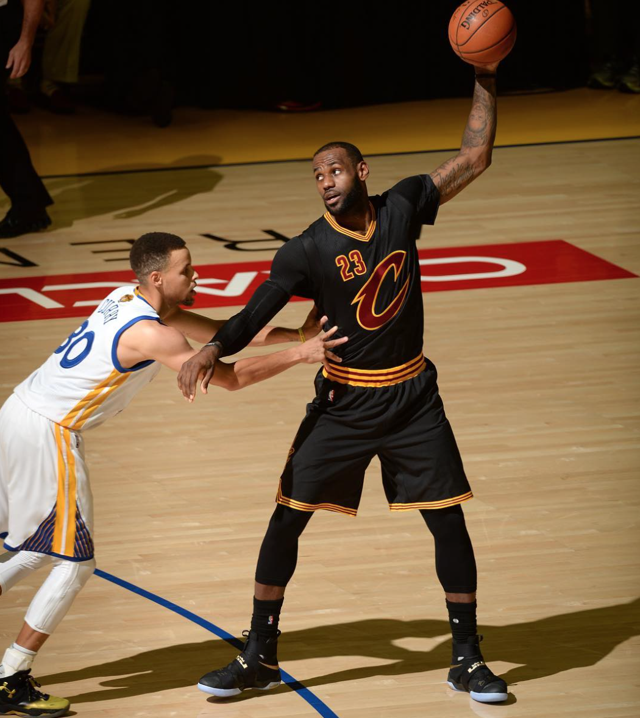 Click to enlarge
(Images via NBA Instagram)
Unable to find the openings that were abundant during the more lax regular season, the seemingly inhuman Steph Curry came crashing down to earth, missing the rim entirely during several key shots in the most critical moments.
While the Warriors will go down as a historically dominate offensive team, the 2016 collapse will be remembered for a Warrior defense that had no absolutely answer for the outstanding athleticism of LeBron James and Kyrie Irving. Despite all the flashy moments of incredible shooting performances, the true flaws of the team were exposed when the scrutiny was amplified. The Cavs forced the Warriors to show their hand, something the darlings of the Valley had yet to fully reveal.
To paraphrase Buffet, when the tide went out, we saw who has been swimming naked. In many ways, it was a return to normalcy, where the "disruptors" were forced to actually perform amid the highest of scrutiny, and lost out to the tired and true reality that there are no shortcuts to success and there are no rewards without sacrifice and risk.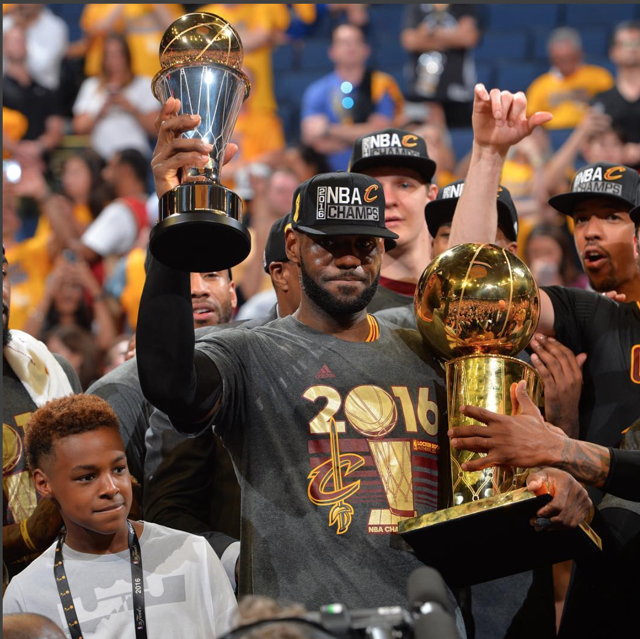 Click to enlarge
Market historians remember January 20, 2000 as the date that AOL purchased Time Warner, a day that is often associated with the bursting of the dot-com bubble. June 19, 2016 may go down as a similar turning point for the fate of the so-called "unicorns" of the Valley.
As investors that focus almost exclusively on commercial real estate, we are naturally skeptical of "asset-light," and even worse, "cash-flow-light" business models. We struggle to understand why investors pay egregiously high multiples for unproven companies with a questionable asset base, uncertain financing, and negative cash flows, unless it is their belief that they will be able to sell it off again before the scrutiny is amplified. They believe that they won't be the "greater fool," that they will sell Golden State when they are still the unbeatable projected NBA Champions, not after LeBron and Irving have exposed their fatal flaws.
GoPro (NASDAQ:GPRO) is the quintessential example of the disruptor hysteria. While the product itself is excellent for the intended purposes, the stock was priced as though these "intended purposes" were limitless, and not isolated to a rather niche audience. GoPro is an elite three point shooter that struggles to hold his weight on defense. As the scrutiny was increased, the flaws were exposed. We believe that the 80% decline in GPRO shares over the past year is more representative of the state of Silicon Valley than those courtside Warrior fans would want potential future IPO investors to believe.
What Company is the LeBron of Technology?
So if these unicorn companies are the Steph Curry of the tech world, a highly talented but perhaps overvalued entity with a fleeting advantage over his competitors, who is the LeBron James? What is the tech company that performs even when the scrutiny is at its highest? Who has the track record of durability and performance that is unmatched by its competitors? Which company has built an unmatched track record, but by many accounts could still be in the early quarters of the game?
We believe Digital Realty (NYSE:DLR) is the LeBron James of the tech world. Literally the landlord for many of the unicorns that are valued at many multiples higher, Digital Realty has been a prime performer since going public in 2004. The biggest and most stable of the "tech REITs," Digital Realty is a prime performer with the asset base and cash flows to backup the strong growth rate.

Click to enlarge
Sporting a total price return of over 750% since its IPO in 2004 compared to the S&P 500 return of 90%, DLR has continued to grow despite paying out dividend yields consistently in excess of 4%. This year, the stock is up nearly 40% amid strong demand for connectivity and dampening fears of over-supply in the data center space.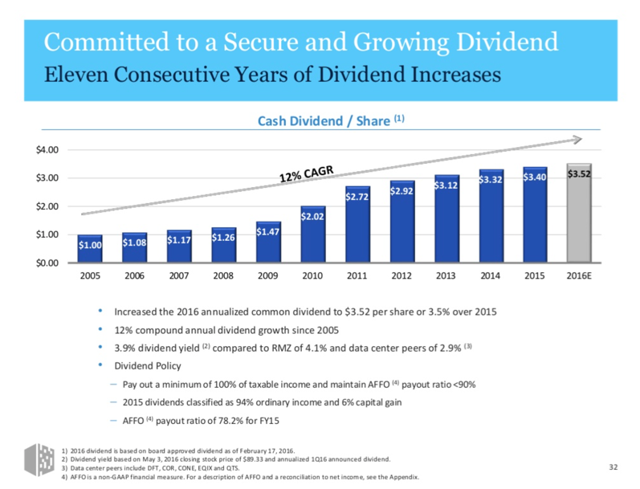 Click to enlarge
Opportunities
Like LeBron James, though, Digital Realty's legacy of success may still be in the early stages. DLR is the engine behind the very trends that so many early stage investors in the valley pay egregious multiples for. Owning a healthy mix of enterprise and network dense data centers throughout the US and globally, this data REIT is poised for continued growth as consumers increase their insatiable demand for streaming video, and business continue to outsource their cloud solutions.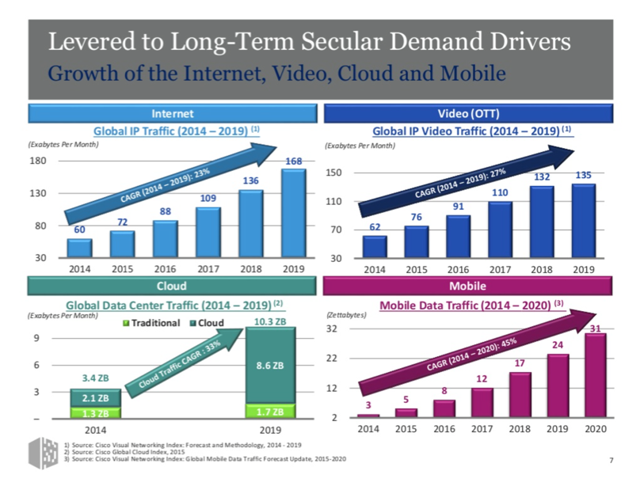 Click to enlarge
Stability and discipline have characterized Digital Realty's run of success, rare qualities in a tech landscape where, for example, Airbnb fetches $20 billion valuations despite perpetually operating in a legal grey-area and sales and earnings figures that justify a valuation of a fraction of the latest round of financing.
Prudent capital allocations and conservative financial strategies have been the hallmark of DLR. This is not a firm that is hoisting up three point shots from half-court and hoping for the best. Digital Realty, like the Cavs, is a team that wins by doing the little things the right way, not the spectacular fleeting moments of greatness.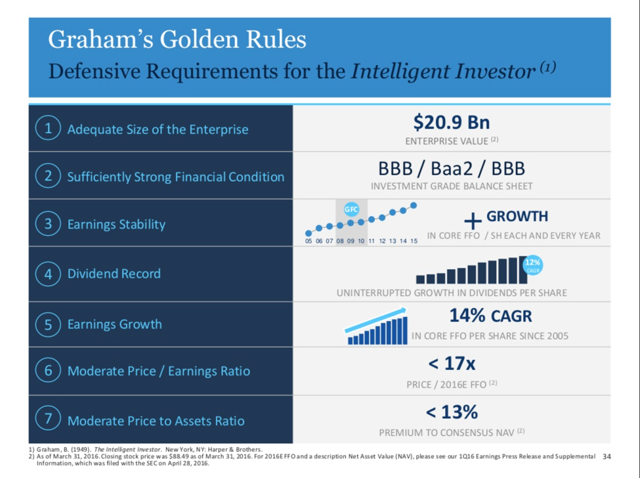 Risks
The recent run-up in tech REITs, though, have pushed DLR towards the upper end of our fair valuation range at the current time. Now trading for a sub-4% 2016 AFFO and sub-4% dividend yield, DLR will need to follow through on its growth projections to continue the strong performance. A recent push into European investments may impede DLR's ability to drive performance if instability continues in the European Union.
By tech standards, DLR is towards the upper end when it comes to leverage, which may hinder performance if credit markets tighten.
At the end of the day, though, real estate valuations come down to simple supply and demand of local markets. Data center construction has been booming lately, particularly in Northern Virginia, a hub of internet traffic. A strong push into data centers by cash-rich tech firms like Apple, Intel, and Google could dramatically increase supply and push down rent and occupancy for DLR and other data REITs.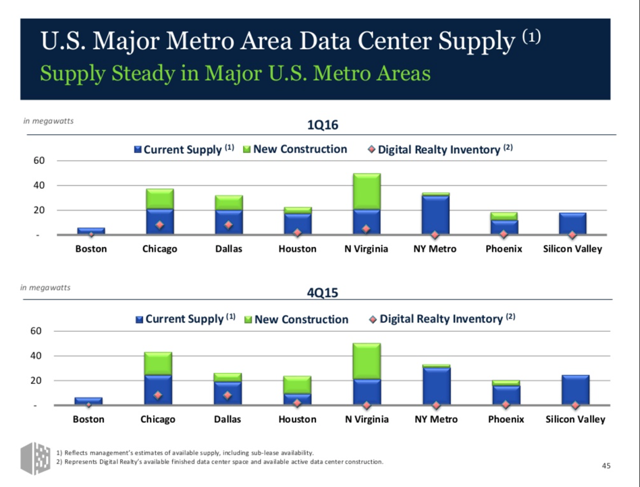 Click to enlarge
Conclusion
Since 2004, DLR has built a legacy of stellar performance backed up by strong fundamentals, reasonable valuations, and prudent management. While supply growth is always a concern for real estate investors, DLR's platform of operational excellence should give the firm an economic moat even as competition escalates. For investors who believe that the future of data demand and connectivity may be even higher than current projections, (perhaps fueled by the "internet of things" and self-driving cars) DLR offers the ability to invest in a proven leader who can perform when the times get tough.
Other smaller data center REITs include Coresite (NYSE:COR), DuPont Fabros (NYSE:DFT), Cyrus One (NASDAQ:CONE), and QTS (NYSE:QTS) which hold similar asset portfolios, and tend to move in tandem with DLR. All data REITs face similar risks and opportunities, though with similar current valuations, we view DLR as the best investment given their stellar track record and growing brand value.

Click to enlarge
While June 19, 2016 may or may not go down as the beginning of the end for the "disruptors" in Silicon Valley, it will be the day that LeBron James' legacy as a steady, disciplined performer was ingrained. Like LeBron, Digital Realty appears poised for many more years of greatness.
Disclosure: I am/we are long DLR.
I wrote this article myself, and it expresses my own opinions. I am not receiving compensation for it (other than from Seeking Alpha). I have no business relationship with any company whose stock is mentioned in this article.