The Graph All Dividend Investors Should See illustrated that historically both the lowest- and highest-yielding stocks have produced below-market total returns with above-market volatility. For readers "seeking alpha", or excess returns per unit of risk, companies that pay more sustainable levels of dividends have tended to generate higher risk-adjusted returns.

Source: Kenneth French
In that article, I discussed two tilts from the S&P 500 (NYSEARCA:SPY) that have historically generated alpha. Comprised of constituents of the S&P 500 that have paid increasing dividends for 25 years or more, the Dividend Aristocrats (NOBL) have produced above-market returns and lower-than-average market volatility. Similarly, the S&P 500 High Dividend Low Volatility Index (SPHD) has also produced above-market returns with below-market risk and has paid investors an average dividend yield nearly twice that of the broader market.
I first documented the exchange-traded fund that replicates this High Dividend Low Volatility Index in 2013. Readers of my recent articles on the Low Volatility Anomaly and the recent article on dividend yield cohorts suggested I revisit this fund. Since I first published an article on this fund in May 2013 shortly after its October 2012 inception, the fund has produced annualized returns, including reinvested dividends, of 15.3%.
S&P 500 Low Volatility High Dividend Index
While there is just a four-year history with SPHD, data on the underlying index is available back to 1990. The S&P 500 Low Volatility High Dividend Index takes the 75 highest dividend-yielding stocks in the S&P 500, selecting the 50 stocks with the lowest realized volatility over the trailing year. The number of stocks from a given industry is capped at 10. The index constituents are weighted by dividend yield, and rebalancing is done biannually in January and July.
Since the advent of the index in 1990, the S&P High Dividend Low Volatility Index has strongly outperformed the S&P 500 with lower return volatility. The index has had an average return of 12.32%, besting the S&P 500 by 272 bps per year. This absolute outperformance was achieved with 82% of the return volatility of the S&P 500 as measured by the standard deviation of annual returns. The returns discussed in this article are total returns including price appreciation and dividends, with dividends assumed to be reinvested into the respective index.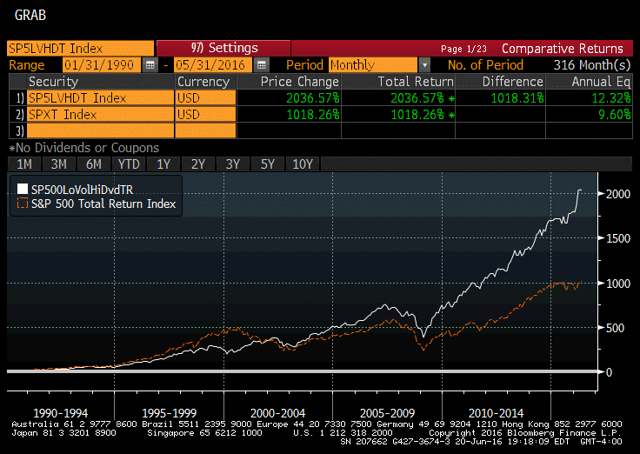 Click to enlarge

The Low Volatility Angle
In the first table in this article, we saw that dividend-paying stocks have strongly outperformed non-dividend stocks on both an absolute and risk-adjusted basis over a sample period dating back to the 1920s. However, the highest dividend yield cohorts began to produce lower average returns with rising volatility.
In an October 2015 piece from Standard & Poor's entitled "The Beauty of Simplicity: The S&P 500 Low Volatility High Dividend Index", the rating agency and index provider demonstrated that just two simple screens - dividend yield and low volatility - can produce above-market returns with lower variability of returns. To demonstrate the value creation of combining these two screens, S&P created three high dividend portfolios and compared them to the historical performance of the S&P 500.
The highest-yielding 75 stocks (left column on graph above) produced a 12.0% annual return with annualized volatility of 15.3%. This return bested the S&P 500 annualized return by 2.6%, but did so with about 6% more average volatility. The higher average returns of this strategy compensated investors for this marginally higher risk, producing a market-beating risk-adjusted return.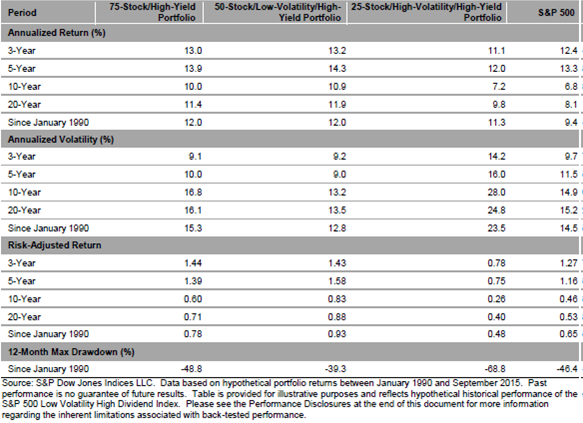 If one subset of stocks is producing market-beating risk-adjusted returns, another cohort must be lagging the market. Among the highest-yielding 75 stocks, the return profile of the most volatile 25 stocks is tabled in the third column. These stocks have produced an 11.3% annual return, but with annualized volatility of 23.5%. While these stocks beat the market by 1.9% per year, they did so with annualized volatility more than 60% higher than the market.
The second column excludes these high beta constituents. The 50 high dividend stocks with the lowest trailing volatility have produced an average annualized return of 12% with average volatility that is less than the broad market. This strategy has the highest risk-adjusted return and experienced the lowest drawdown in the dataset. Over 3-, 5-, 10-, 20-, and 25-year periods, this strategy has produced both higher returns and lower volatility than the broader market.
Is It Overvalued?
A dividend growth focus and a low volatility tilt are two of my five ways to beat the market. The strategies have generated long-run structural alpha for investors. This strategy, represented through SPHD, traded today at its all-time high level, so prospective investors will have to assess whether low volatility strategies have become overvalued. Not many diversified funds have generated 15%+ returns in 2016.
As I wrote recently, It is prudent to keep a wary eye on whether these smart beta factors are getting relatively expensive. Paying too high of a price is a good way to generate below-average forward returns. For my part, I do not believe that valuations on low volatility stocks are overly stretched today, and would expect them to continue to generate at least risk-adjusted outperformance over long forward periods. The demand for smart beta strategies is expected to continue to grow as investors eschew the higher fees of active management, but still seek factor tilts that can generate some relative outperformance. This incremental demand should continue to support the valuation of this strategy.
Assessing relative value is complicated by the dynamic nature of the index. This high dividend, low volatility strategy will periodically rebalance, removing constituents whose dividend yield has fallen as their price has risen. Conversely, the strategy will also exclude the higher beta constituents that have been a drag on performance as the S&P demonstrated previously. With an indicated yield in the mid-3% range, SPHD is in the Dividend Sweet Spot, a range that is not too low to generate inferior returns or too high to contribute incremental risk.
Disclaimer: My articles may contain statements and projections that are forward-looking in nature, and therefore inherently subject to numerous risks, uncertainties and assumptions. While my articles focus on generating long-term risk-adjusted returns, investment decisions necessarily involve the risk of loss of principal. Individual investor circumstances vary significantly, and information gleaned from my articles should be applied to your own unique investment situation, objectives, risk tolerance, and investment horizon.
Disclosure: I am/we are long SPHD, NOBL, SPY.
I wrote this article myself, and it expresses my own opinions. I am not receiving compensation for it (other than from Seeking Alpha). I have no business relationship with any company whose stock is mentioned in this article.