Coca-Cola (NYSE:KO) has been a great company with sustainable value over many years. It is a highly interesting company for investors who wish to have a portfolio with a solid dividend basis. Additionally, Coca-Cola has shown solid profits that have been translated into share price appreciation over time.
It would be important to investigate if KO's celebrated story is strong enough going forward. The company's success speaks for itself, but will the investment in Coca-Cola still be a wise decision for the long run?
The product strategy and the need for innovation have been much discussed lately, but let's leave aside the fundamental analysis in this article. While management steps will take its course, KO's stock prices will fully reflect all that. So, let us rather concentrate on studying the prices, and making a technical analysis in a long-term perspective. Obviously, we will consider that all information is already discounted in KO's price and that the market usually anticipates the economic situation by 6 to 9 months.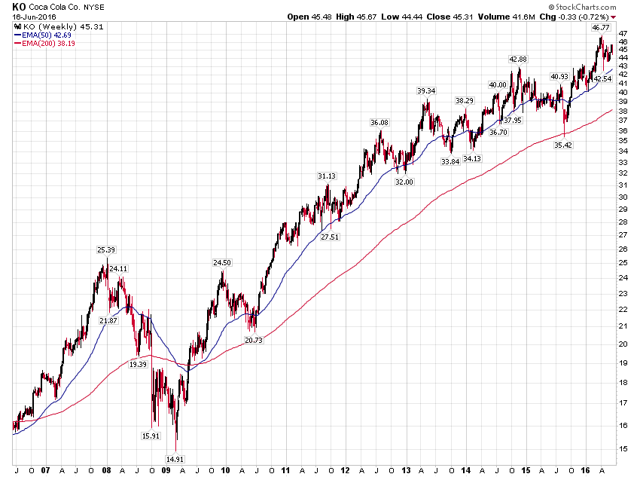 Click to enlarge
Charts courtesy of StockCharts.com
First, I am going to identify Coca-Cola's long-term trend. The 10-year weekly chart above shows clearly that following the subprime mortgage crisis of 2008, KO has resumed its previous long-term uptrend. In fact, prices have tumbled in early 2008 which led to a low of $14.91 one year later. Then, its share prices have maintained a strong upward trend until today. Over the years, prices have always been supported by the EMA(50). Furthermore, during that period the EMA(50) has been always well above the EMA(200), reflecting that there have been no signs of trend reversal. Only once - in mid-2015 - the price dropped suddenly and touched the EMA(200), but rose again immediately after. Given the way it happened, it had no negative relevance and, at present, the uptrend appears to remain strong. But can we find any alarm signals regarding a possible trend reversal? We'll see the situation with the next chart.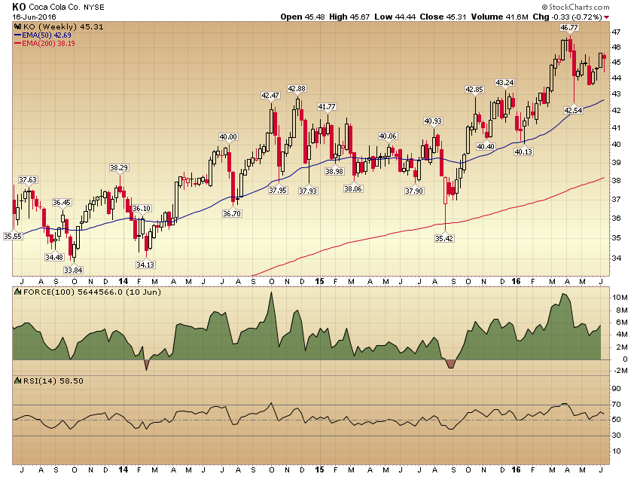 Click to enlarge
Looking at the 3-year weekly chart above the uptrend strength seems reinforced. In fact, the long-term indicator Force Index(100) is very positive. This indicator measures the price in its three elements - direction, extent, and volume - confirming the strength of price movements. On the other hand, the indicator Relative Strength Index (RSI) has remained between 40 and 90, a sign that KO's uptrend is well established.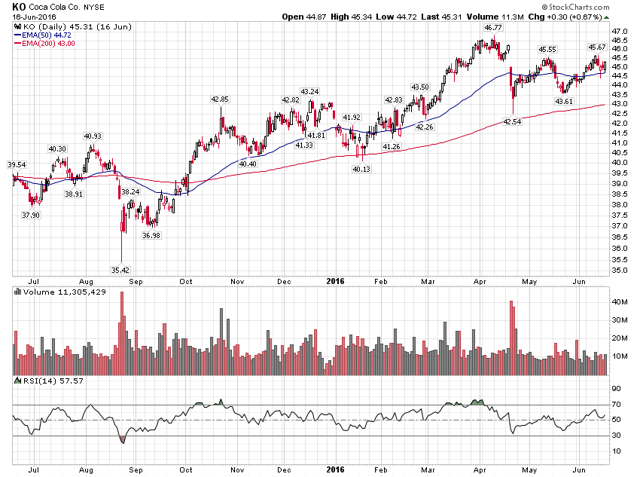 Click to enlarge
The 1-year daily chart above shows prices struggling to stay above the EMA(50). In May-June, the price made a double top and stopped the series of higher lows and higher highs. This may be negative especially if share prices stay weak.
A. Warning signs of possible reversal of the current upward trend:
1. On the long-term weekly charts, the distance between the EMA(50) and EMA(200) has to widen, not narrow down.
2. Both moving averages must have an ascending line, not horizontal.
3. Prices have to stay well above the EMA(50).
B. Short-term turning points:
1. On the daily charts, KO's share price has to necessarily stay above the EMA(50).
2. Prices must surpass $45.70 and then $46.77 (long-term top).
3. Conversely, if prices remain weak and fall below $42.50-$43 - and also below the EMA(200) - for a relevant time period, the long-term uptrend may be in serious problems.
Conclusion
KO share prices need to make a new higher high, but the odds may favor a decline in prices. This is dangerous and may lead to a trend reversal unless share prices stay above the $43 level. For this reason, I'm bearish for the short-term. I think that only with a rise in prices that goes beyond the top at $46.77, it will be possible to accept that the long-term uptrend is still alive.
Disclosure: I/we have no positions in any stocks mentioned, and no plans to initiate any positions within the next 72 hours.
I wrote this article myself, and it expresses my own opinions. I am not receiving compensation for it (other than from Seeking Alpha). I have no business relationship with any company whose stock is mentioned in this article.