Let's take a quick look at trading around the Brexit vote.
On Monday, we saw how quickly a small perceived change in the geopolitical landscape can reverberate through markets and cause dramatic shifts in investor sentiment.
As I wrote first thing Monday morning, Oddschecker's probability of the UK voting to leave the EU plunged to around 27%, down from 40% last week and Bloomberg noted that "a poll over the weekend showed 45% of voters backed the 'Remain' camp while 42 percent were in favor of leaving." That was enough to ignite risk-on sentiment. The Nikkei skyrocketed, European equities soared, the yen stopped dead in its tracks, and Wall Street was in rally mode from the opening bell.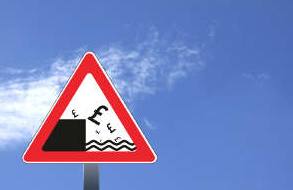 Also up sharply: crude (NYSEARCA:USO). WTI and Brent rose around 3%.
For its part, Citi was stunned:
It is stunning how quickly we have spun to the assumption that Remain is a done deal. I understand why, of course. But still. Stunning.
I know you're probably sick of hearing about Brexit - so am I. Almost as sick as I was of hearing about Grexit last summer. Almost.
But there's a trade (or three, or four) here because make no mistake, this is something of a binary situation. If you guess right, it's pretty easy to predict what's going to move.
I outlined BofAML and FactSet's outlook for stocks early on Monday along with Credit Suisse's outlook for USTs and Citi's take on commodities.
Let's take a quick look at oil via Barclays. Obviously, you'd expect crude to trade sharply lower in the event the UK votes "leave," just as it traded sharply higher on Monday amid broad risk-on sentiment. The problem here for crude is the setup or, more specifically, the "stretched" net long position.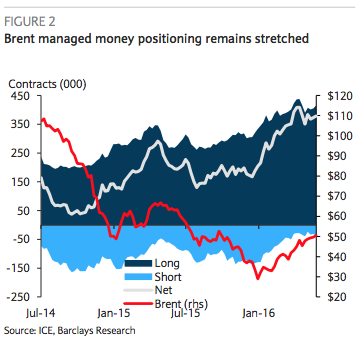 (Chart: Barclays)
Here's the bank's take on the impact of a theoretical "leave" vote:
Based on our economist's updated forecasts for a potential "Leave" scenario of GDP growth of 2.75% in H2 16 (70 basis points lower) and 3.1% in 2017 (60 basis points lower), we expect this could curb demand growth by almost 500 kb/d in H2 16 and by around 400 kb/d in 2017. Focusing on the very short term, we see the biggest risk as the liquidation of net long positioning. We forecast oil prices $4 lower than our baseline in H2 16 and $3 lower in 2017 under our economist's hypothetical "Leave" scenario forecasts.

(Table: Barclays)
This is yet further evidence of the extent to which geopolitics is in the driver's seat this year. Uncertainty breeds subdued demand, and lackluster demand is bad news in a world that's coping with a global deflationary supply glut.
If you ask me, crude will trade sharply lower on a "leave" vote, and the discrepancy between the baseline and "leave" scenarios in Q3 will be much greater than $1/ bbl.
Also, don't forget that the supply picture for crude is almost completely dominated by geopolitics as well. Sorry, but no one in Saudi Arabia or Iran really cares about who's pumping and who's not in the US at this juncture.
Of course, the real risk-on/risk-off trade around the referendum is the yen (NYSEARCA:FXY) - that should be abundantly clear after last week's action. And with that, I'll close with a short quote from Barclays:
The outcome of UK's EU Referendum presents binary risk for the JPY, in our view. In case of a "Remain" vote, we would expect USDJPY at 105 for end-Q2 and 100 at end-2016, as heightened global uncertainty, limited scope for BoJ easing to affect the JPY, and changing dynamics of Japanese investors should continue to weigh on the USDJPY after a temporary relief rally in risk assets.
Disclosure: I/we have no positions in any stocks mentioned, and no plans to initiate any positions within the next 72 hours.
I wrote this article myself, and it expresses my own opinions. I am not receiving compensation for it (other than from Seeking Alpha). I have no business relationship with any company whose stock is mentioned in this article.