Despite the broader market floating around at its high, there are several pockets of good value for income-minded investors. Crude oil prices have substantially recovered, but are still nowhere near where they were two years ago. A looming 'Brexit' vote has caused uncertainty in Britain, and has made many stocks there quite cheap as well. Also, many dividend-paying "old tech" stocks remain out-of-favor with tech investors. As an income investor, I intend on taking advantage of all these things in order to boost my dividend portfolio. With that in mind, here is a 'mini-portfolio' that I believe income investors can buy right now. Altogether, it yields about 5%.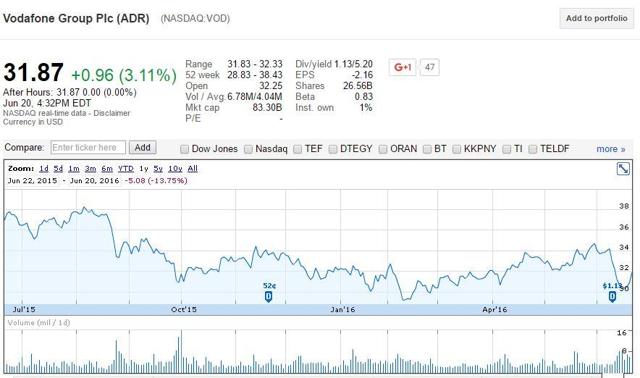 Click to enlarge
Courtesy of Google Finance.
Vodafone (NASDAQ:VOD) is a telecom giant based in Britain, but Britain is only one part of the company's business, which goes a long way to abate any 'Brexit' risk. Vodafone is also in most of Western Europe, as well as India, Qatar, Turkey, Ghana and a few others. Over the last half year Vodafone has turned most of its European laggards around into growth, including Greece, Spain and Italy.
In the coming months Vodafone will ratchet down its capex spending thanks to the completion of Project Spring. As a result, Vodafone should be able to improve the free-cash-flow to dividend ratio and get a margin of safety. Last year, Vodafone paid American shareholders $1.70 per ADR share. Considering the current stock price, that's a yield of 5.35%.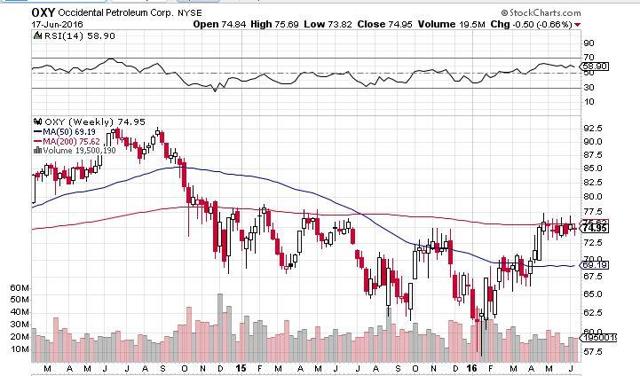 Click to enlarge
Courtesy of Sharp Charts.
Most E&P oil companies aren't making any money with crude down at $50 per barrel, but Occidental Petroleum (NYSE:OXY) is an exception. Oxy has a lot of vertical-drilling acreage which is profitable even with low crude oil prices, thanks to its massive two-million acreage position in West Texas.
Oxy yields 4%, and at $50 crude, I calculated, in a previous article, that the company should be able to sustain not only its 4% dividend, but also its capex budget, which should bring about a 4%-6% production increase in 2016. Occidental is another good buy right here for income investors because it is one of the few E&Ps that can tread water and keep paying their shareholders.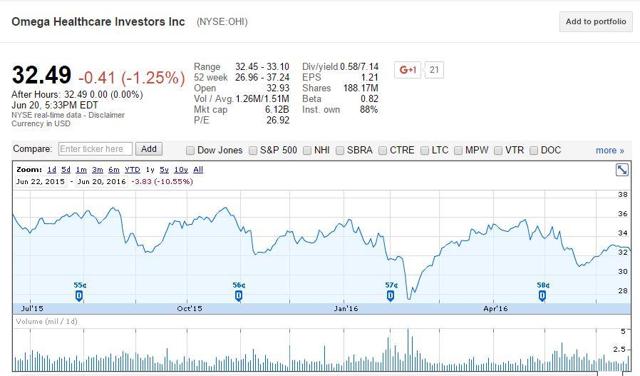 Click to enlarge
Courtesy of Google Finance.
Omega Healthcare Investors (NYSE:OHI), an owner of Skilled Nursing Facilities, is also down on its luck, but not because of Brexit or oil prices. Omega is down because many of its tenants are reimbursed through Medicare, and the government is changing its reimbursement schedule from fee-based to bundled.
This will save the government money, but it will negatively impact Omega's tenants. The thing is, the government is doing this out of necessity. With the number of 65+ and 85+ aged people growing so quickly, there could be a shortage of certified beds and other services over the next five years. The new compensation model is designed to encourage faster turn around time. Either way, however, Omega's tenants are going to be very busy, and that will ultimately be good for Omega. At just 10.3 trailing FFO, Omega is well undervalued to its ten-year average FFO of 12.4 times. That is evidenced by a dividend yield of 7.1%. Omega is a leveraged play, meaning that it has significant debt, but this is a risk worth taking, in my opinion.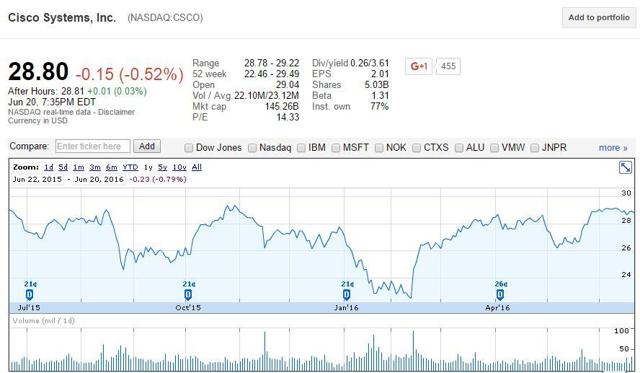 Click to enlarge
Courtesy of Cisco Systems Investor Relations.
Last but not least is enterprise networking communications giant Cisco Systems (NASDAQ:CSCO). Cisco is an 'old tech' name, and the usual technology investors have been steadily abandoning this one for more cutting-edge names. This has depressed Cisco's valuation and has made it a gem for income investors.
Cisco has a big $35 billion of net cash, and that's net of debt. Cisco plans on growing revenue by between flat-to-3% in 2016. That might not sound like much, but dividend growth will far exceed that number. Trailing free cash flow is $12 billion, but dividends are only $4 billion, so there is room for a lot of dividend increases going forward. Currently Cisco yields 3.6%, but I believe that if you buy here, that payout will grow significantly for years to come.
Conclusion
This article is by no means an comprehensive guide to these four stocks. Instead, look at it as a 'starting point' for more research if any of these pique your interest. I believe that all four of these stocks are buys right now, and together they would make a small but diversified income portfolio.
If you are interested in any of these four stocks, feel free to follow me on Seeking Alpha. I am long several of them, and periodically write articles on each of them. I will continue to provide update articles when they are material and relevant.
Disclosure: I am/we are long CSCO, VOD, OHI.
I wrote this article myself, and it expresses my own opinions. I am not receiving compensation for it (other than from Seeking Alpha). I have no business relationship with any company whose stock is mentioned in this article.