Hecla Mining (NYSE:HL) has been one of my best picks so far this year. Back in January, the broad market crash had pushed Hecla shares into a corner. At that time, I had advised that investors should consider buying the stock as gold prices are likely to rise going forward since the company gets over 40% of its revenue by mining the yellow metal.
Today, it has been exactly five months since my bullish article on Hecla Mining, and the stock's huge gains of almost 200% since my call have vindicated my stand. But, the telling question that arises after such huge gains is whether or not Hecla Mining is still a stock worth holding on to? Let's find out.
Why has Hecla hit gold this year?
The rapid rise in gold prices so far this year has been the driving factor behind Hecla's huge gains. In fact, Hecla's stock price has moved in tandem with gold prices so far this year, but the stock has recorded much higher gains on the back of tremendous improvements in its financial results. This is shown in the chart given below: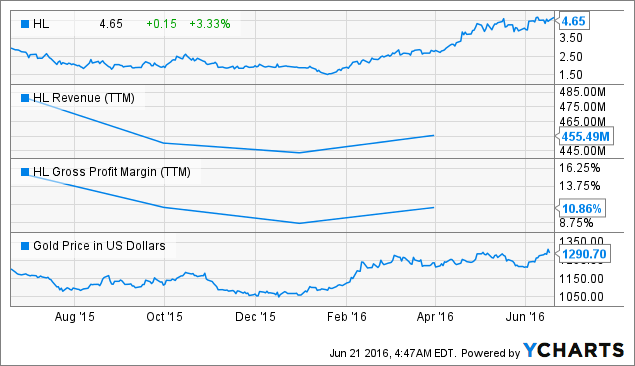 As seen above, Hecla's first-quarter performance improved remarkably, especially from a gross margin perspective. Looking ahead, as gold prices have gained further strength in the ongoing quarter, it won't be surprising if Hecla continues to see an improvement in its margin profile. What's more, given the current economic situation in the U.S. and recent comments by the Federal Reserve, it is quite likely that the increase in gold prices will continue going forward.
The gold price rise will continue
Last week, the Federal Reserve backtracked on the quantum and number of interest rate hikes from a long-term perspective. The Fed has grown increasingly wary of a slowdown in economic growth and consistently low inflation rates, which is why it has also lowered its long-term interest rate hike forecasts. The chart given below clearly indicates that the Fed's interest rate hike path has been dropping, with rate expectations continuously declining year after year: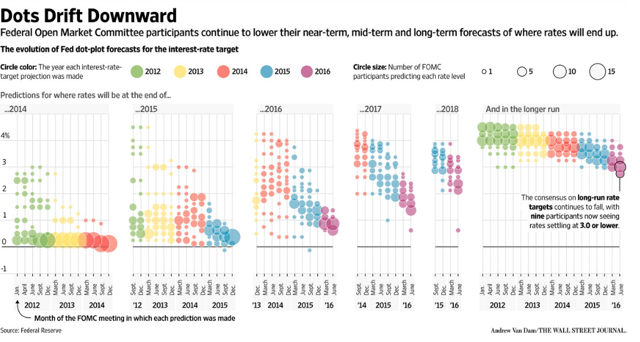 Click to enlarge
Source: Wall Street Journal
According to the plotting done in the above chart, the Federal Funds rate is expected to end 2016 at 0.875%, which means that there will be two quarter-point increases. However, this was the same forecast that was issued in March, which means that no progress has been made as far as the rate hike is concerned.
However, six Fed officials believe that there will be just one hike this year. On the other hand, the President of the St. Louis Fed, Jim Bullard, has forecasted that the Federal Funds rate will remain at just 63 basis points for the next two years with just one rate hike taking place. The reason behind the Fed's dovish stance on the rate hike is not surprising as recent data out of the U.S. have not been encouraging.
For instance, last month, the U.S. economy added only 38,000 jobs, representing the weakest job addition in a month since the September of 2010. Moreover, the employment data for March and April were also revised downward by 59,000 jobs, presenting a grim picture about the U.S. economy. In comparison, economists were forecasting that the U.S. will add 164,000 jobs in May.
Moreover, I think that we should not be reading too much into the unemployment rate either because 458,000 people in the U.S. have stopped looking for jobs, which is not reflected in the report. Additionally, the unemployment data also does not take into account people who fell out of employment during the period.
As a result of such negatives, the probability of a rate hike this year has continued to diminish. For instance, the probability of a rate hike next month is now just 37% as compared to 59% before the latest jobs report. Moreover, other negative data such as a decline in consumer confidence, which dropped last month, and a dip in housing starts, which went down 0.3% in May, also point toward a sticky economic situation.
It is on the back of these factors that the Fed has withdrawn from hiking interest rates, which is a positive for gold pricing since both are inversely related. The chart given below clearly establishes the historical relationship between gold prices and the effective Federal Funds rate: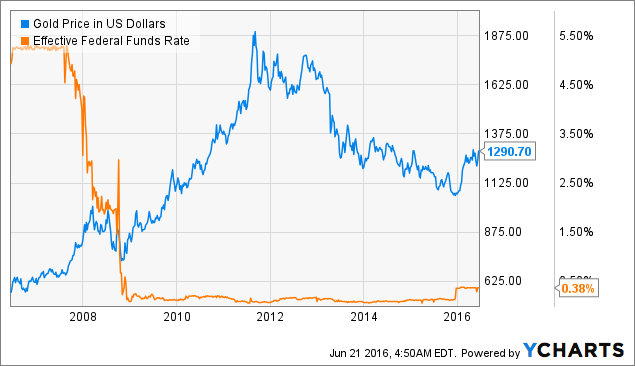 Gold Price in US Dollars data by YCharts
As shown above, the decline in the Fed Funds rate post the crash of 2008 led to a strong rally in gold prices. When the Fed bumped the rate slightly in December last year, the gold price fell. But post that, gold has made a strong comeback as further rate hike decisions have been delayed. Now, as discussed above, it is likely that the Fed Funds rate will continue to be lower going forward, and this will prove to be a tailwind for Hecla Mining as gold prices will continue rising.
Conclusion
The rise in gold prices has been a key factor behind Hecla Mining's rally so far this year, and it is likely that the rally will continue going forward as gold prices will continue to remain strong. So, in my opinion, it will be a good idea to continue holding shares of Hecla Mining as more upside cannot be ruled out.
Disclosure: I/we have no positions in any stocks mentioned, and no plans to initiate any positions within the next 72 hours.
I wrote this article myself, and it expresses my own opinions. I am not receiving compensation for it (other than from Seeking Alpha). I have no business relationship with any company whose stock is mentioned in this article.