I was once a steadfast bull on watch and accessory distributor Fossil (NASDAQ:FOSL) as I originally thought fears over new entrants into the wearables category like Fitbit (NYSE:FIT) and Apple (NASDAQ:AAPL) were overblown. However, it has proven to be anything but and Fossil's share price has shown that over the past couple of years. I wrote a recent article in which I said Fossil would continue to make new lows due to a too-late wearables offering and continued intense competition from others in the space. But for me, one thing sums up Fossil's struggles and that is margins. In this article, I'll take a deeper dive into Fossil's historical margins and where I think they could go along with its implications for the stock.
I've charted some data below that I lifted from Morningstar.
Fossil's gross margins are actually quite good, as you may expect from an accessories retailer. In particular, Fossil focuses on three categories with quite strong margins: watches, leather and bags. Nothing has been great for Fossil lately but in particular, its watch category has suffered mightily at the hands of new entrants and we can see that in the company's gross margin numbers.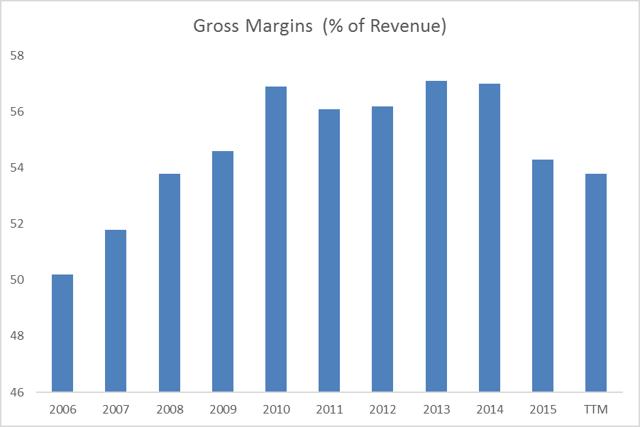 Click to enlarge
After a very strong run of higher margins - one that pulled me into the bull camp a while back - we saw a drastic drop off last year to the tune of 270bps for the full year. That's an enormous loss of profitability and that isn't a one-time thing either; Fossil's margins appear to be at least semi-permanently impaired in light of its inability to compete with wearables competitors. In addition, gross margins were down another 250bps in Q1 this year as the company continues to grapple with reduced pricing power in the face of so much competition. As I said, watches aren't its only problem but they are certainly the most public and FOSL is losing market share, period. That will lead to lower and lower gross margins and at this point, we don't know where the bottom is; I'm just pretty sure we aren't there yet if Q1 is any indication at all.
On the expense side, SG&A costs haven't been any better as sales levels have fallen.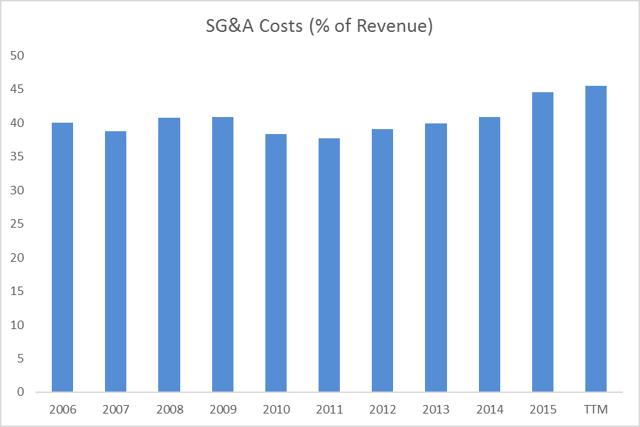 Click to enlarge
This chart is absolutely a killer for operating margins because not only is Fossil seeing lower gross margins, but it is deleveraging its cost base as well. This is all about sales levels because Fossil used to operate with a still-bloated ~40% of sales SG&A level. That's very high by most retailer standards but that level has exploded to 45.5% of revenue in the TTM. That is unsustainable and it is owed simply to the fact that revenue is falling due to lower comps and a lack of new stores or web sales to make up the difference. Fossil's poor revenue outlook is the problem here, as it was with gross margins. The two go hand in hand; higher revenue allows for greater pricing discipline and it also simultaneously leverages fixed costs. But Fossil is going the wrong way and that has caused significant deleveraging on both counts.
If we take these two numbers and compute the spread, we get the company's operating margins for the same period, which I've charted below.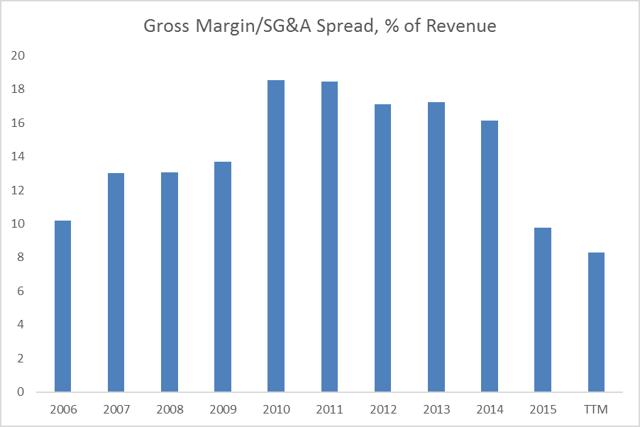 Click to enlarge
This chart really sums up all of Fossil's problems. Operating margins when Fossil was a much younger company were routinely in the 10% area - a quite respectable number to be sure. But its wild success around 2010 led to operating margins in the 17% to 18% area for four years and that is when the stock went gangbusters; investors (including your humble scribe) can't get enough of margin expansion and it showed in the stock price. But what has also shown up in the stock price of late is the reverse as we can see TTM operating margins are just 8.3%. And in Q1, the number was much lower than that, coming in at a microscopic 2.2%. That is just above the breakeven line and for Fossil to turn things around, it has to start working yesterday; there is no time to waste.
So what about going forward? After all, the stock is trading near a six year low at present so it must be cheap, right? Not so fast; Fossil's rapidly deteriorating margins mean that we don't know what level of profitability the company will have over the next year or two, we can only be sure it will be much lower than it has been in the recent past. The operating margin level of 2.2% in Q1 was absolutely shocking to me and it really opened my eyes to the problems Fossil has. All of this stems from its inability to maintain comp sales and in particular, its critical watch category has no end in sight to the suffering. That leads me to believe that comps will continue to fall at least throughout the rest of this year and that will take SG&A costs higher and gross margins lower as more discounting and promoting to move product is inevitable. I know Fossil has its own wearable coming out later this year but it is so late to the party that I don't think it will matter. In addition, Fossil prides itself on producing vintage-style goods, hardly the sort of thing that can be elegantly incorporated into a high-tech wearable.
For these reasons, Fossil's margins should be appreciably lower this year than they were last year and Q1 showed us just how bad things can get. I think Fossil's operating margins will be in the low single digits this year and that means the stock is going lower. Investors are buying hope right now but the numbers say it is past time to jump ship.
Disclosure: I am/we are short FOSL.
I wrote this article myself, and it expresses my own opinions. I am not receiving compensation for it (other than from Seeking Alpha). I have no business relationship with any company whose stock is mentioned in this article.