Each week much is made about the oil (NYSEARCA:USO) stock movements week to week. Investors see declines as bullish and rises as bearish. However, the truth lies with neither. As I have covered before, there is an oversupply of light oil in the U.S. in the neighborhood of 2 mmbpd. As the summer driving season picks up, light oil will increase in consumption as it has a high percentage volume of diesel and gasoline components.
Due to the breakdown of light oil, and the focus of summer incremental demand from petrol and diesel, the increased consumption can utilize light oil. Thus, U.S. imports of heavy oil will flatline, and inventories will drop. This is an effect we see every summer as refineries increase light cat gas oil production (LCGO).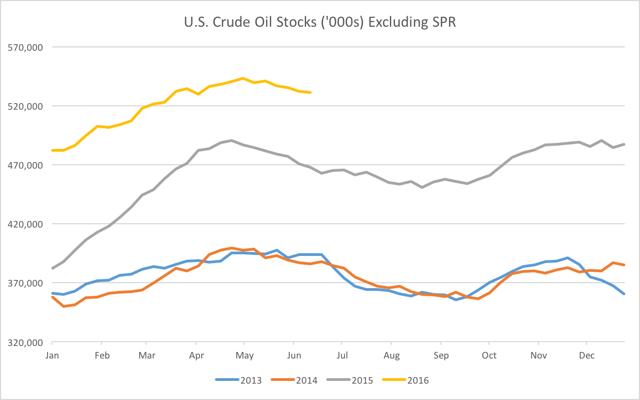 Click to enlarge
Data Source: EIA
Focus On The Rig Count
The primary focus of investors through summer and into fall needs to be the North American rig count. While I had stated before that the NA rig count was not the most correlated signal for oil prices for the last six months, it will now move to the forefront - due to the testing of the supply response.
Oil companies in Canada and the U.S. have worked to cut costs sharply over the past two years, and as a result, the economics of new wells has changed dramatically. Shale oil has given the U.S. the chance to be the world's swing producer and price controller - It will respond quickly to price shocks in either direction. Canada will increase rigs dramatically once the summer is over.
This summer will give us a much better picture of just how far those costs have fallen and how the market will move in the later stages of the year. I expect a slow rising rig count as oil sits around $50 and a rapidly rising rig count if prices rise significantly. While nearly 400 rigs would be required to stem production losses, a rig count that grows too fast will signal to Saudi Arabia that the concern of a rapid price response is justified. If long-term confidence at $50/bbl sets in for crude producers, then the price ceiling will be partially established in Saudi Arabia.
Light Tight Oil
Saudi may be fearing U.S. light tight oil for another reason. U.S. refineries have spent millions building their refineries around high margin heavy oil. As time moves forward and confidence in light oil supply grows, there will be an increase in demand from domestic refining. Furthermore, as Gulf Coast refineries begin to accept the continuity of shale supply, new projects can be brought on board to increase the possible consumption.
Takeaway
Compounding the movement toward light tight oil consumption is the fact that stricter regulations for the primary market for U.S. refining demand, gasoline, and diesel, will result in long-term demand destruction. Saudi Arabia will need to fight for market share across the world. Inevitably, the cartel will continue to lose its ability to maintain high prices. With each day that passes, the oil market will look more like a typical commodity market where supply can respond quickly. Prices will stagnate at the marginal cost of supply. Most oil companies have seen great 6 month returns on higher prices, but with sentiment so positive, there remains plenty of room to fall.
| | | |
| --- | --- | --- |
| Company | Ticker | 6 Mth Return |
| ExxonMobil | XOM | 17.91% |
| Chevron | CVX | 14.25% |
| Shell | RDS.A | 20.37% |
| British Petroleum | BP | 10.84% |
| Petrobras | PBR | 58.85% |
| Total | TOT | 8.24% |
| Conoco | COP | -2.70% |
Afterword - If you found this article interesting and would like future updates, head to the top of the page next to my name and hit follow. It is free, and allows me to continue to reach a broader audience and keep writing. Thanks for reading.
Disclosure: I/we have no positions in any stocks mentioned, and no plans to initiate any positions within the next 72 hours.
I wrote this article myself, and it expresses my own opinions. I am not receiving compensation for it (other than from Seeking Alpha). I have no business relationship with any company whose stock is mentioned in this article.