Since the beginning of last week, shares of Penn West Petroleum (NYSE:PWE) have shot up more than 55% after it emerged that it has sold its Saskatchewan assets at a lucrative price to bring down the debt. As a result of this move, I believe that Penn West is now in a stronger position to take advantage of a rise in oil prices due to a more efficient asset base and advanced completion techniques such as water flood injections. So, in this article, we will take a look at the factors that will drive oil prices higher and why Penn West can advantage of the same now that it has sold its assets with a higher cost base.
Better oil prices in the cards
Crude oil prices have seen a sustained rally in the past few months, rising to almost $50 a barrel. Looking ahead, it is likely that this rally will continue on the back of positive supply actions being undertaken by producers to reduce the oversupply in the market. In fact, the International Energy Agency forecasts that the oil market is currently progressing on a path of achieving balance.
This is because the pace of oil supply growth has been coming down. For instance, in April, global oil output increased by 50,000 barrels a day, a substantial decline as compared to growth of 3.5 million barrels a day seen in the year-ago period. What's more, this year, the IEA expects that non-OPEC production will come down by a sizable 800,000 barrels per day.
As a result of this reduction in non-OPEC production, the oversupply of oil is anticipated to come down dramatically in the latter part of the year to 0.2 million barrels/day as compared to growth of 1.3 million bpd in the first half of 2016. The following chart shows that the gap between oil demand and supply is coming down, with the EIA forecasting that the imbalance will disappear by next year.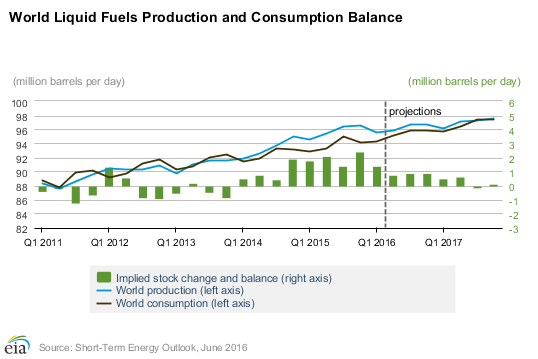 Source: EIA
Higher oil prices will augment Penn West's performance
The good thing about Penn West is that it has managed to improve its gross margin and reduce the drop in the operating cash flow despite lower oil prices, as shown below: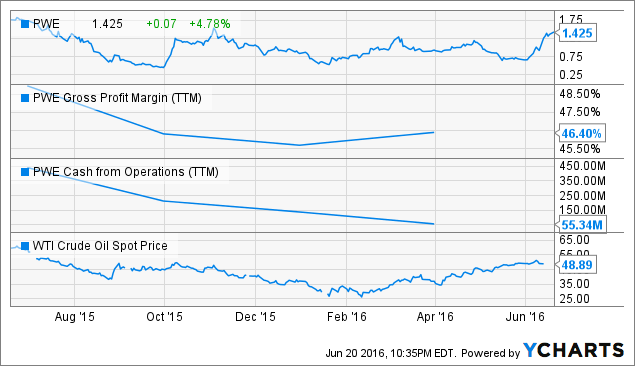 As oil prices are now on the rise, Penn West will now be able to accelerate its margin and cash flow profile. The rise in this metrics will also be aided by the fact that Penn West's netback from its acreage after the divestiture is greater than before, driven by production techniques such as water flooding.
Under the water flooding technique, Penn West will now be injecting more water into its wells. This will lead to an increase in pressure inside the well, which will then stimulate production. The important thing to note here is that Penn West already has a number of prospective zones with a potential for higher production of liquids due to water flooding.
More importantly, Penn West has already put into place improved drilling and completion processes in the Cardium play, where it was able to reduce its spud to first production time to just 14 days, achieving a reduction of 90 days from the prior time taken. As a result, Penn West has managed to achieve savings of $1 million at each well due to a drop in drilling times.
The drop in drilling times and higher production due to the deployment of the water flooding technique will allow Penn West to generate higher netbacks. For instance, Penn West used to generate a netback of $12.75 per barrel of oil equivalent from its Saskatchewan assets as lease operating expenses were slightly higher at $14.75 per BOE. However, after selling off this asset, Penn West plans to bring down its overall operating costs in the range of $10 to $12 per BOE by the end of the year due to higher water flooded completions in areas such as Cardium.
In fact, at Cardium, Penn West has an impressive netback of $17 per BOE owing to very low lease operating expenses of $10 per BOE. Looking ahead, it is likely that Penn West can further lower costs at Cardium since the use of water flood injections will increase the recovery rates of its wells and lower the base decline rate of production.
In fact, once Penn West completes improving the production profile of its assets by improving the infrastructure, it will see an increase in its netbacks by the end of the year due to lower operating costs. This is shown below:

Click to enlarge
Source: Penn West Petroleum
Thus, once Penn West's phase 2 improvements are completed going forward, it will be able to further lower its operating cost base. This will, eventually, lead to an improvement in the netback generated by the company, which will also be aided by higher oil prices.
Conclusion
Penn West Petroleum has become a leaner company after its latest asset sale. This will allow it to improve its financial performance since it can now focus on key assets where its costs are low. Thus, in my opinion, investors should continue to remain invested in this oil stock as it can deliver strong gains in the long run.
Disclosure: I/we have no positions in any stocks mentioned, and no plans to initiate any positions within the next 72 hours.
I wrote this article myself, and it expresses my own opinions. I am not receiving compensation for it (other than from Seeking Alpha). I have no business relationship with any company whose stock is mentioned in this article.